City support of gay pride parade 'pathetic': religious groups
The Taipei City Government's support of a gay parade is "pathetic," the Alliance of Religious Groups for the Love of Families Taiwan said yesterday, adding that children are most benefited when raised in a family of "one man and one woman."
Alliance members held signs reading: "Gay behavior is contagious" and "Against the legalization of same-sex marriage" at Liberty Square in front of the Chiang Kai-shek Memorial Hall as they presented a news conference hours before the Taiwan Lesbian, Gay, Bisexual and Transgender Pride Parade began.
Alliance secretary-general Chang Shou-yi (張守一) said the group is formed from numerous religious and social groups that hold the same value of "protecting the family and marriage."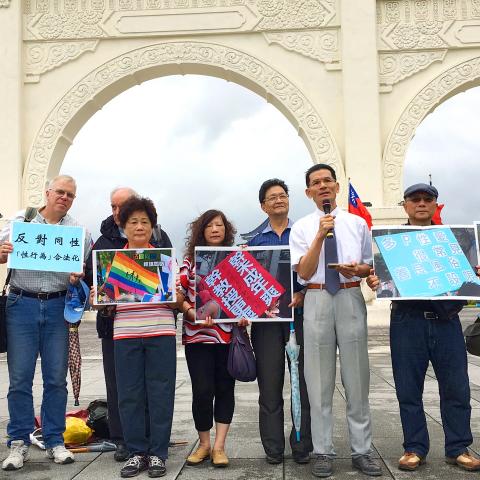 Members of the Alliance of Religious Groups for the Love of Families Taiwan at a press conference in Taipei yesterday hold signs opposing homosexual behavior.
Photo: Yang Chin-chieh, Taipei Times
Homosexual advocates and the parade actively encourage "gay culture and the ideology of sexual liberation," Chang said.
He said the ideology "does not care for affection, but emphasizes sex, encourages sexual contact with multiple people at the same time, unscrupulously corrupts good morals, ethics and traditional culture, and seduces children, causing them to lose the ability to cultivate a relationship, or even turning them into homosexuals."
"The groups deliberately harm children," he said.
The group held photographs of signs that were displayed at previous parades and criticized the event as an endorsement of behaviors "against public order and good morals," such as nudity, and sex with underaged people, multiple people at once, strangers, teachers, or even animals.
Other signs said gender alteration is not a human right.
Chang said that homosexual rights groups are "brainwashing our next generation and educating them to become homosexual," with education providers having campuses dedicated to "gender equality."
It is pathetic that some local governments support these events, he said, adding that the endorsements were aimed at securing the votes of young people.
The alliance said that homosexuals should not be allowed to adopt or use in vitro fertilization, because same-sex couples provide an unstable environment and have a serious effect on children, causing them to grow up feeling insecure and hindering their development.
"Taiwanese homosexuals have sexual relationships with an average of 53.26 people in their lives, they change sexual partners after 28.5 days on average and 89 percent have had a one-night stand," the group said, citing statistics from "a survey conducted before the Internet era by a local academic."
"Many homosexual couples do not want to get married, so why modify the law to include same-sex unions?" the group said, adding that the practice among gay people is fundamentally different from marriage.
It urged lawmakers and the government to consider the issue carefully.
Comments will be moderated. Keep comments relevant to the article. Remarks containing abusive and obscene language, personal attacks of any kind or promotion will be removed and the user banned. Final decision will be at the discretion of the Taipei Times.