Record 16kg velvet antlers harvested
A pair of velvet antlers harvested on a deer farm in Tainan's Yongkang District (永康) has established a new record in the nation, weighing 16.2kg, farm owner Chang Jung-hui (張榮輝) said yesterday.
The velvet antlers, a common ingredient in traditional Chinese medicine, were 1.1kg heavier than the previous record holder, Chang said.
Members of the Deer Farmer Association visited the Hui Deer Farm yesterday to witness the harvesting.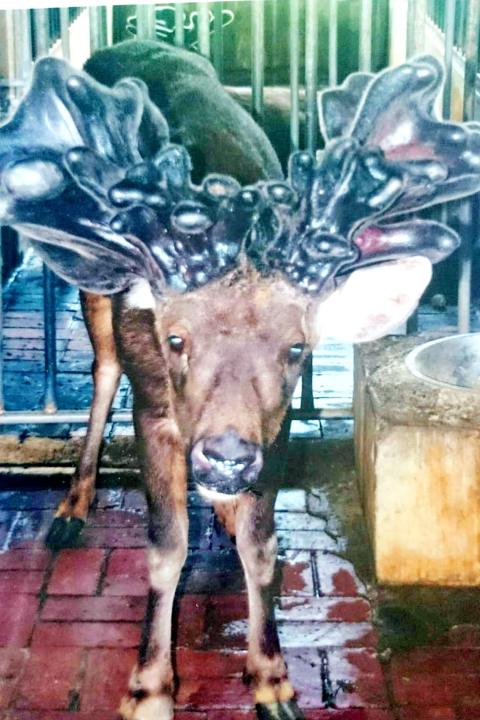 A Formosan sambar deer whose velvet antlers weighed 16.2kg is pictured in Tainan yesterday.
Photo: CNA, Chang Jung-hui
According to Chang, the sambar deer from which the antlers were harvested had a good pedigree, adding that when the deer had its "first cut" three years ago, it had already taken second place for velvet antler weight across the nation.
By the third cut last year, the deer's velvet antlers weighed 13.3kg and was the champion for the national velvet antler weight competition for sambar deer, Chang said.
In Taiwanese deer-raising terminology, the unit for counting the harvesting of velvet antlers are "cuts," with cuts behind held annually at first, then increasing in frequency. The antlers harvested this year were the fourth cut of the year.
Chang said that while the farm grew its own deer feed — mulberry leaves, bur clover and Spanish needles — and used fans or sprayed water to lower the temperature during hot days, the deer's pedigree was the main reason it was able to grow such large antlers.
Meanwhile, association director-general Wen Chih-chun (溫志崇) said the association also held an impromptu event for those attending the harvest to guess the weight of the antlers, with the two closest guesses receiving 750g and 375g of velvet antlers respectively.
Wen said the majority of velvet antlers are either ground into powder or put into alcohol, adding that there were more than 600 farms — with a population of 21,000 sambar deer — across the nation.
The nation produces about 24 tonnes of velvet antlers per year, Wen said.
Wen said that efforts to promote domestic-grown and harvested velvet antlers were successful as the public increasingly prioritizes where velvet antlers originate, adding that members of the public should visit the deer farms and choose their own antlers to ensure quality and freshness.
Wen called on the public to avoid purchasing velvet antlers from unknown origins.
Comments will be moderated. Keep comments relevant to the article. Remarks containing abusive and obscene language, personal attacks of any kind or promotion will be removed and the user banned. Final decision will be at the discretion of the Taipei Times.