Poster sparks online campaign
A comic artist has launched an online campaign against the government's unauthorized use of copyrighted works after a recycling poster issued by the Environmental Protection Administration (EPA) appropriated images of Star Wars characters and other comic heroes.
Taipei Comic Artist Labor Union director Chung Meng-shun (鍾孟舜) launched a Facebook campaign against the alleged copyright infringement by government agencies, while calling on the government to partner more with local talent instead of using works by foreign artists.
A poster was issued by the EPA and the Pingtung Environmental Protection Bureau to promote recycling among festivalgoers at this year's Spring Scream music festival using images that closely resemble characters in Star Wars, Deadpool and Batman.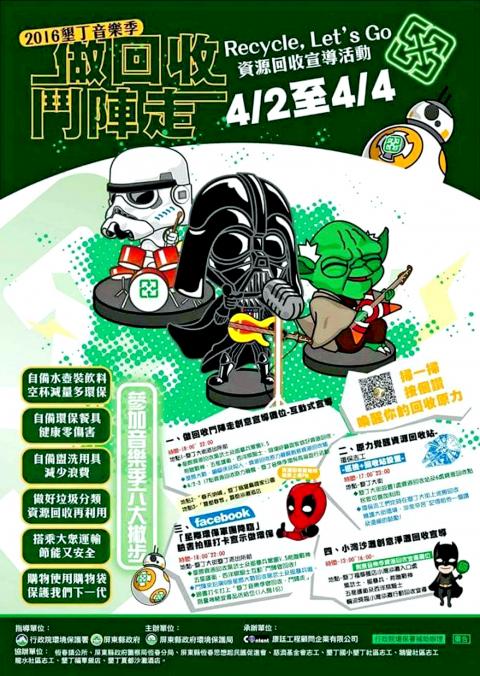 A recycling poster issued by the Environmental Protection Administration with appropriated images of movie characters and other comic heroes is pictured in an undated photograph.
Photo: screen grab from Facebook
The incident, coupled with another event last month in which the Taiwan Railways Administration was criticized for allegedly plagiarizing Ant-Man in a passenger safety video, prompted Chung to launch the campaign.
"In the past, the government arrested people selling pirated DVDs at night markets. Now, it is the public exposing the government's unauthorized use of copyrighted images on the Internet. People selling counterfeits have to pay large fines and even go to jail, but the government gets away with copyright infringement," Chung said.
"Suspected plagiarism incidents by government agencies have been happening repeatedly and the government has spent a large amount of money on some unbearably ugly designs [such as the much derided monkey-shaped lantern at this year's Taipei Lantern Festival]. The government has simply rejected plagiarism claims or turned a blind eye to these incidents, but such incidents will keep happening unless the government faces up to the problem," he added.
The campaign urges the government to use creative works by Taiwanese artists to develop the nation's cultural industries, which Chung said receive little government funding and attention. Local artists have been treated with indifference and disregard by fellow Taiwanese, he added.
The campaign aims to collect more than 10,000 signatures so that a petition can be presented to president-elect Tsai Ing-wen (蔡英文) in the hope that the new government would give creative industries due respect.
Meanwhile, the EPA said yesterday it had ordered the controversial posters be removed and requested that the Pingtung Environmental Protection Bureau handle the issue and ascertain whether the copyright had been infringed.
The poster was designed by a subcontractor, the EPA said, adding that government agencies and subcontractors must take care to avoid plagiarism.
Comments will be moderated. Keep comments relevant to the article. Remarks containing abusive and obscene language, personal attacks of any kind or promotion will be removed and the user banned. Final decision will be at the discretion of the Taipei Times.