Naked activist draws a bath to comment on meat
Drawing a crowd of passers-by, a nearly naked animal activist took a bubble bath in public yesterday in Taipei's Ximending (西門町) area to highlight the meat industry's drain on water resources to mark World Water Day on Tuesday next week.
Ashley Fruno, the bathing activist and a member of animal rights group People for the Ethical Treatment of Animals (PETA), said that taking a bath in public was a fun and provocative way to raise awareness, adding that it takes the equivalent of 50 bathtubs of water to produce just one steak.
"It takes about 15,500 liters of water to produce 1 kilogram of beef, compared with just 1,000 liters to produce 1 kilogram of wheat," Fruno said, calling on the public to go vegan to conserve water.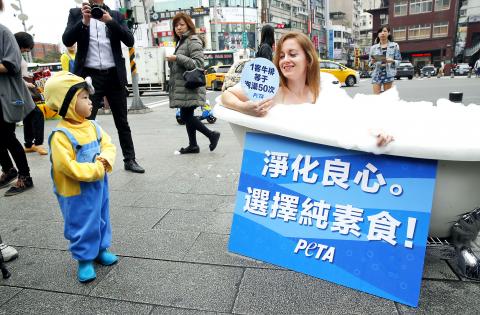 A boy watches a member of the People for the Ethical Treatment of Animals sitting in a bath tub to illustrate the large amounts of water it takes to produce beef during a campaign against eating meat in Taipei's Ximending yesterday. The placard reads: "Purify our conscience, choose vegetarian!"
Photo: : Wally Santana, AP
"Not only is the meat industry cruel, it also wastes huge amounts of water and damages the planet. You can't eat meat and be an environmentalist," she said.
Fruno said a UN report described the livestock industry as a "key player in increasing water use" and "probably the largest sectoral source of water pollution," she said.
"It takes 11 times more water to produce 1 calorie of animal protein than 1 calorie of plant protein, as a large amount of water is used to grow grain for animal feed, to raise livestock, in cleaning animal waste and in slaughtering," PETA member Chi Su-ching (戚思晴) said.
The world's animal husbandry industry consumes 2.5 billion liters of water every day, which is enough for every person in the world to take eight baths, Chi said.
It takes six times more land to feed a carnivore than to feed a vegetarian, while half of the world's grains are used as animal feed, she said, adding that the animal husbandry industry is responsible for desertification and deforestation of tropical rainforests.
Meanwhile, vegetarians are significantly thinner than omnivores and are less likely to suffer from heart disease, cancer, strokes and diabetes, the organization said, adding that billions of animals raised for food each year endure routine abuse on crowded and dirty factory farms, where they are slaughtered.
Comments will be moderated. Keep comments relevant to the article. Remarks containing abusive and obscene language, personal attacks of any kind or promotion will be removed and the user banned. Final decision will be at the discretion of the Taipei Times.