Weak concrete blamed in Weiguan Jinlong collapse
Weak, watered-down concrete was likely used in the Weiguan Jinlong complex that collapsed in the Feb. 6 earthquake, academics and industrial representatives said yesterday, calling on the Ministry of Interior's Construction and Planning Agency to randomly sample the concrete used in major construction projects to deter such practices.
The Taiwan Concrete Institute and Taiwan Ready-mixed Concrete Industry Association held a news conference at National Taiwan University (NTU) to call for regulatory reform.
Chan Yin-wen (詹穎雯), a professor of civil engineering at the university and the institute's executive director, said that while some media reports on the complex's collapse focused solely on possible problems with its steel beams, photographs taken at the site suggest that weak, watered-down concrete was also a factor in the building's collapse.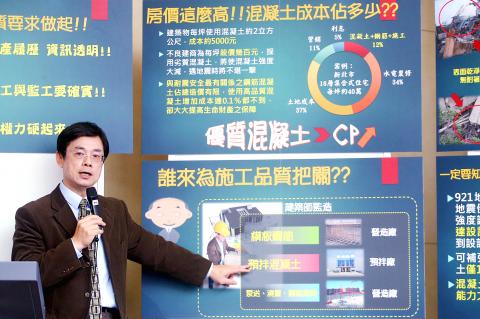 Chan Yin-wen, a professor in the Departrment of Civil Engineering at National Taiwan University, speaks at a news conference in Taipei yesterday.
Photo: CNA
The collapse of the 17-story complex in Tainan's Yongkang District (永康) caused 115 deaths, as one more body was found yesterday, and was the largest source of casualties in the magnitude 6.4 earthquake.
"The exterior of the broken steel beams [found in the rubble] are smooth and have very little concrete attached to their surface. This shows that the concrete used in the building's construction was not strong enough to effectively reinforce the steel beams when the earthquake struck, causing them to snap," Chan said, adding that another factor that might have contributed to the collapse could be the use of too little concrete.
While an official examination of the building is ongoing, an academic survey of more than 1,000 buildings damaged in the 921 Earthquake in 1999 found that the quality of concrete was directly related to damage, Chan said, adding that concrete in 88 percent of the damaged buildings surveyed in 1999 failed to meet regulatory standards.
Price competition, combined with poor accountability, encourages developers to take shortcuts, such as watering down concrete to cut costs and make pouring easier, he said.
"The responsibility of architects to supervise construction has not been realized because it is unclear and no authority enforces the standards. After a developer constructs and sells a building, they can be cleared of any responsibility if they change their company's name and keep on building through other means," he said.
"The problem is that while they might be saving several hundred New Taiwan dollars per ping [3.3 m2], they are endangering a consumer value of up to NT$50,000 per ping [for houses in Taipei and New Taipei City]," he said.
The institute and the association recommended the Construction and Planning Agency conduct random sampling of the concrete used in major construction projects and publicize any sub-standard results along with other projects that had been developed by the company.
Companies caught cheating would find it difficult to sell properties in completed buildings, making them think twice before taking shortcuts, Chan said, adding that use of sub-standard materials in public construction projects dropped sharply after random sampling was introduced.
The institute and association also recommended that "production resumes" for concrete used for buildings be compiled and publicized, as well as amendments made to the Building Act (建築法) to clarify responsibility for supervision and quality control of construction projects.
Comments will be moderated. Keep comments relevant to the article. Remarks containing abusive and obscene language, personal attacks of any kind or promotion will be removed and the user banned. Final decision will be at the discretion of the Taipei Times.