Minister urged to avoid work at private schools
The Taiwan Higher Education Union yesterday asked Minister of Education Wu Se-hwa (吳思華) to promise that he would not accept any position offered by a private university after he steps down on May 20, and urged the Ministry of Education to quickly establish a "revolving door" policy for former ministry officials.
Union organization department director Lin Po-yi (林柏儀) said that four former ministers of education and several other former officials have moved on from public service to become presidents, board directors and adjunct professors at private universities over the past 20 years.
"These former officials, who receive a pension from the ministry and a salary from private universities, function as 'door gods.' They use their connections at the ministry to help universities secure government funding," Lin said.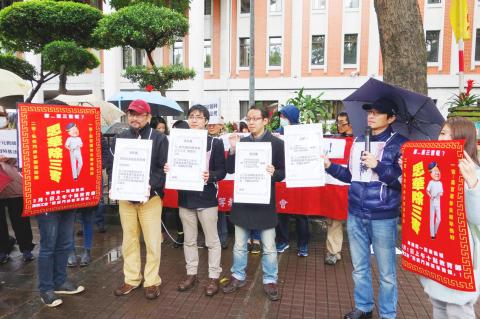 Members of the Taiwan Higher Education Union hold placards outside the Ministry of Education in Taipei yesterday demanding the resignation of Minister of Education Wu Se-hwa.
Photo: Wu Po-hsuan, Taipei Times
During a protest at the ministry's compound in Taipei, union members performed a skit depicting three major problems ailing the nation's higher education system.
In addition to former ministry officials serving as "door gods," current ministry employees bail out private universities to carve out positions for themselves at the institutions after they retire from public service, the union said.
The third affliction is Wu, the union said, adding that he needs to implement a revolving door policy banning former ministry officials from taking positions at private universities.
Furthermore, the ministry should reduce funding given to any private university found to have misused government money, the union said.
Ministry Department of Personnel Deputy Director Kuo Shu-ying (郭樹英) said that funding for private universities is allocated based on decisions made by a committee of experts who are not affiliated with the ministry.
The experts use strict and objective standards to evaluate proposals submitted by universities, which must provide a detailed plan on how they plan to achieve their objectives, she said.
The ministry has mechanisms to oversee use of funds and the ministry's funding is supervised by the Legislative Yuan, she added.
The Civil Servant Service Act (公務人員服務法) only bans public employees from serving on the boards or taking positions in for-profit businesses, Guo said, adding that it does not ban civil servants from working for non-profit organizations, such as private universities.
The Ministry of Civil Service in 2000 proposed legislation to ban civil servants from taking jobs related to the field in which they worked within two years after leaving government employment, particularly businesses they dealt with in the five years prior to exiting public service, Kuo said.
The legislation has yet to be enacted, she added.
Comments will be moderated. Keep comments relevant to the article. Remarks containing abusive and obscene language, personal attacks of any kind or promotion will be removed and the user banned. Final decision will be at the discretion of the Taipei Times.