Hung says she 'will not back down'
'RESOLUTE, BUT RATIONAL': The KMT presidential candidate told supporters to demonstrate in a respectful manner after violence erupted during Wednesday's protest
Supporters of Chinese Nationalist Party (KMT) presidential candidate Hung Hsiu-chu (洪秀柱) yesterday gathered outside KMT headquarters in Taipei.
Hung addressed the crowd after she returned from Double Ten National Day celebrations held outside the Presidential Office Building, saying that she "will not back down" amid rumors she is to be replaced as the party's presidential candidate.
More than 200 supporters started to gather in front of KMT headquarters in the morning, donning red and waving the Taiwan national flag.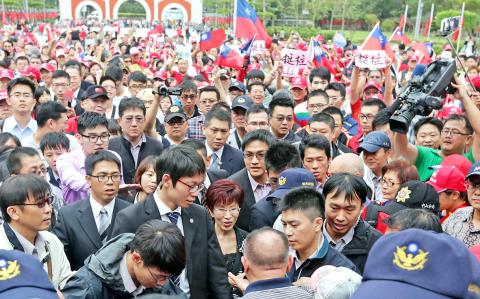 Chinese Nationalist Party (KMT) presidential candidate Hung Hsiu-chu, front center, is surrounded by security, police officers, and supporters holding flags and signs at the Martyrs' Shrine in Taipei yesterday, where she was attending a Double Ten National Day ceremony in her role as Deputy Legislative Speaker.
Photo: CNA
The congregation was said to be organized by Lin Cheng-chieh (林正杰), the head of Hung's "out-of-the-party supporters' club," who is also a democracy activist-turned pro-unification commentator and former Chinese Unity Promotion Party chairman.
The group labeled KMT chairman Eric Chu (朱立倫) shameless, with Lin saying he planned to convene at least 100,000 people on Saturday — the projected date for the KMT's extraordinary party congress — to storm into and occupy the venue of the congress.
Supporters on Wednesday protested outside KMT headquarters while the KMT Central Standing Committee made a decision to call an extraordinary party congress to replace Hung.
However, the assembly yesterday was met with reinforced blockades and lines of police officers, who had erected a banner saying that the protestors' gathering — which was organized without prior notice given to the authorities, as is required according to the Assembly and Parade Act (集會遊行法) — was "in violation of the law."
Hung called on the supporters to remain "resolute, but rational," alluding to an episode on Wednesday when some of her supporters hurled water bottles and thumped passing vehicles that they believed belonged to Central Standing Committee members.
"There are many ways to lead a nation. I will not back down, but I need your support," Hung said.
Hung also told her supporters that the party's system is to be respected and the party representatives' support has to be obtained.
A crowd later yesterday gathered at the Martyrs' Shrine, where Hung's office had invited her supporters to "recapture the spirit of the KMT on which it was established" with Hung.
Some supporters were heard shouting "Eric Chu is a hanjian [漢奸, a traitor to the Han people]."
Comments will be moderated. Keep comments relevant to the article. Remarks containing abusive and obscene language, personal attacks of any kind or promotion will be removed and the user banned. Final decision will be at the discretion of the Taipei Times.