FEATURE: 'Hidden Taipei' tours give unique perspective
A London-inspired guided tour led by homeless people to explore secret spots in Taipei's Wanhua District (萬華) has transformed the lives of many, including a contingent of homeless people and an information-technology engineer-turned social worker.
Tour founder Tseng Wen-chin (曾文勤) said she modeled the Taipei program on an unorthodox tour she took in London in 2013 — one of the "Unseen Tours" organized by a grassroots volunteer network — and that gave a view of the metropolis through the eyes of homeless people, who took participants into the city's hidden corners to share their life stories and engage with local residents.
She said she was impressed and motivated by the experience and decided to reproduce it in Taiwan.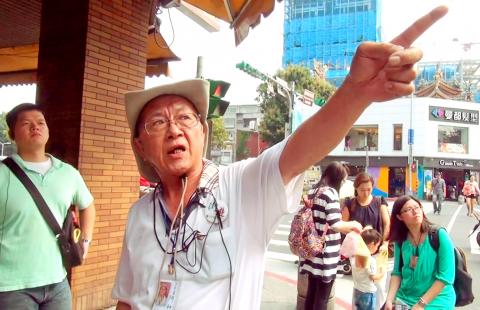 Tour guide A-ho shares stories of life on the streets in Taipei's Wanhua District during a Hidden Taipei tour on May 30.
Photo: CNA
Tseng collaborated with social worker Chang Hsien-chung (張獻忠), Taipei Wan Hua Community College (TWHCC) and the charity Homeless Taiwan to create a tour guide training program for the homeless, she said.
Nicknamed the "leader of beggars" for his decade-long commitment to the welfare of homeless people, Chang said that he nominated some people for the training program whom he believed could speak eloquently and confidently in front of a crowd and think independently.
Most of his candidates showed little interest in the training program, but agreed to join because of their friendship with him, he said.
The trainees, who were accustomed to an unrestrained life on the street, posed challenges to trainers and program organizers, Tseng said, adding that most candidates assumed that the touring program would not come to fruition.
One trainee, A-Chiang (阿強), was too shy to speak with Tseng because he had not spoken to a "normal" woman for years, and he would not talk to her until she tried hard to relate to him, she said.
A TWHCC instructor surnamed Hsu (徐) joked that she had been "set up" to take on the training course, saying that her class rules included no drinking or smoking during class.
Another instructor surnamed Lu (呂) said that it had been very difficult to keep the"wild horses" engaged in class.
The two instructors said that they played good cop, bad cop to teach the trainees.
They first guided the trainees through historic sites in Wanhua to cultivate their knowledge in local history and verbal skills, before encouraging the students to share their lives on the street, they said.
After a six-month training program, three formerly homeless people passed the tests to become certificated tour guides in July last year, they said.
Tickets for the walking tour cost NT$300, 60 percent of which goes to tour guides and the rest to cover the tour program's operating cost, Tseng said.
Hidden Taipei has proven a success, attracting nearly 2,000 customers in its first year and receiving overwhelmingly favorable feedback, while the program has raised public awareness about vagrancy, Tseng said.
"It seems that the homeless people have pulled off a success, but it is actually that society has broken through the barrier," Lu said, adding that society's growing acceptance of homeless people is the program's largest success.
Many students, corporations and foreign tourists have signed up for tours and come to sympathize with the homeless people, saying: "People we thought had no contribution to the society actually have their difficulties and sufferings."
There are more than 3,000 homeless people nationwide, according to statistics from the Ministry of Health and Welfare. Their average age is 55 and most have only an elementary-school education, which means they are usually only able to get labor-intensive and low-paying jobs, such as cleaning and casual labor, the ministry said.
"I was the first graduate and the first [homeless person] to successfully transition [to a tour guide]," A-Chiang said.
A-Chiang, 65, helps tourists learn about the lives of local homeless people and sex workers as they walk through the streets of Wanhua, he said.
He said that he became involved in gang activities after dropping out of high school, adding that his life was similar to those portrayed in the movie Monga (艋舺).
"Those idle days were gone as fleeting clouds," he said, adding that he had served 23 years in prison for gang activities.
After being released from prison, he went to China to start an accessory business, but was robbed by his friends and relatives, ending up millions of New Taiwan dollars in debt overnight, he said.
After returning to Taiwan, he could not find a stable job because of his criminal record and began living on the street after he spent all his savings, he said.
He was critically injured when he got caught up in a fight trying to help a homeless woman, but he recovered with proper medical treatment and the help of Chang, who was working in Taipei Department of Social Welfare and helped him get back on his feet by introducing him to the tour program, A Chiang said.
"I felt ashamed when I thought about facing people with normal families," he said.
However, to repay Chang and the department for their support, A Chiang agreed to sign up for the training program, which helped him rebuild his confidence, he said.
Now he gives more than 10 tours a month and feels confident facing his audience of tourists, he said, adding that he is grateful for the encouragement he receives from those who take his tours.
Chang said that not every person living on the street is lazy or refuses to work; some have been victims of industrial or structural changes, while others were incapacitated by occupational injuries.
Most homeless people could rejoin society with proper guidance, he said.
Comments will be moderated. Keep comments relevant to the article. Remarks containing abusive and obscene language, personal attacks of any kind or promotion will be removed and the user banned. Final decision will be at the discretion of the Taipei Times.