Constitution does not allow independence, Hung says
The Republic of China (ROC) Constitution allows no possibility of Taiwanese independence, Chinese Nationalist Party (KMT) presidential hopeful Hung Hsiu-chu (洪秀柱) said yesterday, when asked whether she would take a more radical approach to pushing for cross-strait unification.
"You can look at the ROC Constitution. Does it allow for Taiwanese independence?" the deputy legislative speaker told reporters, when she was asked for her views on media commentaries that said she would accelerate the process of unification if she wins the presidential election in January.
Cross-strait policy under any administration must respect the Constitution, Hung said, adding that even Democratic Progressive Party (DPP) Chairperson and presidential candidate Tsai Ing-wen (蔡英文) said in a speech at the Center for Strategic and International Studies in Washington earlier this month that she would handle cross-strait relations in accordance with the ROC Constitution.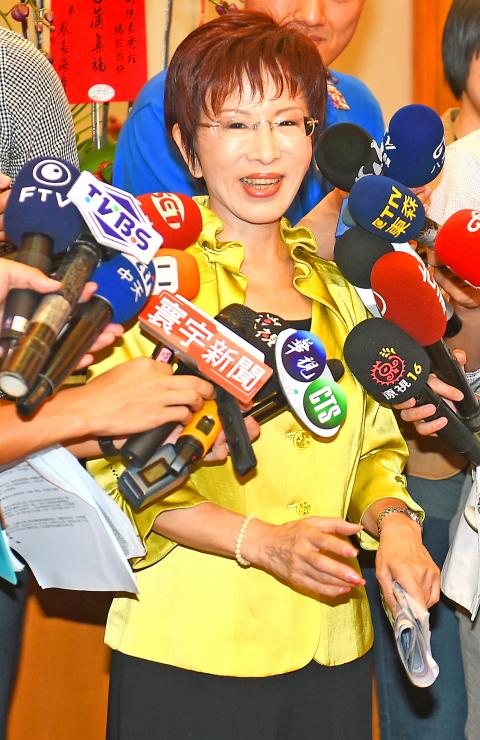 Deputy Legislative Speaker and Chinese Nationalist Party (KMT) presidential hopeful Hung Hsiu-chu talks to reporters in Taipei yesterday.
Photo: Chang Chia-ming, Taipei Times
The beginning of the Additional Article of the Constitution states that any articles that are added to or amended in the Constitution are to "meet the requisites of the nation prior to national unification," Hung said.
That clearly shows the ROC Constitution is based on the "one China" principle, she added.
Hung said that what worries Taiwanese is the prospect of unification taking place on China's terms, because China wishes to apply its "one country, two systems" formula in the unification of Taiwan, while Taiwan wants to see a unified China characterized by freedom, democracy and the rule of law.
Hung again pledged to sign a peace treaty with China if she is elected president, saying the idea had been proposed in the past by former presidents Lee Teng-hui (李登輝) and Chen Shui-bian (陳水扁) as well as President Ma Ying-jeou (馬英九). She added that Tsai helped formulate Chen's proposal when she served as Mainland Affairs Council minister.
"I did not invent the idea. They did not follow through with it, probably because it aroused some suspicion among the public, but if the idea is in the interests of Taiwan, we should make it clear to the public," Hung said.
She added that signing a cross-strait peace treaty is consistent with the so-called "1992 consensus," referring to a tacit understanding between the KMT and the Chinese government that both sides of the Taiwan Strait acknowledge there is "one China," with each side having its own interpretation of what "China" means.
"There is no difference between the two. What we need to think about is whether we should take a step further into the 'deep-water zone' beyond the '1992 consensus' and whether we should try to make a breakthrough in cross-strait relations or whether we would rather stay where we are now," Hung said.
Comments will be moderated. Keep comments relevant to the article. Remarks containing abusive and obscene language, personal attacks of any kind or promotion will be removed and the user banned. Final decision will be at the discretion of the Taipei Times.