Clara Chou denied chance to appeal at KMT meeting
The Chinese Nationalist Party (KMT) yesterday denied media personality Clara Chou (周玉蔻) a chance to present herself at the party's Central Standing Committee meeting to appeal against her expulsion from the party.
The Evaluation and Discipline Committee of the party's Taipei chapter on Tuesday decided to expel Chou from the party, with chapter director Chung Tse-liang (鍾則良) saying that remarks made by Chou during the campaigns leading up to the nine-in-one election on Nov. 29 had damaged the party's reputation.
Chou has alleged that President Ma Ying-jeou (馬英九) accepted an off-the-books political donation of NT$200 million (US$6.29 million) from Ting Hsin International Group (頂新國際集團) during his re-election campaign in 2012.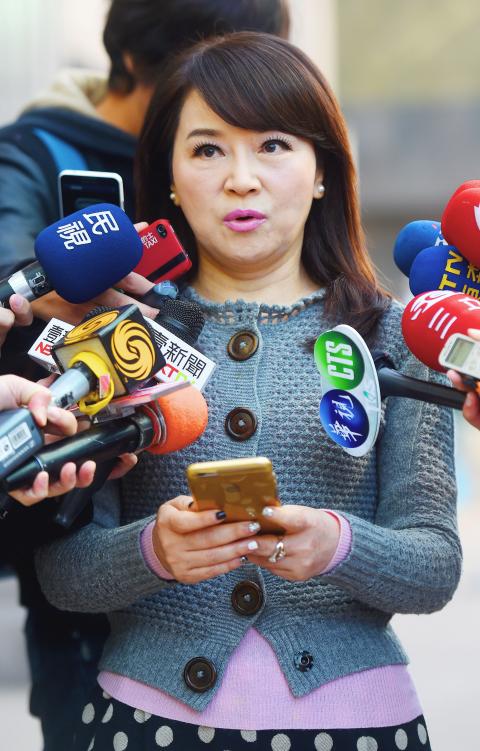 Media personality Clara Chou talks to the press in Taipei yesterday.
Photo: Chien Jung-fong, Taipei Times
Ma has denied the allegation and filed criminal and civil suits against Chou on Tuesday.
Earlier yesterday, Chou said she was like a person drowning after being put into a bag and thrown into the sea.
"I had no chance to fight back," she said.
Chou was among 21 KMT members who were stripped of party membership on Tuesday for what the party said were violations of various party rules during the campaign.
Asked to respond to Chou's comments, KMT spokesperson Charles Chen (陳以信) said anyone who was not happy with the decision made by the party's Evaluation and Discipline Committee could appeal against the ruling in accordance with established procedures.
Meanwhile, former Presidential Office deputy secretary-general Lo Chih-chiang (羅智強) yesterday posted an article on Facebook rebutting Chou's allegation that he had tried to intervene in the battle for ownership of Chang Hwa Bank (彰化銀行) between Taishin Financial Holdings (台新金控) and the Ministry of Finance in Taishin's favor because he had dined with Chang Hwa Bank chairman Thomas Wu (吳東亮) last year.
Lo said the meeting was arranged by Chou and accused her of setting him up.
Comments will be moderated. Keep comments relevant to the article. Remarks containing abusive and obscene language, personal attacks of any kind or promotion will be removed and the user banned. Final decision will be at the discretion of the Taipei Times.