Lecturers protest 'illegal' layoffs to trim expenses
STUDENT COMPETITIVENESS: A lecturer said that the nation's students were threatened by a school policy that made educators responsible for student retention
A group of lecturers protested outside the Ministry of Education building yesterday, accusing tertiary institutions of illegally firing faculty to cut down on human resource expenses, adding that the practice puts their right to work at risk and degrades the learning environment.
They called on the ministry to probe colleges and universities that lay off lecturers, adding that more than 1,000 lecturers from private universities and colleges have been made redundant over the past five years.
Taiwan Higher Education Union section chief Lin Po-yi (林柏儀) said lecturers' right to work should be protected and that they should not be treated as temporary employees.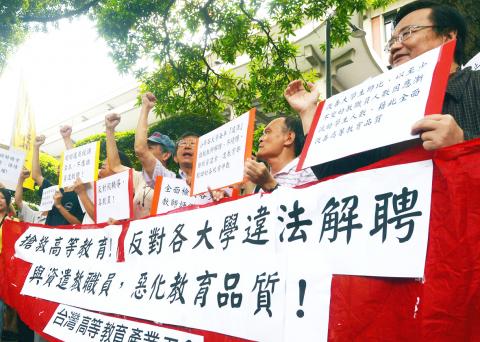 Members of the Taiwan Higher Education Union and other lecturers protest outside the Ministry of Education building in Taipei yesterday.
Photo: Wang Yi-sung, Taipei Times
That the supply of lecturers outweighs the demand is not an excuse for downsizing, as the problem can easily be fixed by cutting class sizes, thereby making a better student-to-lecturer ratio, Lin said.
"It is time that the ministry responded to our demands," he said.
Former Taipei Chengshih University of Science and Technology lecturer Chou Ming-tai (周明台) said he was "forced to resign" last week by the university, adding that it threatened that if he did not leave, he would have to go through a three-stage appraisal, which he said would be rigged by the university administration, meaning he would likely fail.
"If you fail, the university will issue an unemployment notice to the ministry, which, once confirmed, will cost you your pension," he said, adding that the appraisal mechanism was set up to intimidate lecturers so that they are likely to resign without dissent.
He criticized tertiary institutions, saying that nowadays they are run like private enterprises, seeking to maximize profits and cut down on costs.
Taipei College of Maritime Technology professor Liu Chao (劉釗) accused the college of making lecturers shoulder student recruitment duties.
Lecturers who fail to retain a certain percentage of students after one semester fail the college's appraisal and are fired, which seriously affects lecturers' ability to do their main job, Liu said.
He said the school has been consistently downsizing its faculty — especially senior members who receive higher salaries — and replacing them with young, inexperienced lecturers, whose salaries are partially subsidized by the ministry.
"These actions will affect the competitiveness of Taiwanese students, leading them to trail students from other Asian countries or even dropping to the lowest tier in the world," he said.
A ministry official said a meeting would be arranged between ministry officials, school administrators, lecturers and lecturer's union representatives no later than Sept. 28 to address the issues raised at the protest.
Comments will be moderated. Keep comments relevant to the article. Remarks containing abusive and obscene language, personal attacks of any kind or promotion will be removed and the user banned. Final decision will be at the discretion of the Taipei Times.