FEATURE: Porcelain artist puts Yingge on map
WORKHORSE: The artist is always trying something new, and she is one of the key reasons that Yingge has a place on the global stage, a museum director said
The elegant works of porcelain design artist Lili Yang (楊莉莉) grace mural walls at Taiwan Taoyuan International Airport and at Yingge's (鶯歌) Creative Culture Park, while her signature design Blue Butterflies Dancing Among Flowers adorn state banquet dinnerware.
Her works are also on display at the Pingtung Winery.
Yang, known as the Queen of Porcelain Art, is one of the few porcelain design artists in the country who has received international acclaim.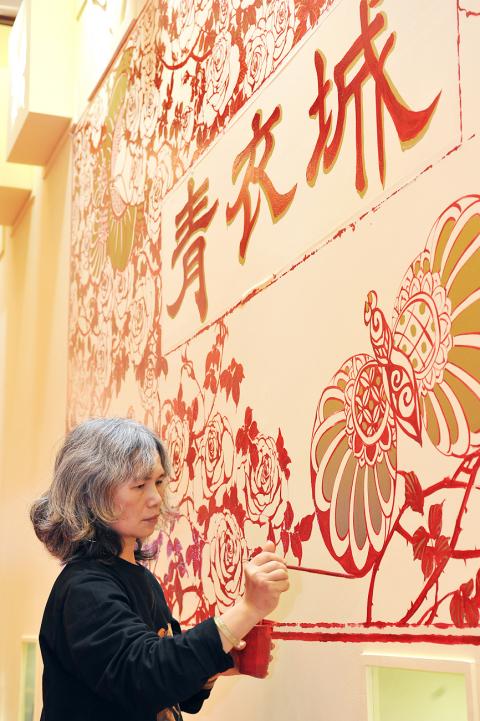 Porcelain design artist Lili Yang works on one of her pieces at Maritime Square in Hong Kong on Tuesday last week.
Photo provided by Lily Yang's Blue Porcelain Studio
Recently, she was commissioned to create a showpiece mural at Hong Kong's Maritime Square shopping complex.
Yang came from an impoverished background and did not receive a higher education, yet she has earned a top-notch reputation after overcoming difficulties throughout her life.
Born in Taipei, she gave up pursuing education after high school, when her father passed away.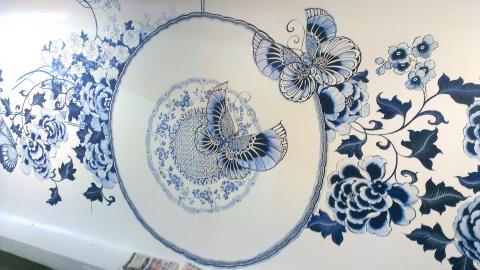 A painted wall by porcelain design artist Lili Yang is pictured at the Pingtung Distillery in Pingtung County in an undated photograph.
Photo provided by Lily Yang's Blue Porcelain Studio
The family's economic burden fell on Yang's shoulders, and at the age of 19 she entered the job market.
She began at the China Pottery and Porcelain Arts Co, which was near her home, beginning as an apprentice.
Here she learned to copy patterns and designs from master craftsmen to decorate the Blue-White Porcelain product lines at the company's factory.
For eight months, she learned the techniques and skills required to paint designs on porcelain.
Afterward, she became an understudy to master painter Yu Chung-lin (喻仲林), who was famous for works using birds and flowers in the classic Chinese style.
At that time, Yang also prepared to publish a collection of her paintings.
"When you master a craft, it becomes yours. Others cannot steal it from you," she said.
At 20, she went to work at a colored-paper factory, where her design and art compositions have been put to good use.
In the next five years, Yang became a promising star in the art world as her drawings of birds, flowers and natural scenes won awards at painting competitions in Taipei, Kaohsiung and at other big national events.
Her rising fame was capped off with a solo exhibition, at the age of 25, organized by a leading art gallery.
At the age of 38, she had presented a dozen solo exhibitions at major art institutions, including the National Taiwan Museum of Fine Arts in Greater Taichung.
However, that year was a turning point for Yang, as her marriage broke down in divorce.
Yang said the divorce left her with very little in her possession. Thus she decided to start her life anew, by relocating to Yingge, where she got a job at Tai-Hwa Pottery Co.
In Yingge, she began by decorating ceramics for other artists.
Yang moved in a new direction by completely abandoning bird and flower paintings, on which her earlier fame was based.
She revisited the Blue-White Porcelain style from her days as a 19-year-old apprentice, and used it to develop her own series of porcelain works called Chubby Dolls.
Chubby Dolls was initially met with derision by the art world, as critics likened her new design to children with Down's syndrome.
Yet as galleries presented Yang's solo exhibition of Chubby Dolls, she gained good reviews.
From that point on, Yang cemented her reputation as the Queen of Porcelain Art in Taiwan.
Chen Chun-lan (陳春蘭), director of the Yingge Ceramics Museum in New Taipei City, said Yang does not merely combine painting with porcelain art, but also has the ability to place art in people's everyday life.
"Even with sundry day-to-day items, like staplers and coasters, Yang's unique style of design shows through," Chen said.
He added that Yang produces her own creative design, doing it through an independence of ideas and an originality that is all her own.
"Yang always insists on surpassing herself, by trying new things. This is one of the reasons that Yingge products continue to have a presence on the international stage," Chen said.
Yang said she thinks it is unlikely that the past glory of Yingge, as the leading artisan town in Taiwan with large-scale production of pottery and ceramics for export, will return.
"For the future of Yingge, there are only two possible outcomes: a town for story-telling, or a decline into the sunset," she said.
Yang offered some encouragement to younger generations.
"The life of an artist is simplistic compared with the lives of other people. Young artists must think outside of the box, and not be confined by school education," she said.
"If they are willing to make new creative works by incorporating art media and elements from different fields, then young artists can survive in the market and still retain their self-worth," she added.
Yang added that she is opposed to the government's rush to implement the cross-strait service trade agreement.
"If the pact is approved, Chinese businesses can set up their factories and showrooms in Taipei and Taoyuan. Then visitors do not need to come to Yingge and artisans will not ply their trade here," she said.
"However, we can link up Yingge's pottery and ceramics production chain. We can set up workshops and showcase factories for people to experience the process from clay molding to firing in the kiln and delivery to customers' homes," Yang said.
"This way, story-telling about Yingge can continue, but be upgraded to new levels and sustained into the future," she added.
Comments will be moderated. Keep comments relevant to the article. Remarks containing abusive and obscene language, personal attacks of any kind or promotion will be removed and the user banned. Final decision will be at the discretion of the Taipei Times.