Premier picks new ministers in reshuffle
CHANGES: The reshuffle will see Minister Without Portfolio Simon Chang become the first-ever minister of science and technology and EPA Minister Stephen Shen replaced
On Monday, Minister Without Portfolio Simon Chang (張善政) is to become the first head of the new ministry of science and technology, while National Taiwan University geology professor Wei Kuo-yen (魏國彥) is to assume the office of Environmental Protection Administration (EPA) minister, the Executive Yuan announced yesterday.
The ministry of science and technology will replace the National Science Council (NSC) on the same day, as part of the ongoing restructuring of the government.
Chang has a doctorate in civil engineering from Cornell University and worked as a civil engineering professor at National Taiwan University, in addition to serving as NSC director of planning and evaluation, vice president of the Acer e-Business group and regional director of hardware operations at Google.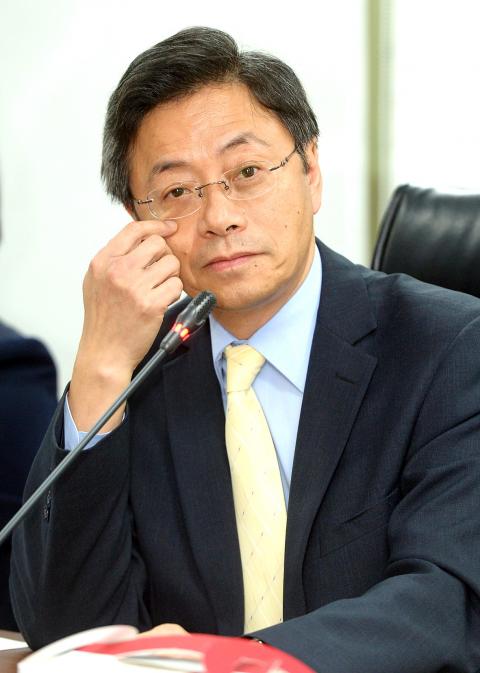 Minister Without Portfolio Simon Chang attends a press conference yesterday after being named the first minister of science and technology.
Photo: Wang Yi-sung, Taipei Times
At a press conference held yesterday to announce the Executive Yuan Board of Science and Technology's Food Traceability in Cloud Project, Chang said no secret rivalry exists between him and NSC Minister Cyrus Chu (朱敬一), adding that he thinks Chu is very creative and interesting to work with.
Chang said that Premier Jiang Yi-huah (江宜樺) approached him late last year to ask if he would like to head the new ministry, but that he had turned down the offer.
"Recently, Jiang asked me to reconsider taking the post, saying that he and President Ma Ying-jeou (馬英九) wanted to know why I didn't want the job so they could try to find a solution," he said. "Jiang added that if I still didn't accept the offer, Ma would speak with me personally, so I knew there was no way out and took the position."
Chang said that although he "has complicated feelings about being science minister, because there are many challenges ahead," he is confident he will be able to execute his duties well with the help of his deputy ministers.
The deputy ministers will be: NSC Vice Minister Lin Yi-ping (林一平), Office of Science and Technology Deputy Executive Secretary Chien Chung-liang (錢宗良) and Committee of Appeals chairman Chen Ter-shin (陳德新).
Chu said that after two years of "operating under high-density rotation gearing" at the council, he feels it is time to "take a break" and return to his previous position, and wished Chang all the best in his new role.
Meanwhile, EPA Minister Stephen Shen (沈世宏) said Jiang only informed him on Monday that he was to be replaced by Wei.
Wei holds a doctorate in Oceanography from the University of Rhode Island and worked most recently as a National Taiwan University professor and an adjunct senior researcher at Academia Sinica's Institution of Earth Sciences.
He has also been an assistant professor at Yale University's Department of Geology and Geophysics and served as deputy minister of the Executive Yuan's Research, Development and Evaluation Commission.
Shen said that during the five years, nine months and 12 days that he has been in charge of the administration, he has always given 100 percent to the job, so he has no regrets about leaving.
He joked that perhaps his "talents have been used up by being the longest-serving EPA minister of all time" and that appointing a new person to lead the administration may benefit it and the country in general.
Wei said that the environmental agency has a long history, during which it has accumulated abundant experience and knowledge evidenced by its successes in air, water and soil protection. Given this, Wei said that the next logical step for the agency is to work on initiatives in geology, which is his area of expertise.
Wei also said that he hopes to help facilitate the EPA's planned transformation into the ministry of environment and natural resources as soon as possible.
The reshuffle also saw National Security Council (NSC) Secretary-General John Deng (鄧振中) tapped to replace Schive Chi (薛琦) as the new minister without portfolio in charge of financial and economic matters.
During his time as vice minister of the Ministry of Economic Affairs, Deng dealt with affairs concerning domestic industry; commerce and trade; small and medium-sized businesses; investment; and state-owned corporations, making him ideal for his new position, the Executive Yuan said.
Deng said yesterday Jiang had told him to focus on regional economic integration and trying to get Taiwan into the Trans-Pacific Partnership and the Regional Comprehensive Economic Partnership.
The Executive Yuan also said that New Taipei City Deputy Mayor Lee Shu-chuan (李四川) would be succeeding Executive Yuan Secretary-General Chen Wei-zen (陳威仁).
Comments will be moderated. Keep comments relevant to the article. Remarks containing abusive and obscene language, personal attacks of any kind or promotion will be removed and the user banned. Final decision will be at the discretion of the Taipei Times.