'Beyond Beauty' tickets sell fast
LOCAL DRAWCARD: The documentary film which shows Taiwan's breathtaking scenery from the air has been eagerly awaited by the public and tickets are being snapped up
Tickets to the premiere of the documentary Beyond Beauty: Taiwan From Above (看見台灣) at the Kaohsiung Arena (K-Arena) on Oct. 23 have been flying off the shelves since going on sale on Tuesday, boding well for the first Taiwanese film to give viewers a bird's-eye view of country's beauty.
According to the film's production team, all premium-class tickets, priced at NT$499 (US$17) each, were sold out on the first day, with about 50 percent of the tickets for other viewing areas also sold.
With a production budget of nearly NT$90 million, the 93 minute film is the brainchild of Taiwanese director Chi Po-lin (齊柏林), a veteran aerial photographer who resigned from his "iron-bowl job" in the government about three years ago to make a movie featuring his own country.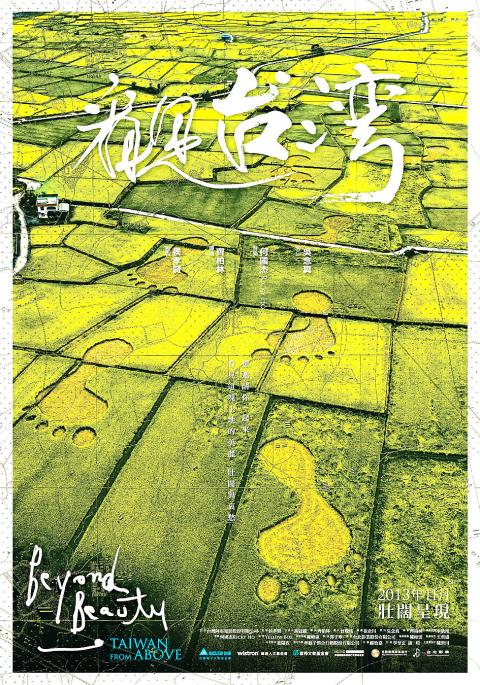 A poster for the documentary Beyond Beauty: Taiwan From Above is pictured in Greater Kaohsiung on Wednesday.
Photo: Yang Ching-ching, Taipei Times
The documentary brings together a team of specialists in the movie industry, with film director Hou Hsiao-hsien (侯孝賢) serving as the executive producer, multiple award-winning composer Ricky Ho (何國杰) as the music score producer and member of the nation's cultural glitterati Wu Nien-chen (吳念真) as the supplier of voiceovers.
"I think no one has ever observed Taiwan as carefully as a bird hovering or a cloud floating above," Wu is heard narrating the film's trailer. "Only from such an angle and height can you truly understand the beauty and sadness of Taiwan … and in Beyond Beauty: Taiwan from Above, Chi Po-lin leads us to see, to understand Taiwan or even to love Taiwan from such a height."
The film has been nominated for Best Documentary and Best Original Film Score at the 50th Golden Horse Awards — Taiwan's equivalent of Hollywood's Academy Awards — which is scheduled for Nov. 23.
Because of his infatuation with aerial photography, Chi has been able to see more clearly how much the nation has suffered from natural disasters, said Shih Che (史哲), director of the Greater Kaohsiung Government's Bureau of Cultural Affairs.
"The situation worried Chi very much and prompted him to withdraw his life savings, put his house up as collateral for a loan and quit his civil service job. He did so all for the sake of making this documentary," Shih said.
Shih said Chi's adventurous move led his son, who was a second-grade senior-high school student at the time, to leave his father a note asking him: "Is there any money left for me to go to college?"
After learning of the documentary and Chi's passion from local media reports, Shih said the bureau offered to help Chi secure the K-Arena for his movie's premiere and take charge of all the preparatory work in collaboration with online ticket seller Kham Ticket.
"We will donate all the revenue from the premiere to director Chi as a gesture of gratitude to his long-time dedication to this country. Hopefully he will one day raise enough funds for his plan to document the beauty of Taiwan in all four seasons," Shih said.
The documentary is to be officially released in theaters nationwide on Nov. 1.
Comments will be moderated. Keep comments relevant to the article. Remarks containing abusive and obscene language, personal attacks of any kind or promotion will be removed and the user banned. Final decision will be at the discretion of the Taipei Times.