Activists warn on water dispensers
The public should avoid using hot-and-cold-water dispensers, to save electricity and improve the quality of drinking water, Democratic Progressive Party Legislator Tien Chiu-chin (田秋堇) and environmentalists said yesterday.
Holding a report by the National Science Council on the results of its National Science and Technology Program on Energy, Tien said the report showed that there are about 5.48 million water dispensers in use nationwide, consuming about 3.147 billion kilowatt hours (kWh) of electricity each year.
The number is equal to about 6.79 percent of the residential and commercial sectors' total annual electricity consumption and is also equal to about one-third of the electricity supplied annually by a nuclear reactor, she added.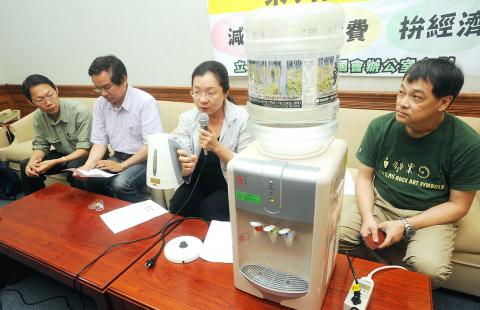 Democratic Progressive Party Legislator Tien Chiu-chin, third left, holds an electric kettle as she and representatives of environmental groups yesterday in Taipei discuss the high power consumption of electric water dispensers.
Photo: Lin Cheng-kung, Taipei Times
Green Consumers' Foundation chairman Jay Fang (方儉) said water dispensers consume a lot of electricity because they have to continuously provide both boiling hot and cold water, and according to the foundations experiment, a water dispenser consumes about 1.6 kWh of electricity per day.
In contrast, electric kettles use a large amount of electricity only for the few minutes while they heat the water, but can keep the water warm for a long period of time without consuming electricity. This is safer and saves energy by only using about 0.09 kWh to boil a liter of water, Fang said.
"In addition, water that is repeatedly boiled in water dispensers may cause the accumulation of harmful substances, such as heavy metals," he said.
Fang added that it is difficult to clean a water dispenser's pipes and water container, so the water quality may be worse than the quality of water from kettles, which can be washed easily after use.
"Most Taiwanese are taught the importance of increasing income and reducing expenditure as they grow up. However, the government is stubbornly trying to only increase the supply of electricity, which will never meet the fast-growing demand if reducing power consumption is not considered," Nuclear-Free Homeland Alliance executive director Lee Cho-han (李卓翰) said.
Green Party Taiwan member Pan Han-shen (潘翰聲) said when Germany evaluated the scenario of supplying 100 percent of its electricity needs from renewable sources by 2050, it assumed a reduction in final energy consumption of 58 percent in the household, industrial, trade, commerce and services sectors.
Comments will be moderated. Keep comments relevant to the article. Remarks containing abusive and obscene language, personal attacks of any kind or promotion will be removed and the user banned. Final decision will be at the discretion of the Taipei Times.