Taiwanese engineer first florescent pink angelfish
NEW BREED: Researchers from Jy Lin Trading, National Ocean University and Academia Sinica developed the fish, and were immediately offered NT$100,000 for one
The world's first-ever pink florescent Pterophyllum scalare, commonly known as the angelfish, were showcased in an exhibit on Wednesday prior to the Taiwan International Aquarium Expo, which opens today.
Lin Yu-ho (林育禾), president of Jy Lin Trading Co — the company that cooperated with National Ocean University and Academia Sinica on developing the fish — said this was the first time the world had seen a pink angelfish since the fish was discovered in the Amazon.
Despite the 32 colors developed worldwide for the angelfish, the fish lacked the cells to create any color resembling pink, Lin said, adding that the company had accomplished the endeavor after three years of research with the university and Academia Sinica.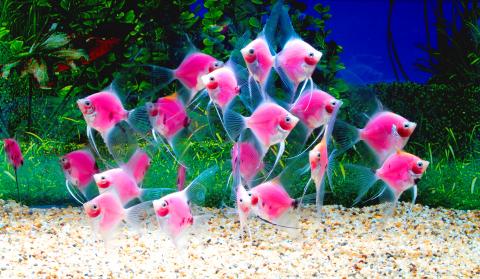 Pink transgenic glowing fish swim in a tank at an event on Wednesday to introduce the latest creation — dubbed "pink angels" — by JY Lin Trading, National Taiwan Ocean University, National Kaohsiung Marine University and Academia Sinica.
Photo courtesy of National Taiwan Ocean University
Lin said the florescent proteins that would be able to display a "pinkish" color were discovered by National Kaohsiung Marine University associate professor Chen Ming-chyuan (陳鳴泉) on acropora corals growing near Taiwan.
National Ocean University assistant professor Gong Hong-yi (龔紘毅) discovered that the fish would be born pink if micro-transfusion methods were used to transfuse the protein into angelfish eggs.
The research group at Academia Sinica, which consisted of researcher Wu Chin-lieh (吳金洌) and associate research fellow Chen Chih-yi (陳志毅), collaborated to inject the proteins into the eggs.
The research team said that the micro-transfusion process had been very difficult due to the fragility of the angelfish eggs, adding that on average they had been able to successfully transfuse the proteins into only one egg per 10,000 at first.
The team said they were able to raise the success rate to 1 percent after three years of research.
Despite the first appearance causing quite an uproar, with one foreign buyer even offering NT$100,000 for one of the genetically modified fish, the company was forced to decline until the species passes safety assessments in field tests.
Jy Lin general manager Ou Mei-ju (歐梅如) said the only florescent fish currently on the market is the zebrafish, which mostly features green and pink colors.
However, Ou said the florescent colors of the zebrafish can only be observed at night, while the florescent lighting of the company's angelfish can be seen even in broad daylight.
Additional reporting by Chen Yi-ching and Yu Chao-fu
Comments will be moderated. Keep comments relevant to the article. Remarks containing abusive and obscene language, personal attacks of any kind or promotion will be removed and the user banned. Final decision will be at the discretion of the Taipei Times.