FEATURE: 'Heads-down tribe' sparks worry among doctors and parents
Do you constantly check your e-mail accounts or refresh your Facebook page using a smartphone? If the answer is yes, you are undoubtedly one of a fast-growing demographic playfully known as the "heads-down tribe (低頭族)," which comes from a Chinese term that doctors and researchers use to describe smartphone addicts who are susceptible to traffic accidents, physical illness or psychological disconnection.
An annual survey conducted by the Taiwan Network Information Center, which investigates the use of broadband Internet services among people above the age of 12, showed a rapid increase in the number of wireless Internet and mobile communications users over the past year.
The survey showed that the number of people accessing the Internet via laptops, tablets or smartphones in the past six months in Taiwan had surged to a record 5.35 million people, twice the figure reported in the same period last year.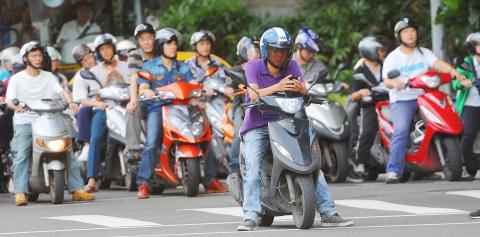 A man on a scooter checks his smartphone while waiting at a traffic light in Taipei on June 8.
Photo: Liu Hsin-de, Taipei Times
"While the 5.35 million people [using mobile broadband services] may all exhibit some certain level of 'neck-bending,' the term 'heads-down tribe' refers to heavy [smartphone] users. The number of people who fit into this category would be marginally lower," said Fu Jen Catholic University statistics professor Liang Te-hsin (梁德馨), who led the survey.
However, because of the swift progress of mobile Internet technology and the growing versatility of applications for smartphones, the number of smartphone addicts is expected to grow, Liang said.
With the "addiction" reaching epidemic proportions worldwide, several countries have enacted regulations and penalties to stop drivers from using mobile devices to decrease the potential threat to road safety.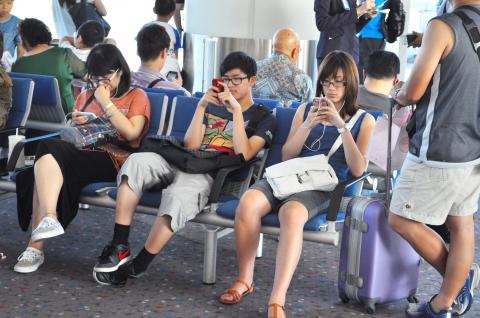 People use their smartphones while waiting for a bus in Taipei on July 4.
Photo: Liu Li-jen, Taipei Times
In Japan, cyclists have been banned from using mobile phones in most prefectures. Tokyo-based Taiwanese writer Liu Li-erh (劉黎兒) said a female high-school student from Kanagawa Prefecture was brought to a family court in May to face a ¥50,000 (US$630) fine for cycling 600m while using her cellphone, despite having received four warning tickets.
The US city of Fort Lee, New Jersey, has also begun cracking down on smartphone-addicted pedestrians, passing an ordinance in March that stipulated an US$85 fine for people who walk and use their smartphones at the same time.
Fort Lee police chief Thomas Ripoli said there had been "three fatalities and 23 people injured in a three-month period due to their being distracted by technology while traveling."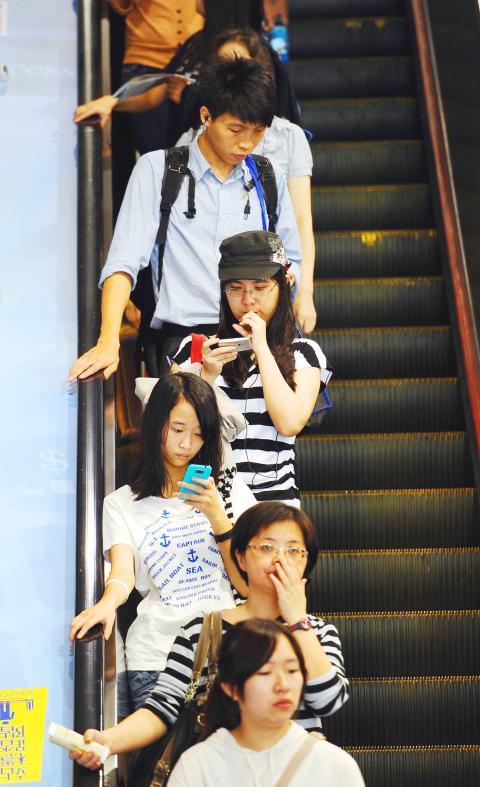 People check their smartphones on an escalator in Taipei on June 22.
Photo: Chang Chia-ming, Taipei Times
In Taiwan, the Ministry of Transportation and Communications and the legislature in May amended the Act Governing the Punishment of Violation of Road Traffic Regulations (道路交通管理處罰條例) to clamp down on absent-minded drivers. Since September, motorists and motorcyclists caught using any portable technology device without a hands-free kit while operating their vehicles may be fined of NT$3,000 and NT$1,000 respectively.
In addition to posing dangers to other road users, the "heads-down tribe" is also prone to a series of physical discomforts, including dry eye syndrome, swollen eyes and headaches, as a result of excessive use of their eyes and maintaining an unnatural posture while viewing a smartphone screen for extended periods of time.
Tri-Service General Hospital's Department of Ophthalmology director Lu Da-wen (呂大文) said in the past, the majority of people suffering from so-called computer vision syndrome — an eye condition that many computer users complain of after staring at unprotected screens for long periods of time — were only experiencing dry eyes.
"Now with iPads and iPhones gaining popularity, people in the 'heads-down tribe' are also experiencing pressure and swelling in their eyes because they are holding their necks in an unnatural posture for long periods of time, which stretches their eye muscles and causes headaches," Lu said.
Cheng Hsin Hospital physician Chen Chien-cheng (陳建成) said the number of young outpatients coming in with shoulder stiffness or neck pain is increasing, with many saying their physical discomforts started after they began using smartphones or tablets.
Chen said smartphone addicts should not remain in a fixed posture for long periods of time, adding that they should take breaks from their devices every half hour and stretch, while resting their eyes periodically, Chen said.
Doctors and parents are also concerned about the effect that the overuse of smartphones and tablets has on the mental state of the "heads-down tribe."
"Smartphone addiction is the same as Internet addiction, but the former is a new condition that cannot yet be medically measured by the standard rating scale," said Chang Hsueh-ling, a psychiatrist at Chang Gung Memorial Hospital's Department of Child and Adolescent Psychiatry.
Chang said the number of smartphone addicts seeking medical treatment was gradually increasing, with most brought in by concerned parents, who expressed frustration over their inability to communicate with their "addicted" children.
Such an unhealthy obsession could also have an adverse impact on children's interpersonal relationships, Chang said, while urging family members to pay extra attention to smartphone-addicted youngsters.
Additional reporting by Wei Yi-chia
Comments will be moderated. Keep comments relevant to the article. Remarks containing abusive and obscene language, personal attacks of any kind or promotion will be removed and the user banned. Final decision will be at the discretion of the Taipei Times.