Feline good at Da-an coffeeshop
CAT PARADISE: The Minimal Cafe originally made a minimal income, until it became a refuge for strays and for patrons who enjoy a cat with their cappuccino
A coffee shop, hidden down an alleyway off Taishun Street in Taipei's Da-an District (大安), has been transformed into a shelter for dozens of street cats while also serving as an unofficial headquarters for cat-lovers in the capital. The conversion is all thanks to the compassion of store-keeper, Wu Hsin-ju (吳欣儒).
The Minimal Cafe, which is now home to several felines, is located within Shida Night Market and it is here that patrons can encounter cats of all colors as they laze around the cozy store. While some doze off on the wooden floor others lie against bookshelves and yet more sit above the bar counter gracefully licking their paws.
None of the moggies resting inside the coffee house seem that bothered by the curious glances or presence of the coffee-shop customers — some of the furry creatures even take the liberty of occupying customers' seats when they get the chance. People who see their tables being "taken over" often opt to simply switch seats rather than shooing away the animals — which are, after all, the chosen ones in this so-called "paradise for cats."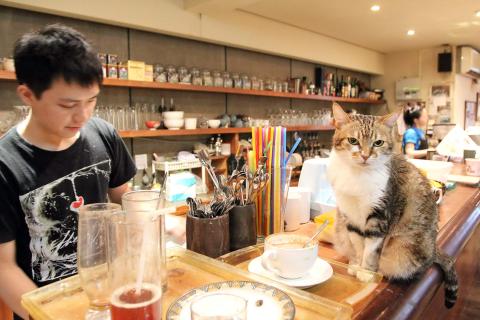 A cat sits on the bar at Minimal Cafe off Taishun Street in Taipei's Da-an District on Monday.
Photo: Weng Yu-huang, Taipei Times
The themed coffee store is not only a draw for Taiwanese ailurophiles, but has even attracted cat-lovers from Japan, some of whom follow the complex instructions in travel magazines to accurately pinpoint the shop's cryptic location.
Many of the unique cafe's customers spend an entire afternoon sipping a cup of rich coffee and taking group pictures with their feline neighbors, while gently teasing them before leaving the store seemingly content having spent so much time in cat company.
Shop owner Wu said her coffee store, set up 12 years ago, initially failed to make a profit because of its obscure alleyway location.
"However, the shop was later turned into a 'halfway house' for stray cats, because I could not bear the sight of them roaming the streets," Wu said.
Aside from offering stray animals a warm place to stay, Wu has also helped them pair up with other cat-lovers over the past few years in an effort to find them permanent homes.
"The place used to accommodate as many as 40 cats. Some of them, particularly the younger ones, have been adopted by benevolent pet owners. The 30 older cats now seen in the store are those that have been left behind," Wu said.
Minimal Cafe store manager Kuo Pei-yun (郭沛芸) said each of the many cats which call the coffee store home has its own name and own group of "loyal fans."
"Among them the most well-liked is a black-and-white cat nicknamed An-an (安安), while a once-deserted Himalayan cat dubbed A-hsi (阿喜) recently passed away, which saddened many of its fans," Kuo said.
Seeing the coffeehouse turned into a paradise for cats was something beyond their expectations, Kuo said, who urged pet owners not to get a pet on impulse.
Breeders must shoulder the responsibilities for the living conditions of animals.
"Pets are heart-broken when they are abandoned," she said.
Translated by Stacy Hsu, staff writer
Comments will be moderated. Keep comments relevant to the article. Remarks containing abusive and obscene language, personal attacks of any kind or promotion will be removed and the user banned. Final decision will be at the discretion of the Taipei Times.