Air force takes delivery of three Super Puma choppers
Taiwan took delivery of three EC-225 Super Puma search-and-rescue helicopters that it ordered last year from Eurocopter, air force officials said yesterday.
The new aircraft were delivered to the air force's Chiayi airbase yesterday, the officials said.
After being assembled and tested, the Super Pumas will join the Air Force Seagull Rescue Squadron on July 1 next year.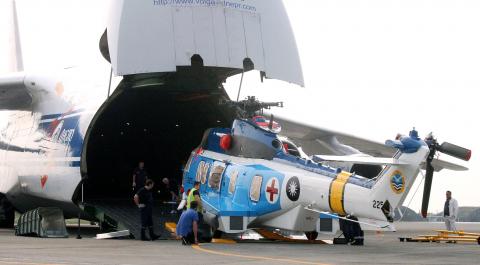 Workers inspect a EC-225 Super Puma search-and-rescue helicopter at the air force's Chiayi airbase yesterday.
Photo: CNA
The squadron currently operates 17 S-70 helicopters, most of which are more than 20 years old, officials said.
The Super Puma has a five-blade main rotor, incorporating a new airfoil shape to reduce vibration levels, allowing it to carry up to 24 passengers. It is also equipped with de-icing systems, movable stretchers, life rafts, pop-out floats, life monitoring devices and automatic flight control systems.
The officials said the all-weather, all-topography aircraft would be a big boost to the rescue squadron when it is carrying out search-and-rescue missions at night and in bad weather, or in high mountains or over rough seas.
The helicopters can also be used to airlift supplies to isolated areas and to transport sick and injured people to hospital.
The EC-225 was developed by Eurocopter in 1998 and Taiwan placed its order for three at a cost of US$110 million in February last year, with an option for 17 more.
The air force sent pilots, crew and ground service personnel to Eurocopter's European base for training earlier this year.
The EC-225 is 19.5m long, has a maximum takeoff weight of 11.2 tonnes and a range of 857km, in comparison with the S70C's takeoff weight of 9 tonnes and range of 550km.
Comments will be moderated. Keep comments relevant to the article. Remarks containing abusive and obscene language, personal attacks of any kind or promotion will be removed and the user banned. Final decision will be at the discretion of the Taipei Times.