Popular Taiwanese singer to stage first overseas concerts
Taiwanese singer Jody Chiang (江蕙) will finally meet her fans in Singapore and China when she performs on her first overseas tour later this year.
Chiang, often called the Queen of Taiwanese music, said that after her eight performances around Taiwan last year, which attracted 100,000 fans, overseas invitations have flowed in.
"I have seriously considered not letting my overseas fans wait for too long, " Chiang said, adding that she has decided to overcome her fear of flying to perform overseas.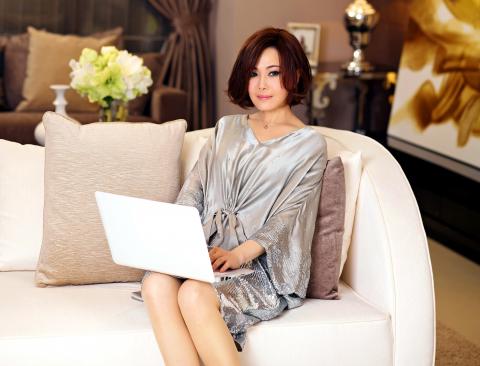 Singer Jody Chiang poses in this undated photo.
PHOTO COURTESY OF TUNGTIEN MARKETING
She will first perform in the 10,000-seat Singapore Indoor Stadium on March 26, with tickets going on sale tomorrow.
Chiang will then give one performance each on April 16 and April 17 at Shanghai Grand Stage (Shanghai Stadium), with tickets going on sale next Wednesday.
"There are 1 million Taiwanese businessmen in Shanghai, and I have decided to 'serve' them after careful consideration," she said. "I hope to relieve the homesickness of the Taiwanese businessmen who have worked so hard for so long."
To prepare for her first overseas performance, she has engaged in a rigorous practice regimen since New Year's Day.
Chiang, one of five children from a poor family, began singing with her sister in Beitou and Taipei restaurants at a young age.
She started recording in the early 1980s, and became known for songs such as Half Drunk, Half Awake and Love the Wrong Person. She has won the best Taiwanese album and best female singer award many times at the Golden Melody Awards, Taiwan's equivalent of the Grammys.
Comments will be moderated. Keep comments relevant to the article. Remarks containing abusive and obscene language, personal attacks of any kind or promotion will be removed and the user banned. Final decision will be at the discretion of the Taipei Times.