Naruwan Aboriginal market opens
Offering a rich blend of innovation, tradition, creativity and originality, a market in Taipei featuring Aboriginal gourmet, farm produce, millet wine, handicrafts and other items was inaugurated yesterday.
The Naruwan Indigenous Peoples' Market is located not far from Longshan Temple (龍山寺), a popular tourist attraction in Taipei City's Wanhua District.
Although the market only has 10 shops at the moment, one tour is enough to showcase the rich culture and creativity of Aborigines.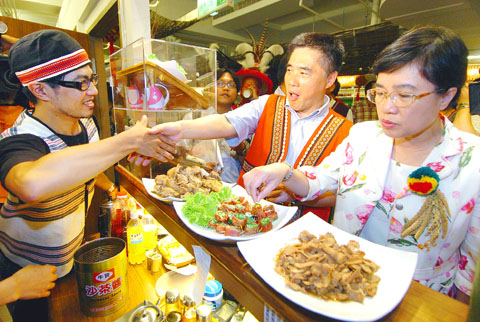 Taipei Mayor Hau Lung-bin shakes hands with staff at a food stall at the Naruwan Indigenous Peoples' Market in Taipei's Wanhua District.
PHOTO: LIAO CHEN-HUEI, TAIPEI TIMES
"When you come here, don't just shop," Taipei Mayor Hau Lung-bin (郝龍斌) told a crowd of Taiwanese and foreigners during the inaugural ceremony yesterday afternoon. "Rather, you should try to understand the stories behind these vendors and their culture."
"There are people who came to Taipei decades ago selling things or serving food on the side of the street — they finally have a storefront. There is a single mother who was struggling to raise her kids and there is a husband who is working to feed his cancer-stricken wife because he remembers the vow he made in church," he said.
Tseng Chun-yu (曾春玉) is that single mother.
An Aborigine of the Amis tribe, Tseng has had several jobs in the past 20 years since she moved to Taipei from her hometown in Hualien.
She now runs a small coffee and juice bar with her brother and her brother's two daughters.
"Coffee and juice may not be anything special, but all the fruits I use are grown in Aboriginal areas," Tseng said. "The coffee beans that I use are also from Aboriginal townships."
The Haliwan coffee comes from Taitung, the Makutu is from Pingtung and the Pangcah is from Hualien.
"I make very good Pangcah coffee — you have to try it," Tseng said, smiling.
Next door, an Atayal cook prepares stir-fried wild boar "a l'Atayal" and egg pancake with makau — a spice often used by the Atayal.
Further down is a small Bunun food stand, an Aboriginal handicraft store that offers do-it-yourself courses, a shop selling "sparkling millet wine," a shop offering organic vegetables and fruit grown by Aborigines, and high-mountain tea from Alishan (阿里山).
Comments will be moderated. Keep comments relevant to the article. Remarks containing abusive and obscene language, personal attacks of any kind or promotion will be removed and the user banned. Final decision will be at the discretion of the Taipei Times.