US teacher bikes six hours to volunteer
Every Monday morning, 40-year-old American volunteer English teacher Daniel Greenhoe gets on his bicycle and rides six hours from Hsinchu City to an elementary school in Hsinchu County to teach. He has done this for two years without missing a class.
When Greenhoe visited Shihlei in the Houshan District (後山) of Hsinchu County's Chienshih Township (尖石) two years ago, he learned that the local school lacked an English teacher, and that English classes had therefore stopped.
He applied for the position and was approved.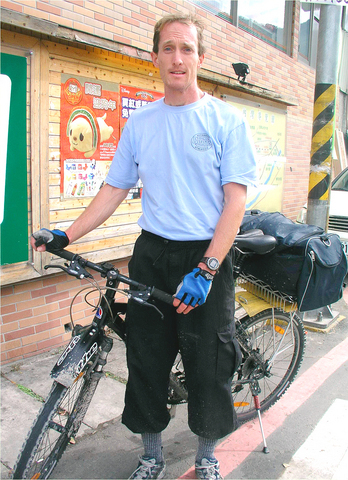 Daniel Greenhoe rides his bicycle for six hours once a week to get to Shihlei Elementary school in the mountain area of Hsinchu County, where he voluntarily teaches three classes of English.
PHOTO: PENG JIH-CHING, TAIPEI TIMES
Liao Ching-hua (廖經華), headmaster of Shihlei Elementary School, says that the school has 51 students -- all from the Taiya tribe.
The school is located in a mountainous area in Hsinchu County. It takes two hours by car from Chutung (竹東 ) to reach the school, but Greenhoe, who is studying for a doctorate in communication engineering at Chiaotung University in Hsinchu, leaves on his bike from his rented apartment at dawn, arriving at the school six hours later.
He teaches three classes in the afternoon and returns to his university the next morning. The return down the mountain is faster, taking him only four hours.
Greenhoe, who was born in a small town in Michigan, says that after finishing his doctoral studies in Hsinchu he plans to go to work in the mountain regions of Cambodia, and that is why he sees the bike ride as a good opportunity for exercise.
The school's headmaster and the students' parents all appreciate Greenhoe's willingness to sacrifice so much to help the students continue their English studies.
Comments will be moderated. Keep comments relevant to the article. Remarks containing abusive and obscene language, personal attacks of any kind or promotion will be removed and the user banned. Final decision will be at the discretion of the Taipei Times.