Betel-nut girls focus of exhibit
MORAL DECAY? For nearly a decade, debate has raged over whether the scantily-clad salesgirls are being exploited or just affirming the power of their sexuality
Taiwan's unique betel-nut beauties have long been the subject of debates on the issues of the objectification of women's bodies and females' freedom to develop their own self-image.
Years after those scantily-clad girls became a distinctive phenomenon in the country -- even drawing attention from international media including CNN and the BBC -- an installation art show has put aside the disputes and attempted to display the social and cultural effects of betel-nut beauties through art.
"Betel-nut beauties are a reflection of the local culture in Taiwan, and also a common experience shared by all Taiwanese. My work is about documenting these women, without any judgment of morality," said artist Wu Chung-hua (吳瓊華), general director of Taiwan Women's Art Association, who has spent 10 years studying the lives of betel-nut beauties.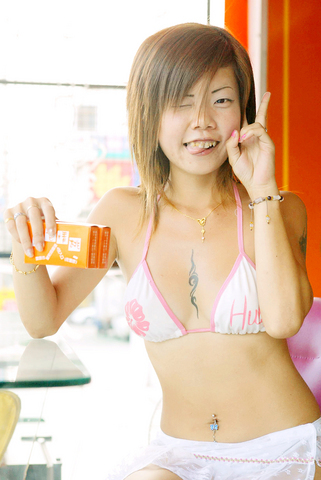 A smiling betel nut beauty wears a bikini to attract customers to her kiosk in Fengyuan City, Taichung County earlier this week.
PHOTO: HSIEH FUNG-CHIU, TAIPEI TIMES
With dummies dressed up with bras and boots, and colorful paintings of sexy girls with huge breasts, the "Made in Taiwan Betel-nut Beauties" installation art exhibition, which opened last Sunday at the Taipei 101 Mall, demonstrates the image of betel-nut beauties of different generations, from working-class middle-aged women to the sexy girls who wear almost nothing in order to attract more business.
After a two-year field study of betel-nut stands in which she conducted interviews with more than 100 betel-nut beauties, Wu said that despite criticism from conservatives and strict regulations by local governments, the industry continues to thrive. And the image of betel-nut beauties has undergone a transformation.
"Male control over female bodies as a commodity definitely exists in the industry. But with more girls choosing to dress sexily in exchange for more earnings, I think the industry has transformed into one with more female awareness of the power of their bodies," she said.
While Wu stressed that the show focused on the artistry of the betel-nut beauties' images, the issues hidden behind the art remain open to debate.
Defending the autonomy of betel-nut beauties, Josephine Ho (何春蕤) shrugged off criticism that these women damage the nation's moral climate.
"The betel-nut beauties have every right to dress freely, and deserve to have the chance to actively strive for economic gain. They affirm the attractiveness of their own bodies and make an honest living, and what's wrong with that?" said Ho, coordinator of the Center for the Study of Sexuality at National Central University.
According to Ho, who has studied the betel-nut beauty phenomena for years, betel-nut girls are mostly from working class backgrounds and their outfits are merely a way of earning more money. Society should stop judging them from a patriarchal point of view.
Some women's rights advocates, however, have a less sympathetic view of the beauties.
"Those women are being exploited. They aren't revealing their bodies out of a sense of autonomy or freedom. Instead, they are catering to patriarchal notions of beauty. They strive to please men and finally become products to be consumed," said Chi Hui-jung (紀惠容), chief executive officer at the Garden of Hope Foundation.
According to industry estimates, there are roughly 100,000 kiosks selling betel nuts across the nation.
To attract more customers, vendors started hiring scantily clad young women in 1996. When a few cases of prostitution associated with betel-nut vending became known, critics said the women were damaging the nation's moral climate and that the government should take measures to crack down on the trade.
The "Made in Taiwan Betel-nut Beauties" exhibition runs through May 29 at Page One Bookstore of the Taipei 101 Mall. Call the bookstore at 02-8101-8282 ext. 6677 or 6699 for more information.
Comments will be moderated. Keep comments relevant to the article. Remarks containing abusive and obscene language, personal attacks of any kind or promotion will be removed and the user banned. Final decision will be at the discretion of the Taipei Times.