TSU proposes changing date of Youth Day to March 21
The Taiwan Solidarity Union (TSU) yesterday urged the government to change the date of Youth Day from March 29 to March 21, the day in 1990 that former president Lee Teng-hui (李登輝) met with representatives of the "Wild Lily" student movement and promised them political reforms.
"Youth Day is the day that Chinese revolutionaries initiated a rebellion against the Qing Dynasty in 1911, before the Republic of China (ROC) was built," TSU's director of the Department of Youth Development Wang I-chou (王義州) said in a news conference held yesterday afternoon at the TSU's headquarters. "However, the ROC doesn't exist anymore for young people living in Taiwan. The origin of this red-letter day has nothing to do with them. We think it makes no sense that the central government still holds services to pay homage to Chinese revolutionaries."
In 1954, the Chinese Nationalist Party (KMT) government set March 29 as the nation's Youth Day to commemorate the "72 Martyrs" who died in an unsuccessful revolt against the Qing Dynasty launched in Guangzhou in 1911.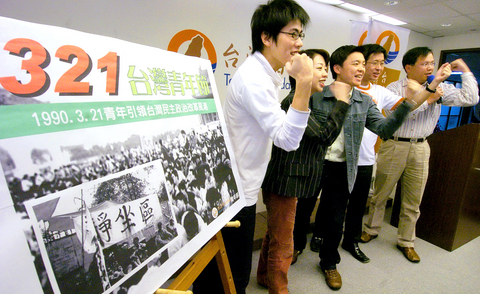 A group of Taiwan Solidarity Union city and county councilors yesterday suggest that the government make March 21 the new date for Youth Day, to commemorate the day in 1990 that former president Lee Teng-hui met with student activists and promised reforms.
PHOTO: WANG MIN-WEI, TAIPEI TIMES
Wang said that the TSU will ask its legislative caucus to propose a motion to change Youth Day from March 29 to March 21, a significant day that triggered a series of political reforms.
In March 1990, over 300,000 college students launched a sit-in demonstration at CKS Memorial Hall to ask for direct election of the president and vice president and an over-all re-election of National Assembly representatives. On March 21, Lee, then president, received the student representatives in the Presidential Office and reacted positively to their demands.
"Taiwanese young people created history with their actions and ignited the reform on March 21," Wang said. "We think that day should be set as Taiwan's Youth Day."
Chao Tien-lin (趙天麟), a TSU councilor from Kaohsiung City, encouraged students to participate in Saturday's march to protest China's "Anti-Secession" Law. Chao said that the TSU and DPP's Department of Youth Development and students of the Lee Teng-hui School will gather at the gate of National Taiwan University at 1pm on Saturday and at least 5,000 students have signed up to march with them.
Meanwhile, TSU Secretary-General Chen Chien-ming (陳建銘) said yesterday that the party has issued an order asking all TSU members to help mobilize at least 100,000 people to join in Saturday's march. Chen said that Lee will give a speech on that day but might not join in the parade because of security concerns.
Comments will be moderated. Keep comments relevant to the article. Remarks containing abusive and obscene language, personal attacks of any kind or promotion will be removed and the user banned. Final decision will be at the discretion of the Taipei Times.