Taipei port stakes out challenge to Keelung's dominance
SHIPPING Cargo destined for the north of Taiwan, which used to be sent to Kaohsiung because Keelung could not handle it, will soon be able to be unloaded in Taipei's port
Keelung's dominance as the gateway for Taiwanese exports and foreign imports in the north of the country is set to be challenged by the Port of Taipei, which is undergoing a make-over to become an international container terminal that will double the north's cargo capacity.
The Taipei port runs along the south bank of the Tamsui River between Pali and Linkou townships. The port was officially upgraded last week to become Taiwan's seventh international port, joining Keelung, Taichung, Kaohsiung and Hualien, as well as the auxiliary ports of Suao in Ilan County and Anping in Tainan City.
While the Executive Yuan had nominally agreed to make Taipei Port an international auxiliary port of Keelung port in 1997, the Cabinet had held back on officially upgrading the port until breakwaters had been completed and the facilities had been inspected to confirm they met international standards at the end of last year.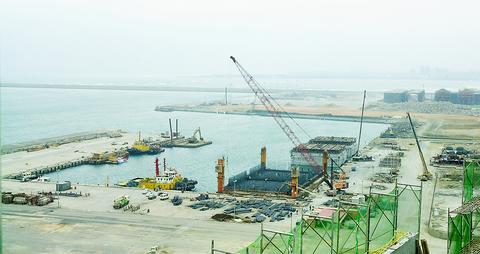 The Taipei Port's southern pier, front, and eastern pier, back, under construction.
PHOTO: GEORGE TSORNG, TAIPEI TIMES
Construction on the port began in 1993 and limited operations began in July 1997.
Until last year, the port's wharfs were only intended to accommodate bulk cargo which was not transported in containers.
The port has three bulk cargo wharfs, with two sandstone wharfs and one oil wharf. Another six bulk cargo wharfs are set to go into operation in June.
In August 1993, the port signed a contract to significantly increase the capabilities of its facilities. Shipping giants Evergreen Marine, Yangming Marine and Wan Hai Lines together formed a venture to invest in the construction of seven container terminals, a warehouse and shore protection work.
The seven container terminals would allow ocean container vessels to discharge and load goods in containers, standard metal transport boxes usually measuring 20 feet in length. Cargo is usually measured in 20-foot equivalent units (TEU). The container terminals will be equipped with facilities such as cranes to accommodate the container vessels.
According to the contract, the first container terminal will be ready for operation by 2008 and the other six by 2014 at the latest.
Plans for Taipei port will have a significant effect on Keelung port, which lies just 63km away and is the main port servicing northern Taiwan.
"In the past, about 1 million to 1.4 million TEUs of cargo with the final destination of northern Tai-wan were unloaded at Kaohsiung port because Keelung Port was unable to accommodate all the traffic," said a Taipei port official, who would only identify himself by his surname, Wei.
Wei estimated that each new container terminal at Taipei port would be able to accommodate at least 300,000 TEUs of cargo a year.
He pointed out that upon completion of all seven container terminals, Taipei port would be able to accommodate significantly more than the 1.4 million TEUs of north-bound cargo that were currently being shipped through Kaohsiung port.
Given Taipei port's new facilities, it could possibly take over some of the 1.9 million TEUs now shipped through Keelung.
By 2014, Taipei port expects to handle upwards of 2 million TEUs.
"While Taipei port's cargo traffic last year measured around 5.4 million tonnes of bulk cargo, we expect to hit 10 million tonnes with the new container terminal in 2008," Wei said.
Keelung Harbor Bureau director Wang Chung-hsiung (王鐘雄) said that Taipei port had been assigned as Kee-lung's auxiliary port because of difficulties in expanding Kee-lung port.
"In the future, Taipei port will most likely service larger vessels from the US or Europe while Keelung port will service smaller vessels from countries closer to Taiwan," Wang said.
However, the Keelung Harbor Bureau said that already the amount of sandstone shipped through Kee-lung has declined since Taipei port began servicing vessels carrying sandstone.
Taipei port's upgrade to international status would enable shipping companies to berth and discharge cargo at Taipei port directly, bypassing previous applications at the Keelung Port administration.
"It's hard to predict how the port's traffic will be affected because the traffic each port receives will be mostly up to the shipping companies to decide. It will depend on which companies each port can attract," Wang said.
Wei said that Taipei port had many advantages over Keelung's.
"Taipei is a metropolitan city and is the location of a large number of businesses, so most cargo is bound for the city," Wei said.
"Taipei port is strategically located to allow traders to bypass land shipping because it is so close to the city," Wei said.
In addition, the port also has aspirations as a tourism center.
Taipei port director Wu Fu-hsiung (吳富雄) explained that the port had plans to capitalize tourism opportunities.
"We hope to set up a tourism area. "People would be able to experience berthing at the port and visit the port to see the port's operations," Wu said.
Wu joked that given the amount of construction at the port, tourism projects probably would not materialize until after 2011.
Comments will be moderated. Keep comments relevant to the article. Remarks containing abusive and obscene language, personal attacks of any kind or promotion will be removed and the user banned. Final decision will be at the discretion of the Taipei Times.