Jeremy Lin posts 50-point triple-double
No one was going to be surprised if Jeremy Lin of the Kaohsiung Steelers put up a triple-double during Sunday's game against the New Taipei Kings, but few could have foreseen that he would do it with a score of 50 points.
The former NBA star broke the P.League+'s halftime scoring record, claiming 32 points in the first two quarters. He fouled out with 4 minutes, 12 seconds remaining of the game, with a total of 50 points, 10 boards and 11 dimes.
Lin, 34, tied Sim Bhullar for most points scored in a P.League+ game and broke Anthony Tucker's record of 41 points scored in a triple-double.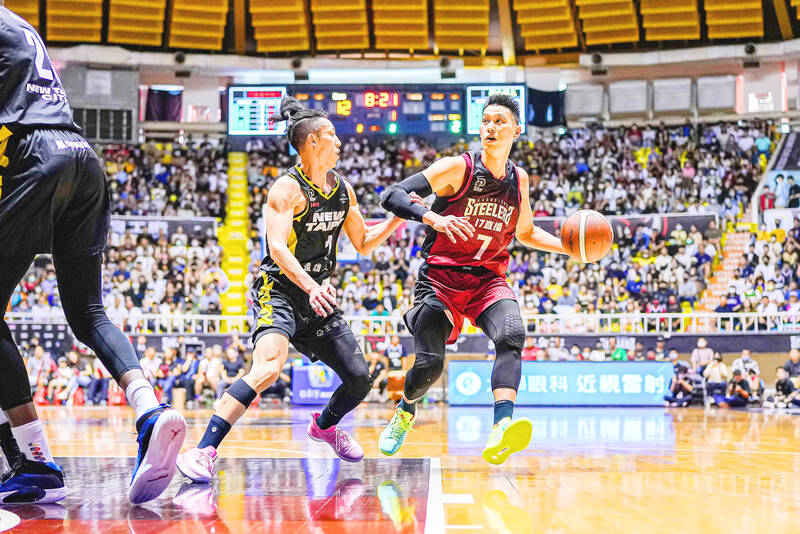 Jeremy Lin of the Kaohsiung Steelers, right, controls the ball while his brother, Joseph Lin of the New Taipei Kings, defends in their P.League+ game at the Kaohsiung Fengshan Stadium on Sunday.
Photo: CNA / The Kaohsiung Steelers
"I really enjoyed the game, not because I scored a lot, but because I saw my teammates show few reactions when I fouled out. They just said: 'Okay, let's work together and forge ahead,'" Lin said.
He said he felt more nervous watching the game from the bench, but was thrilled to see how his teammates performed in the last 3 minutes, describing the game as "a very beautiful one."
The Steelers had a 103-100 lead when Lin was forced to leave the court. Jamarcus Mearidy stepped up in Lin's absence to score 10 of the Steelers' last 13 points en route to their 116-110 home victory.
He also pulled off a behind-the-back pass to Wendall Lewis for a dunk that ignited the Kaohsiung Fengshan Stadium.
"I knew when Shu-hao [Lin] fouled out, I just knew I had to step up," said Mearidy, who scored 12 points in total.
Sunday's win was the Steelers' eighth in a row, and they are tied with the Formosa Taishin Dreamers in fourth place at 15-21.
Also on Sunday, the Taoyuan Pauian Pilots defeated the Taipei Fubon Braves 95-86, largely thanks to Sani Sakakini's 41 points.
Comments will be moderated. Keep comments relevant to the article. Remarks containing abusive and obscene language, personal attacks of any kind or promotion will be removed and the user banned. Final decision will be at the discretion of the Taipei Times.