Tom Brady announces his retirement from the NFL
Record-breaking NFL quarterback Tom Brady on Wednesday announced that he was "retiring for good" at the age of 45, one year after reversing his decision to quit the sport.
Brady, whose Tampa Bay Buccaneers lost in the wild-card round of the NFL playoffs last month, called time on his 23-year career in a social media video.
"Good morning, I'll get to the point right away: I'm retiring for good," Brady said, sitting by a beach.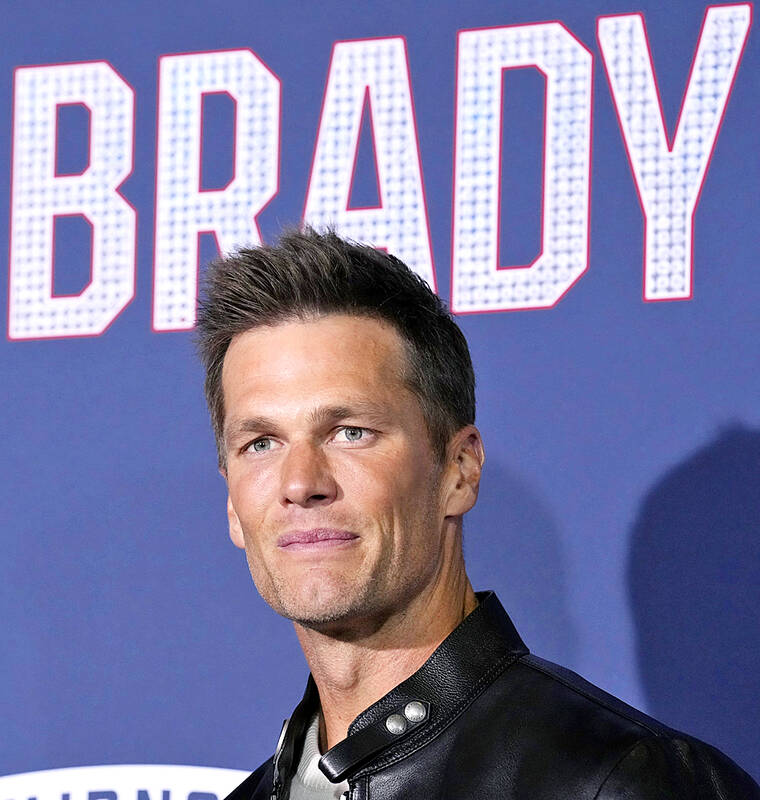 NFL quarterback Tom Brady attends the premiere of the film 80 for Brady at the Regency Village Theatre in Los Angeles on Tuesday.
Photo: AP
Widely viewed as the greatest quarterback of all time, Brady won a record seven Super Bowls, six of them with the New England Patriots before adding his final triumph with Tampa at the end of the 2020 season.
The quarterback had announced he was retiring on Feb. 1 last year, but 40 days later changed his mind and said he was returning for another season with the Bucs.
"I know the process was a pretty big deal last time, so when I woke up this morning I figured I'd just press record and let you guys know first," he said. "So I won't be long-winded."
"I think you only get one super emotional retirement essay, and I used mine up last year," he said. "So, really, thank you guys, so much, to every single one of you, for supporting me. My family, my friends, teammates, my competitors, I could go on forever, there's too many. Thank you, guys, for letting me live my absolute dream. I wouldn't change a thing. Love you all."
Brady was due to enter free agency and already the rumor mill had begun with several teams being linked with the veteran.
The Californian leaves the game owning a host of records in the NFL.
He is the league's all-time regular-season leader in pass attempts (12,050), completions (7,753), passing yards (89,214) and touchdown passes (649). He also owns all those records for the post-season.
Brady won 251 regular-season games and 35 playoff games, which are more than any player in the league's history.
Under coach Bill Belichick at New England, Brady became a specialist in orchestrating comeback victories with his trademark game-winning drives.
Unflappable under pressure, he had the most game-winning drives (58) and fourth-quarter comeback wins (46) of any NFL quarterback.
Kansas City Chiefs quarterback Patrick Mahomes, who is to face off against the Philadelphia Eagles in this year's Super Bowl, responded to Brady's announcement by posting an emoji of a goat — indicating his view that Brady was the Greatest of All Time (GOAT).
J.J. Watt, a three-time NFL Defensive Player of the Year, who recently announced his retirement, echoed the sentiment.
"Greatest of All Time. No question, no debate," Watt wrote on Twitter. "It's been an honor and a privilege. PS - The newly retired group meets on the golf course every morning at 10am. Drinks are on the new guy, so bring your wallet."
Brady's celebrity surpassed the NFL. In November last year, he and Brazilian supermodel Gisele Bundchen announced they were divorcing after 13 years of marriage.
The divorce came after months of tabloid speculation concerning the couple's marriage, which reportedly came under strain when Brady reversed his retirement decision.
Bundchen replied to Brady's announcement on Instagram writing: "Wishing you only wonderful things in this new chapter of your life."
Brady is expected to move into a career in broadcasting, having already agreed a 10-year deal with television network Fox, reported to be worth US$375 million, to work as a commentator once his football career ended.
In an interview in July last year with Variety magazine he said he was looking forward to taking on the new role.
"I have a very unique perspective on football and how it should be played, and what good plays look like and what bad plays look like," he said. "I feel like I can still have a great impact on the game. I could stay in the game, doing what I love to do, talking about this incredible sport."
Comments will be moderated. Keep comments relevant to the article. Remarks containing abusive and obscene language, personal attacks of any kind or promotion will be removed and the user banned. Final decision will be at the discretion of the Taipei Times.