Leopards sell out games as Dwight Howard arrives
The T1 League's Taoyuan Leopards sold out 60,000 tickets to its four home games this month and next month within 10 minutes after they became available on the KKTIX Web site on Thursday, following the franchise's announcement that former NBA superstar Dwight Howard would play for them this season.
The "Dwight Howard effect" has led the franchise to issue tickets for special courtside seats for fans who want to see the eight-time NBA All Star up close, with details to be announced at a news conference today, the Leopards said on Facebook.
Howard, nicknamed "Superman," landed at Taiwan Taoyuan International Airport at about 10:30pm on Thursday.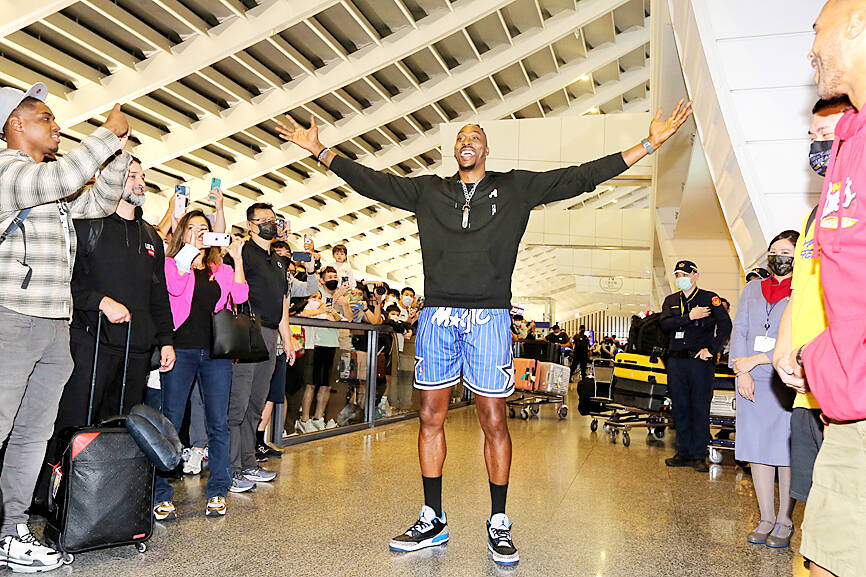 Taoyuan Leopards signing Dwight Howard gestures after arriving at Taiwan Taoyuan International Airport on Thursday.
Photo: CNA
He is to attend the news conference prior to a team workout.
He signed autographs for fans before posing for photographs with representatives from the Taoyuan Leopards at the airport.
"I appreciate each & every one of the people that genuinely want to see me win," Howard wrote on Instagram before boarding his flight to Taiwan.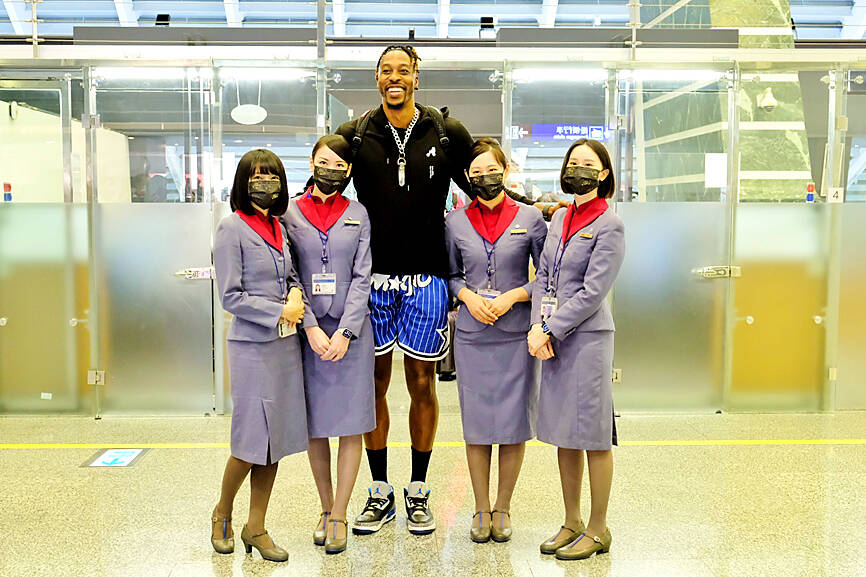 Taoyuan Leopards signing Dwight Howard poses for a photograph with airline staff at Taiwan Taoyuan International Airport on Thursday.
Photo: CNA
"My goal is to put smiles on faces all across the world & spread positivity, so being able to play the sport I love while accomplishing that goal is a blessing. Taiwan superman is on the way," he added.
Howard would wear his signature No. 12 shirt for the Leopards this season, Taoyuan Leopards general manager Bret Su told reporters on Tuesday.
Howard is planning to play in the Leopards' opening game of the season on Saturday next week against the New Taipei CTBC DEA at the National Taiwan Sport University Arena, the Leopards' home court.
"He wants to play. He wants to bring something very different to Taiwan's basketball scene," Su said on Tuesday, adding that Howard had agreed to play for the whole season.
Asked whether Howard's arrival would create something similar to the "Manny craze" in Taiwan in 2013 — referring to the whirlwind stint in the CPBL by the then-41-year-old former MLB slugger Manny Ramirez — Su said: "I definitely believe Howard would have a bigger effect than him [Ramirez]."
While Su refused to specify Howard's salary, he said that the franchise has ensured that he felt "quite satisfied" with the amount, which would be more than US$200,000 per month.
Ticket prices for games would not be increased despite Howard's addition, as a way to thank fans for their support, he said.
In a prerecorded video released in tandem with the Leopards' announcement on Tuesday, Howard shouted out to Taiwan "with open arms, big hug and big smiles," saying he "can't wait to touch down in Taiwan and start playing for the Taoyuan City Leopards."
Howard, who has visited Taiwan four times, is the biggest signing in Taiwan's professional basketball history.
Standing 2.08m and weighing, 120kg, Howard has had an illustrious career in the NBA.
Su said that Howard's addition could "turn the Leopards into Taiwan's strongest team and boost the overall level of play in the league."
Comments will be moderated. Keep comments relevant to the article. Remarks containing abusive and obscene language, personal attacks of any kind or promotion will be removed and the user banned. Final decision will be at the discretion of the Taipei Times.