World leaders express their condolences
ONE CHINA But the UN has its hands tied and is powerless to give aid unless Beijing requests it
Leaders around the world expressed condolences to the victims of yesterday's devastating earthquake, with many countries also offering assistance in ongoing relief efforts.
Absent from those offering assistance, however, was the UN, which could do little since it does not recognize Taiwan, a UN relief official said.
The UN Office for the Coordination of Humanitarian Affairs said all it could do was to pass on information about the quake. To do more would require the Chinese government to request assistance on the behalf of Taiwan, which both it and the UN consider to be a province of China.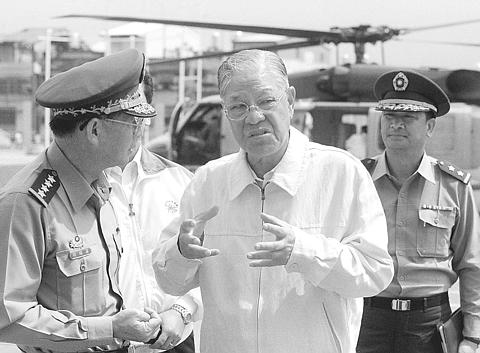 President Lee Teng-hui meets with military officials upon his arrival in Taichung County yesterday.
PHOTO: CHUNG KUO-WEI, LIBERTY TIMES
A green light from the Beijing authorities would enable more countries to respond, OCHA official Rudolf Mueller said. "We are awaiting China's official position indicating it would welcome assistance."
Other countries which abide by a "one China" policy recognizing only Taiwan have not been so squeamish diplomatically .
US President Bill Clinton was the first one who extended his condolences to Taiwan and pledged to provide US aid to cope with the catastrophe.
"Our thoughts are with all of those who have suffered losses and who may still be in need of assistance," Clinton said in a statement issued from the White House.
Clinton said the US was "in touch directly with Taiwan authorities" to determine what assistance the US could offer.
Vice Premier Liu Chao-shiuan (劉兆玄) confirmed that the US would dispatch an 85-member rescue team scheduled to arrive this morning, and would also donate US$25,000 to assist relief efforts.
Japan said yesterday it was sending more than 100 rescue workers to Taiwan and would provide US$500,000 in aid.
Thirty-four rescuers from Japan's maritime safety agency and police and fire-defense agencies left Japan for Taiwan yesterday evening, according to the foreign ministry, while another 37 rescue workers were to leave late yesterday night. Another 35 were to leave for Taiwan this morning.
Singapore sent a team of 39 rescue workers yesterday, and Seoul's foreign ministry announced the dispatch of a 60-member rescue team.
Russia's Emergency Situations Ministry dispatched a 76-man team, and a 15-member team from the Turkish non-governmental search and rescue association AKUT also left for Taiwan yesterday.
Meanwhile, Japan's Prime Minister Keizo Obuchi, South Korean Prime Minister Kim Jong Pil and Pope John-Paul II sent messages of condolence.
China also sent condolences and offered assistance, though as of press time it had not approached the UN on Taiwan's behalf, nor was there any indication that Taipei would wish it to do so.
President Jiang Zemin (江澤民) was quoted by Xinhua news agency as saying that the earthquake had "hurt the hearts" of the people on the mainland as "Chinese people on both sides of the Taiwan Straits are as closely linked as flesh and blood."
"We are willing to offer any possible assistance to alleviate quake-caused losses," Jiang said.
Jiang's pledge of assistance comes at a time of heightened tension between Beijing and Taipei following President Lee Teng-hui's(李登輝) redefinition of cross-strait relationship as "special state-to-state ties."
Su Chi, chairman of the Mainland Affairs Council, said yesterday that Jiang's remarks had helped the worsening ties between Taiwan and mainland China, and he expressed hope that they would contribute to a positive development of bilateral ties.
Analysts said yesterday that offers of humanitarian aid might bring a thaw to the current cross-strait atmosphere.
"Jiang's statement was a good approach to modify China's image, especially when it comes after Lee's `two-state' model announced on July 9. Starting from the humanitarian aid basis, at least, it could give some positive upswing to cross-strait ties,'' said Lee Deng-ker (李登科), a cross-strait specialist from Taiwan's National Chengchi University.
"If Lee can react in a friendly manner to Jiang's offer it might be a good opportunity to ease the current cross-strait tensions,'' he added.
"Once the interaction between the cross-strait leaders attracted press attention, it could become a focus in the international community.''
Lin Bih-jaw (林碧炤), the deputy secretary-general of the presidential office, said the government needs more time to analyze the possibility of receiving some form of assistance from Beijing.
"We need to further deliberate all the consequences, so we can't ask President Lee to issue any statement right away,'' Lin said.
"Jiang's declaration was mainly aimed at helping our damage-control. Except to express my appreciation, I am reluctant to make other comments at the moment,'' he said.
Hong Kong Chief Executive Tung Chee-hwa (董建華) also expressed grave concern over the quake and extended his deep sympathy to the families of those killed in the tragedy.
Taiwan's Ministry of Foreign Affairs spokesman Henry Chen (陳銘政) said at a press conference earlier yesterday that diplomatic allies in Central America, Africa and Macedonia had demonstrated their concern to Taiwan's local embassies.
French President Jacques Chirac and German Chancellor Gerhard Schroeder also expressed sympathy and support for Taiwan.
Chirac "addressed a message of sincere sympathy and condolences to all the victims of this catastrophe and their families," his spokeswoman Catherine Colonna said.
"France is following the situation closely and is ready to provide the Taiwanese people with the support and emergency aid they may need," she added.
In Berlin, Schroeder expressed his "deep sympathy" and his "deep compassion to the quake victims and their families," government spokesman Uwe-Karsten Heye said.
Offers of help were also received from Germany, Switzerland, Britain, Spain, Israel and Thailand.
Comments will be moderated. Keep comments relevant to the article. Remarks containing abusive and obscene language, personal attacks of any kind or promotion will be removed and the user banned. Final decision will be at the discretion of the Taipei Times.