Asia-Pacific leaders head to San Francisco 亞太經合會(APEC)在舊金山召開
Leaders from the 21-member Asia-Pacific Economic Cooperation (APEC) forum will meet in San Francisco this month for the 30th APEC summit, the first hosted by the United States since 2011.
WHAT IS THIS YEAR'S LIKELY HIGHLIGHT?
Like most international gatherings, APEC has become a stage for strategic competition between the US and China, the world's two largest economies, and all eyes will be on an expected bilateral summit on the sidelines between US President Joe Biden and Chinese President Xi Jinping.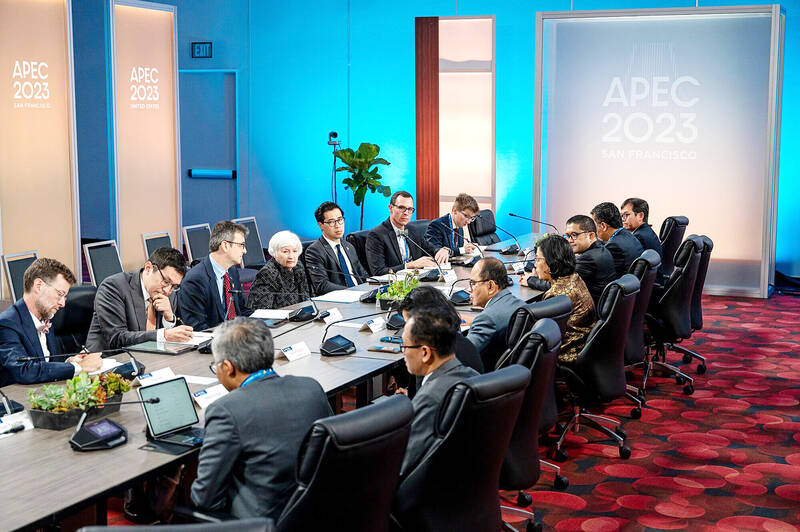 Janet Yellen, US Treasury secretary, center left, meets Sri Mulyani Indrawati, Indonesia's finance minister, center right, during the Asia-Pacific Economic Cooperation (APEC) summit in San Francisco, California, US, on Nov. 12. 亞太經濟合作會(APEC)峰會期間,美國財政部長葉倫(左排中)會見印尼財政部長穆利亞尼(右排中)。11月12日攝於美國加州舊金山。
Photo: Bloomberg 照片:彭博社
A meeting between the pair would be their second in person since Biden took office in January 2021. They first met at the G20 summit in Bali a year ago.
APEC leaders are due to gather between Nov. 15-17. Senior APEC finance officials and ministers started meeting on Saturday last week ahead of the summit, while the annual APEC CEO summit will run from Nov. 14-16.
WHAT IS APEC?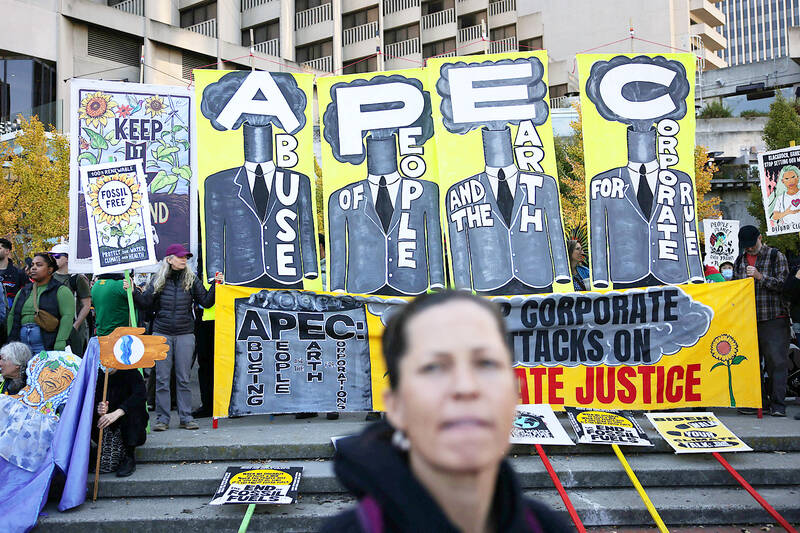 People attend a protest against the upcoming APEC (Asia-Pacific Economic Cooperation) Summit in San Francisco, California, US on Nov. 12.民眾集結,抗議即將舉行的亞太經合會(APEC)高峰會。11月12日攝於美國加州舊金山。
Photo: Reuters 照片:路透
APEC was founded in Canberra in 1989 as an informal dialogue forum to promote regional economic integration. It initially had 12 members. Now it has expanded to involve more than 100 meetings a year.
APEC membership covers 38% of the global population, or nearly 3 billion people, about 62% of GDP and almost half of global trade.
APEC says it operates on the basis of non-binding commitments, open dialogue and equal respect for the views of all participants. Decisions are reached by consensus and commitments undertaken on a voluntary basis.
APEC'S MEMBERSHIP
APEC's members are: Australia, Brunei, Canada, Chile, China, Hong Kong, Indonesia, Japan, South Korea, Malaysia, Mexico, New Zealand, Papua New Guinea, Peru, the Philippines, Russia, Singapore, Taiwan, Thailand, the United States and Vietnam.
It is unique in grouping member economies rather than nations, allowing participation of Chinese-ruled Hong Kong, as well as self-ruled Taiwan, which China claims as its own. It does not include India, however, the world's most populous country.
Attempts by India to join APEC were stymied for decades — first because its economy was not integrated into the global system and then by a membership freeze.
Taiwan presidents do not attend APEC summits, but the island is represented either by senior former officials or business leaders, such as Morris Chang, founder of semiconductor maker TSMC who went to the Bangkok summit last year.
CURRENT CONTROVERSIES
Hong Kong's representation has become controversial. Washington, as host, is in charge of the guest list and in July US congressional aides told Reuters Hong Kong's chief executive, John Lee, would not be invited as he is under US human-rights sanctions.
The Hong Kong government said Lee would not attend due to "scheduling issues" and Financial Secretary Paul Chan would go to San Francisco instead.
Russia's participation became divisive after it invaded Ukraine last year and its president, Vladimir Putin, did not attend the 2022 summit in Bangkok. The State Department has said Putin will not be in San Francisco.
Drafting a final summit declaration this year will be difficult due to divisions between members over conflicts in Ukraine and the Middle East.
In Bangkok last year leaders endorsed a text vowing to uphold and strengthen a rules-based multilateral trading system while noting "most" of them condemned Russia's war in Ukraine.
Matt Goodman, a trade expert who was White House coordinator for the 2011 APEC summit, said smaller groups of like-minded states could issue their own statements.
"Given the make up of APEC with Russia and China both members, it's more difficult than ever to really come up with some tangible outcomes," he said.
BUZZWORDS
The US has chosen the theme "Creating a Resilient and Sustainable Future for All" for APEC 2023. It says it aims for an "interconnected, innovative, and inclusive" region and "to advance a free, fair and open economic policy agenda that benefits US workers, businesses, and families."
As of 2021, APEC members made up seven of the United States' top 10 overall trading partners.
Goodman expects the US to highlight the relative strength of its economy in challenging times — a veiled comparison with difficulties China has faced after years of spectacular growth.
(Reuters)
亞太經濟合作會議(APEC,簡稱亞太經合會)21個成員國之領導人,本月將在第30屆APEC高峰會聚首,本屆會議在舊金山舉行,是2011年以來首次由美國主辦。
今年的亮點是什麼?
與大多數國際聚會相同,APEC 已成為美國與中國這兩個世界最大經濟體之間的戰略競爭舞台,美國總統喬.拜登與中國國家主席習近平之間的雙邊峰會將會是眾所矚目的焦點。
這是拜登2021年1月上任以來兩人第二次面對面會晤。他們首次會面是在一年前的峇里島G20峰會。
APEC領導人將於11月15日至17日進行會議。APEC高級財務官員及部長上週六起開始進行峰會前會議,APEC企業領袖年度峰會則將於11月14日至16日舉行。
什麼是亞太經合會(APEC)?
APEC是促進區域經濟整合的非正式對話論壇,1989年成立於澳洲坎培拉,成員最初有12個,現已擴大到每年舉行一百多場會議。
APEC成員涵蓋全球38%的人口,即近30億人,約佔GDP的62%,以及近一半的全球貿易。
APEC表示,不具約束力之承諾、公開對話,以及平等尊重所有參與者之觀點,是其運作之基礎。其決策是基於自願,透過共識與承諾所做出的。
APEC之成員
APEC之成員有:澳洲、汶萊、加拿大、智利、中國、香港、印尼、日本、韓國、馬來西亞、墨西哥、紐西蘭、巴布亞紐幾內亞、秘魯、菲律賓、俄羅斯、新加坡、台灣、泰國、美國及越南。
它獨特之處在於,其成員是以經濟體,而非國家為單位,允許中國統治的香港,以及中國聲稱擁有主權,但實為自治的台灣加入。然而,它不包括世界上人口最多的國家印度。
印度數十年來一直想加入APEC,但不斷受阻——先是因為其經濟並未融入全球體系,然後是成員資格凍結。
台灣領導人不參加APEC峰會,而是由前高級官員或商界領袖代表出席,例如去年參加曼谷峰會的半導體製造商台積電之創辦人張忠謀。
目前的爭議
香港代表引起了爭議。華盛頓作為東道主,負責擬定來賓名單,7月,美國國會助理對路透表示,香港特首李家超不會受邀,因為他受到美國的人權制裁。
香港政府表示,李家超因「時程安排問題」而不會出席,將由財政司司長陳茂波代表前往舊金山。
俄羅斯去年入侵烏克蘭,且其總統普丁並未出席 APEC 2022年曼谷峰會,此後俄羅斯的參與引發了分歧。美國國務院表示普丁不會前往舊金山。
由於成員國在烏克蘭與中東衝突問題上的分歧,今年起草最終峰會宣言將會很困難。
去年在曼谷,與會領袖簽署了一份文件,誓言維護及加強以法規為基準的多邊貿易體系,同時指出「大多數」領導人譴責俄羅斯在烏克蘭的戰爭。
擔任2011年APEC峰會白宮協調員的貿易專家麥特‧古德曼表示,志同道合的國家小團體可以發表自己的聲明。
他說:「由於俄羅斯和中國皆為APEC成員,要真正取得實際成果比以往任何時候都更加困難」。
時事關鍵字
美國將2023年APEC之主題訂為「為各方創造具韌性且永續的未來」,並表示,其目標是建立一個「互聯、創新與包容」的地區,並「推進自由、公平與開放的經濟政策議程,使美國工人、企業與家庭受益」。
截至2021年,美國十大貿易夥伴中有七個是APEC成員。
古德曼預計,美國將強調其經濟在困境中的相對實力—與中國歷經多年驚人成長後所面臨的困難做含蓄的比較。
(台北時報林俐凱編譯)
Comments will be moderated. Keep comments relevant to the article. Remarks containing abusive and obscene language, personal attacks of any kind or promotion will be removed and the user banned. Final decision will be at the discretion of the Taipei Times.