ANALYTICAL ENGLISH 解析英語
The science behind lateness 為什麼有些人總是遲到?
We all have friends who are late for everything. You tell them to arrive at seven, and they arrive at seven-thirty or later. Or maybe the late one in your friend group is you. What makes it so hard to arrive on time? There are many factors behind why some people seem constantly late for every event.
When it comes to time management, one of the most fundamental skills we rarely think about is our perception of time. How much time we believe has passed can affect our punctuality. Researchers at San Diego State University conducted a study to figure out how people measure time. They divided test subjects into two groups based on their personality: Type A people, who had traits of being ambitious and competitive, and Type B people, who were more creative, reflective and explorative. They found that Type A people felt a minute had gone by after about 58 seconds, while Type B people felt a minute had passed after roughly 77 seconds. This discovery meant that Type B people believed they had more time than they actually did, which, more often than not, made them late.
There are also mental factors that can contribute to chronic tardiness. People with anxiety problems may be more critical of themselves; therefore, it takes more time for them to get ready. For example, they may worry about how their outfit looks, so they need a lot more time to get dressed.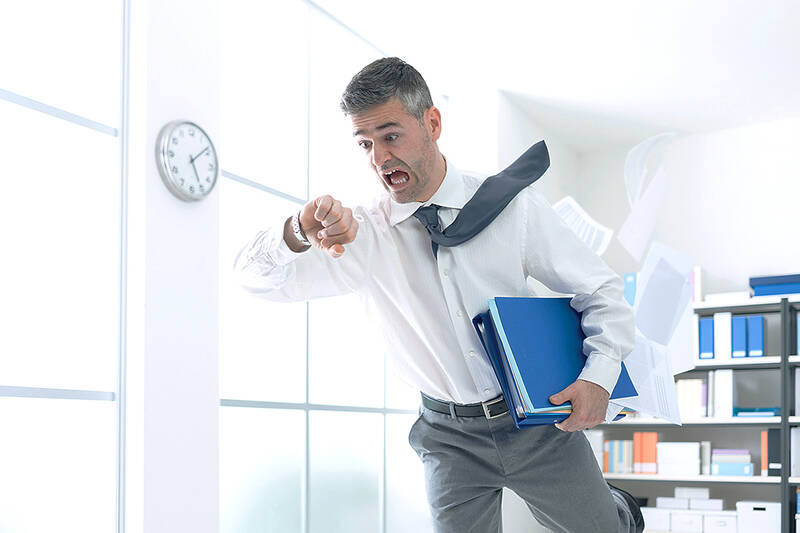 Photo courtesy of Shutterstock 照片: Shutterstock 提供
But how can one overcome lateness? For one, you can set all the clocks in your home 15 minutes fast. Adding 15 minutes to the time you need to get ready is also helpful. That way, you'll hopefully leave your home on time. With some self-reflection and time management, lateness can be a thing of the past.
我們都有凡事都會遲到的朋友。你告訴他們七點抵達,而他們七點半或更晚才到。又或者也許你就是你朋友圈裡遲到的那個人。是什麼讓準時到達如此困難?為何有些人似乎不斷在每個場合上都遲到,背後有很多因素。
一說到「時間管理」,我們很少想到的最基本技能之一就是我們的時間感。我們認為已經經過了多少時間會影響我們的準時性。聖地牙哥州立大學的研究人員進行了一項研究,以了解人們如何測量時間。他們根據測試對象的性格將其分為兩組:A型人,具有雄心勃勃和好勝心的特質;B型人,較具創造力、深思性和探索性。他們發現,A型人在大約五十八秒後感覺一分鐘過去了,而B型人則是在大約七十七秒後感覺一分鐘過去了。這一發現意味著B型人認為他們擁有比實際上更多的時間,這往往使他們遲到。
還有一些心理因素會導致長期遲到。有焦慮問題的人可能會對自己更挑剔,因此需要更多時間做好準備。舉例來說,他們可能會擔心自己的衣服看起來如何,所以他們需要更多的時間來著裝。
但一個人要如何克服遲到呢?其一,你可以將家中所有的時鐘調快十五分鐘。將你所需的準備時間增加十五分鐘也很有幫助。那樣一來,你將有望準時出門。透過一些自我反省和時間管理,遲到就有可能成為往事。
What Did You Learn?
1. Which word in the passage means "the fact of arriving or doing something at the expected time?"(簡答題)
2. Check the people who are likely to have a problem with being on time.
Statement (Check)
(A) Ed is a teacher. He spends lots of time preparing his teaching materials.
(B) Amy is an artist. She's much more creative than other people.
(C) Sally is a student. Her clocks are set 20 minutes fast.
(D) Willy is an office worker. He feels that minutes pass slower than they actually do.
答案︰1. punctuality 2. (B), (D)
Words in Use
1. constantly adv. 不斷地,經常地
Mike is constantly asking people for favors.
麥克不斷要求別人幫他的忙。
2. fundamental a. 基本的,根本的
You should learn some fundamental rules of grammar when learning a new language.
學習一種新語言時,你應該學一些基本文法規則。
3. rarely adv. 很少,鮮少
Hank rarely exercises, so he is getting fatter.
漢克很少運動,所以變得越來越胖。
4. conduct vt. 進行(調查、實驗等)
The researchers conducted a survey on people's eating habits.
那群研究人員對人們的飲食習慣進行了一項調查。
5. measure vt. 測量;衡量
Regular tests are needed to measure the students' progress in learning. 需要定期的考試來衡量學生在學習中的進步情況。
Practical Phrases
1. figure out. . . / figure. . . out 
了解/弄清楚……
Ada tried to figure out why Bob was mad.
艾達試著弄清楚鮑伯生氣的原因。
2. divide A into B 將A 分成B
Mr Lin divided the class into two groups.
林老師把全班分成兩組。
3. go by (時間)逝去
As time went by and I grew up, I learned to make decisions by myself.
隨著時間流逝我長大了,我學會了自己做決定。
4. more often than not 往往,通常
Getting out of bed in the morning is, more often than not, a struggle for me.
對我而言,早上要從被窩裡爬起來往往是一番掙扎。
聽文章朗讀及講解: https://ivy.pse.is/455bfu
本文出自常春藤解析英語雜誌: www.ivy.com.tw
Comments will be moderated. Keep comments relevant to the article. Remarks containing abusive and obscene language, personal attacks of any kind or promotion will be removed and the user banned. Final decision will be at the discretion of the Taipei Times.