ENGLISH DIGEST 實用英語
U13: From 'cow' to 'beef:' the reason behind the change in words 一樣是牛,「牛」跟「牛肉」的英文卻不一樣?
Do you enjoy sinking your teeth into a nice chunk of cow? Or a crispy piece of pig back meat? Chances are that you do, though you're more likely to call these dishes beef and bacon. But why do the words for these animals change after they're killed and served? And why does this shift only happen with certain meats?
To answer these questions, we have to step back almost 1,000 years into the past, as the prevailing theory is that this linguistic phenomenon results from the Norman invasion of England. In 1066, the Old French-speaking Normans conquered the Anglo-Saxons, who spoke Old English. The Norman rulers imposed various measures of oppression on their new subjects, but they also introduced their language. . . .
Cow / Beef: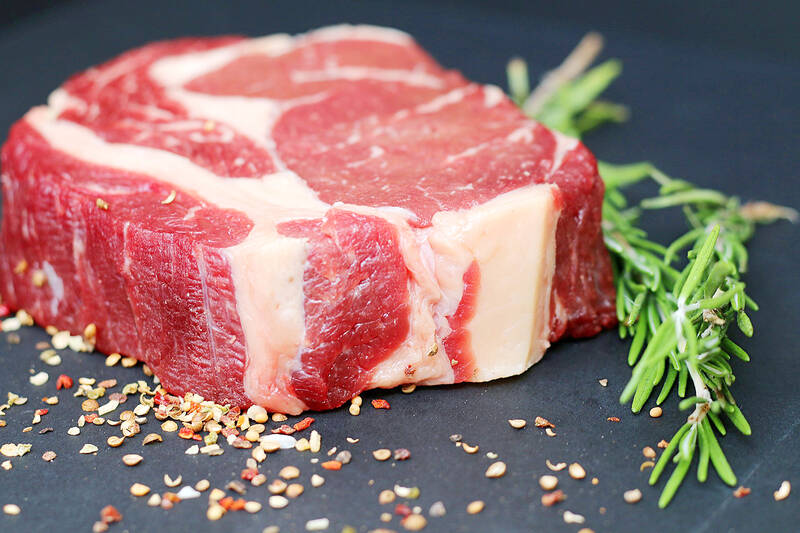 Photo courtesy of Pixabay 照片:Pixabay提供
It's not just adult cows that acquired a new name after they were killed and prepared for Norman feasts. A young cow is called a "calf," and this word comes from Old English. However, the animal is transformed into "veal" when it appears on a plate.
Pig / Pork:
As well as the word pig, which, like cow, has Old English origins, the Anglo-Saxons used to use the word "swine" for these animals. Both became pork when the Normans consumed their meat, though.
Chicken:
Chicken is one of several exceptions to this general change in terminology. While the Normans used the French word poulet for chicken meat, this became "pullet" in English. This word is only really utilized by chicken farmers and refers to young hens. No one is quite sure why this occurred.
Fish:
Here's another exception, as a fish is a fish regardless of whether it's swimming in a river or gracing a dinner table. One possibility for why the French word poisson has never entered the English language is that it's too close to "poison" — something no one wants to eat.
你喜歡全心享受一大塊美味的牛肉嗎?或是一塊酥脆的豬背肉?你很可能會喜歡,儘管你更可能將這些菜稱作牛肉和培根。但是為什麼這些動物在被屠宰以及入餐後,牠們的單字會改變呢?且為什麼這種改變只發生在某些肉類上呢?
要回答這些問題,我們必須回到將近一千年以前,因為普遍的理論認為這種語言學的現象是由於諾曼人入侵英格蘭。西元1066年,講「古法語」的諾曼人征服了講「古英語」的盎格魯-撒克遜人。諾曼統治者對他們的新國民推行各種壓迫措施,但也引入了他們的語言……。
牛/牛肉
並不只有成牛在被屠宰並為諾曼人的盛宴做準備後獲得了一個新名字。小牛被稱為calf,這個詞來自古英語。然而,當它出現在餐盤上時,它就變成了veal(小牛肉)。
豬/豬肉
除了像牛一樣起源於古英語的豬這個單字之外,盎格魯-撒克遜人以前常使用swine(豬)這個詞來指這些動物。不過,當諾曼人食用牠們的肉時,兩者都變成了pork(豬肉)。
雞
雞是這種術語普遍變化的幾個例外之一。雖然諾曼人使用法語單字poulet來表示雞肉,但在英語中變成了pullet。這個字只有雞農才會真正使用,它指的是小母雞。沒有人能確定為何會發生這種情況!
魚
這是另一個例外,因為魚就是魚,不管它是在河裡游泳還是使餐桌增色。法語單詞poisson從未進入英語的一種可能是它與poison(毒藥)太相似——是沒有人想吃的東西!
MORE INFORMATION
Norman n. 諾曼人 / adj. 諾曼人的
Anglo-Saxon n. 盎格魯─撒克遜人
calf n. 小牛
veal n. 小牛肉
swine adj. 豬
terminology n. 術語;專門用語
pullet n. 小母雞
KEY VOCABULARY
1. chunk n. 塊;厚塊;大部分
Jeff cut the meat into small chunks before he put them in the boiling pot of soup.
傑夫把肉切成塊,然後放入煮沸的湯鍋中。
2. shift n. 改變;轉移
Did you notice the shift in mood at the dinner table when I mentioned Francis' name?
當我提到法蘭西斯的名字時,你有注意到餐桌上的氣氛變了嗎?
3. prevailing adj. 普遍的;盛行的
The prevailing opinion among the students was that the new teacher was too strict.
學生之間的普遍意見是那位新老師太嚴格了。
4. conquer vt. 征服;佔領;克服
The British Empire conquered many countries, but most of these have since become independent.
大英帝國征服了許多國家,但其中大部分的國家至今皆已獨立。
5. impose v. 推行;實施
After the outbreak of "mad cow disease" in the UK, many countries imposed a ban on UK beef imports.
英國爆發「狂牛症」後,許多國家實施英國牛肉進口的禁令。
6. oppression n. 壓迫;欺壓;壓抑
The slaves faced years of oppression before they were freed.
這些奴隸在被釋放之前,承受了多年的壓迫。
7. exception n. 例外;除外/exception to. . . 的例外
The teacher reminded Larry that he wasn't an exception to the rules and had to follow them.
老師提醒賴瑞,他不是規則的例外且必須遵守規則。
8. refer to 指的是;意指
The French term ancien regime refers to the governments that ruled the country before the revolution.
法國用語ancien regime指的是革命之前統治國家的歷任政府。
9. grace vt. 使增色;使生輝
Colorful gardens and white stone statues grace the entrance of the beautiful castle.
色彩繽紛的花園和白色的石像使這座美麗城堡的入口生輝。
學習音檔: https://magazine.english4u.net/Magdata/menu/qrbi5
《空中美語》雜誌APP免費下載: https://www.english4u.net/apps/index.aspx
免費收聽當月《空中美語》雜誌課文朗讀及解析 !
文章由AMC空中美語授權使用: https://www.english4u.net
Comments will be moderated. Keep comments relevant to the article. Remarks containing abusive and obscene language, personal attacks of any kind or promotion will be removed and the user banned. Final decision will be at the discretion of the Taipei Times.