ANALYTICAL ENGLISH 解析英語
Why can you see your breath when it's cold out? 為什麼冬天會呼出「白霧」?
Have you ever been in such cold weather that you could see your breath? Did you feel as though you were a mythical creature emitting a cloud of mist each time you breathed out? Well, sorry to ruin your fantasy, but there's a scientific explanation for this fascinating phenomenon.
As you probably already know, every time you inhale, your lungs absorb oxygen from the air. When you exhale, your lungs put carbon dioxide (CO2) back into the air. The warm air released from your body with each exhalation contains vapor because of the moisture from your lungs, throat and mouth. The warmth gives the particles of water the energy they need to keep moving rapidly. But when the air outside is cold, the water particles slow down and move closer together, forming little drops of water in the air, which is a process referred to as condensation. These drops of water suspended in the air appear like a cloud under lights, which is why you are able to see them.
How cold does it need to be for you to witness this phenomenon? Actually, there's no set answer. It depends on other factors, such as the humidity level of the air — the more humid the air, the more visible your breath will be. But generally speaking, you can usually see your breath when the temperature reaches around 7°C or cooler. One tip to see it more easily is to open your mouth wide and exhale from deeper in your throat so that the air coming out will be warmer and carry more vapor.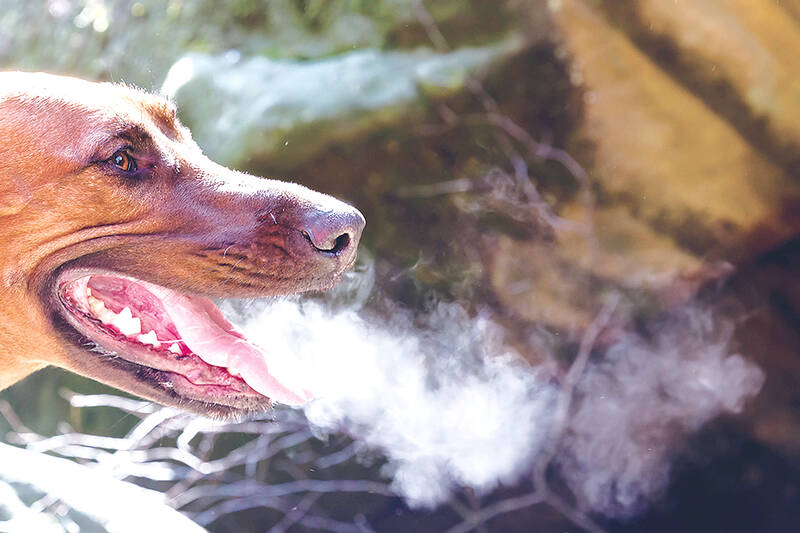 Photo courtesy of Shutterstock 照片:Shutterstock 提供
So, the next time the mercury in the thermometer plummets, step outside, take a deep breath, exhale and enjoy the spectacle!
你曾身處在冷到可以看見自己呼出的氣的寒冷天氣下嗎?每次呼氣的時候,你是不是覺得自己好像是一隻吐出薄霧的神獸?嗯,很抱歉破壞你的幻想,但這有趣的現象是有科學解釋的。
正如你可能已經知道的,每次你吸氣,你的肺就會從空氣中吸收氧氣。當你吐氣時,你的肺會將二氧化碳排回空氣中。因為肺部、喉嚨和嘴巴有水分,所以隨著每次呼氣從身體釋放出的暖氣都含有水蒸氣。氣體的溫度給予水粒子所需的能量持續快速移動。但當外面的空氣是冷的,水粒子會慢下來並向彼此更靠近,在空氣中形成小水滴,這個過程被稱為凝結。這些懸浮在空氣中的小水滴在光線下看起來像一團雲,這就是為什麼你能看得見它們。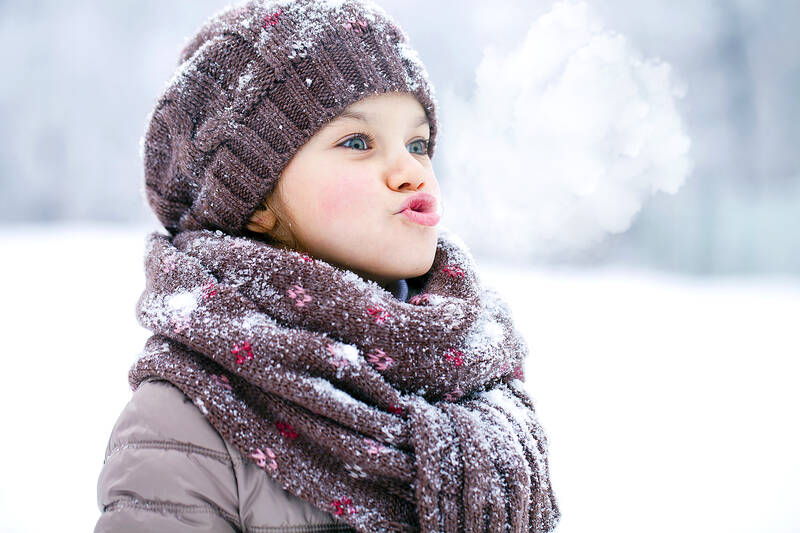 Photo courtesy of Shutterstock 照片:Shutterstock 提供
那要多冷你才看得見這個現象呢?其實,並沒有固定的答案。其取決於其他因素,像是空氣中的溼度--空氣中的溼度愈高,你呼出的氣就愈能被看見。但一般來說,通常當氣溫達到約攝氏七度或更冷時,你便能看到你的氣息。想要更容易看到氣息的一個小訣竅,就是張大嘴巴並從喉嚨的更深處吐氣,如此一來吐出的氣會更暖並挾帶更多水蒸氣。
所以,下次溫度計裡的水銀驟降時,走出戶外、深呼吸、吐氣,然後欣賞眼前的奇觀吧!
What Did You Learn?
1. Which of the following words in the passage means "the transformation of a gas into a liquid"?
(A) Spectacle. (B) Exhalation.
(C) Phenomenon. (D) Condensation.
2. Which of the following statements is true about the air exhaled from the human body?
(A) It stops moving if the temperature is too low.
(B) It contains a large amount of oxygen.
(C) It is a gas and normally not visible.
(D) It is completely dry and warm
3. According to the passage, under which circumstances will you be less likely to see your breath?
(A) Breathing out air on a freezing rainy day.
(B) Releasing your breath when the weather is chilly.
(C) Blowing out your breath when the temperature is below 0°C.
(D) Taking a deep breath under the sunlight and expelling it from the nose.
答案:1. (D) 2. (C) 3. (D)
Word in Use
1. emit vt. 發出∕排出(氣體、氣味、光等)
The hot steam emitted from the iron helps press the clothes.
熨斗發出的熱蒸氣能燙衣服。
2. absorb vt. 吸收
Mina used the mop to absorb the spilled milk before her mom got home.
米娜在媽媽回家前用拖把吸收灑出來的牛奶。
3. vapor n. 水蒸氣
Clouds are formed when water vapor is turned into droplets.
當水蒸氣被轉變為小水滴時,雲朵便會形成。
4. particle n. 粒子;微粒
Airborne particles include ash, dust or pollen, and are invisible to the naked eye.
懸浮粒子包含灰燼、灰塵或花粉,且肉眼看不見。
5. suspend vt. 懸浮,懸掛
The decorations were suspended from the ceiling by thin string.
那些裝飾品是用很細的繩索來懸掛在天花板上的。
Practical Phrases
1. as though + S + V 好像∕彷彿…
Tina acts as though she's tough. In fact, she is quite timid.
蒂娜表現得好像她很強悍。其實,她膽小如鼠。
2. be referred to as... 被稱為…
Taiwan was referred to as Formosa by Portuguese sailors.
臺灣以前被葡萄牙水手稱為福爾摩沙。
3. generally speaking 一般來說
Generally speaking, the magazine is published monthly, but it sometimes publishes bimonthly.
一般來說,這本雜誌是月刊,但有時會是雙月刊。
4. take a deep breath 深呼吸
Before archers release an arrow, they take a deep breath to keep their hands steady.
射箭選手在放箭前會深呼吸以保持手部平穩。
聽文章朗讀及講解: https://ivy.pse.is/455bfu
本文出自常春藤解析英語雜誌: www.ivy.com.tw
Comments will be moderated. Keep comments relevant to the article. Remarks containing abusive and obscene language, personal attacks of any kind or promotion will be removed and the user banned. Final decision will be at the discretion of the Taipei Times.