What to know about 'buy now, pay later' 「先買後付」(BNPL)是什麼?
Since the start of the pandemic, the option to "buy now, pay later'" has skyrocketed in popularity, especially among young and low-income consumers who may not have ready access to traditional credit. If you shop online for clothes or furniture, sneakers or concert tickets, you've seen the option at checkout to break the cost into smaller installments over time. Companies like Afterpay, Affirm, Klarna, and Paypal all offer the service, with Apple due to enter the market later this year.
But with economic instability rising, so are delinquencies. Here is what you should know:
HOW DOES BUY NOW, PAY LATER WORK?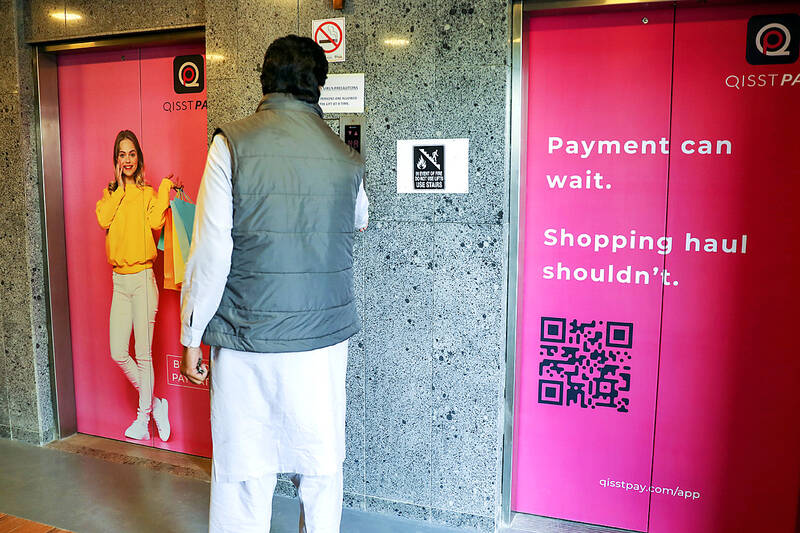 An employee waits for an elavator at buy-now, pay-later fintech startup QisstPay Inc's offices in Islamabad, Pakistan, on Nov. 14, 2021. An advertising slogan on the elevator doors reads: "Payment can wait. Shopping haul shouldn't." 先買後付金融科技新創公司QisstPay的一名員工在公司等待電梯。電梯門上的廣告標語寫著:「付款可以等,購物不能等」。二○二一年十一月十四日攝於巴基斯坦伊斯蘭馬巴德。
Photo: Bloomberg 照片:彭博社
Branded as "interest-free loans," buy now, pay later services require you to download an app, link a bank account or debit or credit card, and sign up to pay in weekly or monthly installments. Scheduled payments are then automatically deducted from your account or charged to your card. The services generally don't charge you more than you would have paid up front, meaning there's technically no interest, so long as you make the payments on time.
But if you pay late, you may be subject to a flat fee or a fee calculated as a percentage of the total you owe. If you miss multiple payments, you may be shut out from using the service in the future, and the delinquency could hurt your credit score.
ARE MY PURCHASES PROTECTED?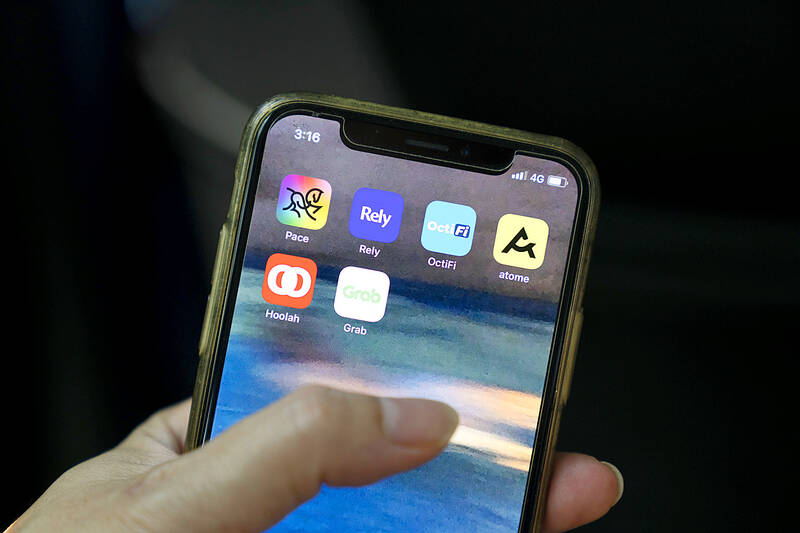 The icons of buy now pay later (BNPL) apps are arranged on an iPhone in Singapore on June 6, 2021. Clockwise from top left: Pace, Rely, Octifi, Atome, Grab and Hoolah. The growing popularity of BNPL services among young Singaporeans is unnerving regulators and politicians who fear BNPL apps prey on 20-somethings, who may be financially naive. 一支iPhone上顯示「先買後付」(BNPL)的應用程式。左上角起按順時針方向依序為Pace、Rely、Octifi、Atome、Grab及Hoolah。二○二一年六月六日攝於新加坡。BNPL服務在新加坡年輕人之間日益普及,令監管機構和政界人士感到不安,擔心BNPL應用程式會剝削二十多歲在財務上可能無知的人。
Photo: Bloomberg 照片:彭博社
In the US, buy now, pay later services are not currently covered by the Truth in Lending Act, which regulates credit cards and other types of loans (those paid back in more than four installments).
That means you could find it more difficult to settle disputes with merchants, return items, or get your money back in cases of fraud. Companies can offer protections, but they don't have to.
WHY DO RETAILERS OFFER BUY NOW, PAY LATER?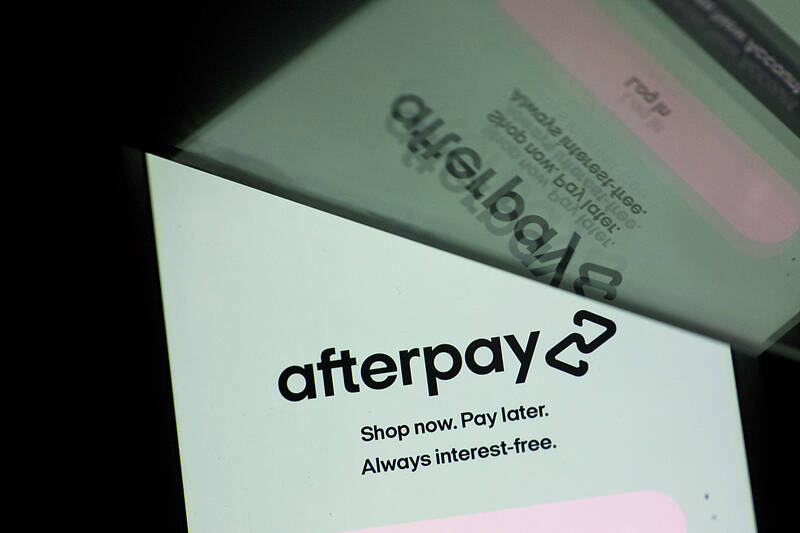 The Afterpay app login screen is displayed on a smartphone in Sydney, Australia on Aug. 3, 2021. 智慧手機上顯示的Afterpay應用程式登入頁面。二○二一年八月三日攝於澳洲雪梨。
Photo: Bloomberg 照片:彭博社
Retailers accept the backend fees of buy now, pay later services because the products increase cart sizes. When shoppers are given the option to pay off purchases in installments, they're more likely to buy more goods in one go.
WHO SHOULD USE BUY NOW, PAY LATER?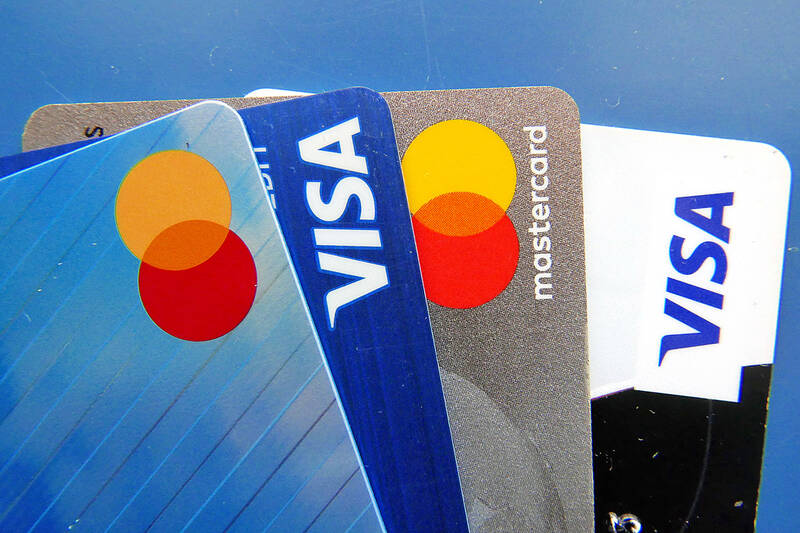 Credit cards are pictured on July 1, 2021, in Orlando, US. 信用卡。二○二一年七月一日攝於美國佛羅里達州奧蘭多。
Photo: AP 照片:美聯社
If you have the ability to make all payments on time, buy now, pay later loans are a relatively healthy, interest-free form of consumer credit.
But if you're looking to build your credit score, and you're able to make payments on time, a credit card is a better choice. The same goes if you want strong legal protections from fraud, and clear, centralized reporting of loans.
If you're uncertain whether you'll be able to make payments on time, consider whether the fees charged by buy now, pay later companies will add up to higher charges than the penalties and interest a credit card company or other lender would charge.
(AP)
自疫情開始以來,「先買後付」的選項變得大受歡迎,尤其對可能無法獲得傳統信貸的年輕及低收入消費者而言更是如此。若上網購買衣服或家具、運動鞋或音樂會門票,會在結帳時看到分期付款的選項。Afterpay、Affirm、Klarna和Paypal等公司都提供這種服務,Apple將於今年稍晚進軍此市場。
但隨著經濟不穩定的狀況加劇,拖欠率也在上升。以下是該知道的幾件事:
「先買後付」如何運作?
被「先買後付」標榜「無息貸款」,要求使用者下載應用程式,綁定銀行帳戶或借記卡,或者信用卡,並註冊以每週或每月分期付款。然後,預定的付款會自動從您的帳戶中扣除或記入您的卡。這些服務通常不會收取比您之前所付款項更多的費用,這表示只要您按時付款,從技術上來講是沒有利息的。
但若逾期付款,可能會需要支付一筆金額固定的費用,或是按欠款總額百分比所計算的費用。如果有多筆款項未繳,未來可能無法使用該服務,且拖欠可能有損您的信用評分。
我的購買有保障嗎?
在美國,「先買後付」服務目前並不在《誠實貸款法》的管轄範圍內,該法所監管的是信用卡和其他類型的貸款(分四期以上還款的借貸)。
這表示您可能會發現要解決與商家的糾紛、退貨,或遇到詐欺要把錢取回來會更難。公司可以提供保障,但並無此義務。
零售商為何提供「先買後付」?
零售商接受先買後付的後端費用,因為先買後付增加了顧客的購物量。若購物者有分期付款的選項,就更可能一次購買更多商品。
誰該使用「先買後付」?
若您有能力按時支付所有款項,現在購買,以後支付貸款是一種相對健康、免息的消費信貸形式。
但是,如果您希望建立自己的信用評分,且有能力按時付款,那麼信用卡會是更好的選擇;若您想要強有力的法律保障以避免詐欺,以及清楚、集中的借貸報告,也是如此。
如果您不確定是否能按時付款,請考慮先買後付公司所收取的費用是否會比信用卡公司或其他貸方收取的罰款和利息加起來更高。
(台北時報林俐凱編譯)
Comments will be moderated. Keep comments relevant to the article. Remarks containing abusive and obscene language, personal attacks of any kind or promotion will be removed and the user banned. Final decision will be at the discretion of the Taipei Times.