SPEAK UP ! 雙語會話
Let's download the Taiwan Social Distancing App (4/5) 快下載台灣社交距離App(四)
A: I've already downloaded the Taiwan Social Distancing App. What now?
B: You need to turn on your phone's Bluetooth, so that the App can detect whether you have come into contact with an infected person.
A: Is there anything else that I need to do?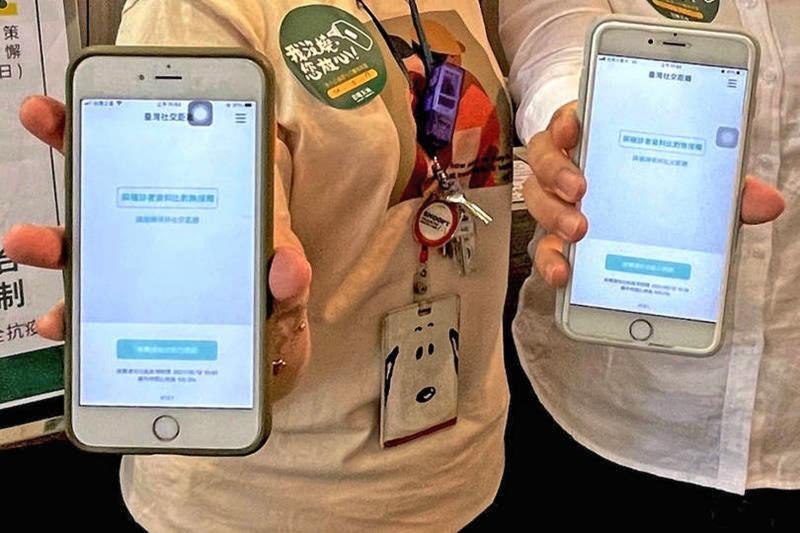 People display Taiwan Social Distancing Apps. 民眾出示手機台灣社交距離App。
Photo: Yang Yuan-ting, Liberty Times 照片:自由時報楊媛婷
B: You also need to ensure that the contact notification function is turned on, so that you will receive a warning.
A: 我已經下載了「台灣社交距離」App,然後呢?
B: 然後你要開啟手機的藍牙功能,才能偵測是否有和確診者接觸。
A: 還有什麼要注意的嗎?
B: 還要確認接觸通知的功能是否有啟動,才能收到警示。
(Translated by Edward Jones, Taipei Times/台北時報張聖恩)
Audio recordings for Speak Up! dialogues will be suspended until further notice due to the pandemic.
Publication Notes
LANGUAGE TIP 語文小提示
turn on/open In English, you use "turn on" to describe starting up any electronic device, machine or equipment, including air conditioning, or using a particular function such as Bluetooth or Wifi. "Open" is only used for low-tech physical objects such as windows, doors, drawers, cupboards, etc. But there is one important exception: you "open" (開啟) an App on your phone or computer.
Comments will be moderated. Keep comments relevant to the article. Remarks containing abusive and obscene language, personal attacks of any kind or promotion will be removed and the user banned. Final decision will be at the discretion of the Taipei Times.