SPEAK UP ! 雙語會話
I'm preparing for my graduation project (4/5) 我正在準備畢業專題(四)
A: Once you've finished writing the research paper for the graduation project, the presentation should be a piece of cake, right?
B: Wrong: the presentation is even harder. My teacher has required that each group delivers its presentation in English. I'm almost a nervous wreck already.
A: As the saying goes: "Practice makes perfect!" Practice a few more times and you'll be fine.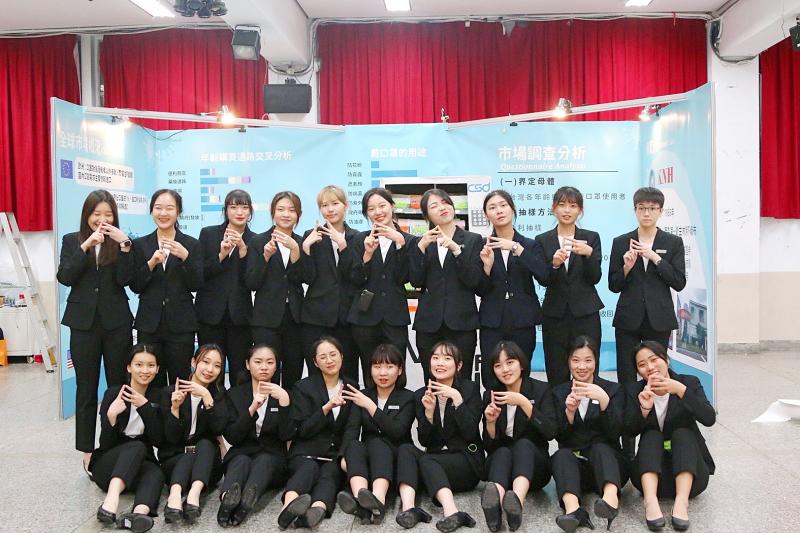 The graduation project presentation of National Taipei University of Business's international business department. 台北商業大學國際商務系的畢業專題發表會。
Photo: Eddy Chang, Taipei Times 照片︰台北時報張聖恩
B: I've been using my mobile phone to record the rehearsals to see which areas I still need to improve on. A pretty good idea, don't you think?
A: 你寫完畢業專題的研究報告後,報告發表應該不難吧?
B: 報告發表更難,我的教授要求每組要用全英文來發表,我快緊張死了。
A: 所謂「熟能生巧」!你多練習幾次就好啦。
B: 我在排練時還會用手機錄下來,再看看有沒有需要改進的地方。這主意不錯吧?
(Translated by Edward Jones, Taipei Times/台北時報張聖恩)
Audio recordings for Speak Up! dialogues will be suspended until further notice due to the pandemic.
Publication Notes
LANGUAGE TIP 語文小提示
nervous wreck
You can use "nervous wreck" in either a literal or humorous way to indicate that you, or someone else, is close to a nervous breakdown, resulting from intense stress or emotional exhaustion.
Comments will be moderated. Keep comments relevant to the article. Remarks containing abusive and obscene language, personal attacks of any kind or promotion will be removed and the user banned. Final decision will be at the discretion of the Taipei Times.