Hengchun Airport visited by mysterious plane 恆春航空站 出現神秘飛機
Not a single aircraft has landed or taken off from Pingtung County's Hengchun Airport since August 2014 — that is until Wednesday last week. A light aircraft suddenly landed and then took off again from the airport, leaving locals scratching their heads wondering whether it was in fact a scheduled flight. Hengchun Airport provided an explanation: the aircraft, which belongs to a civil aviation training center, was carrying out a test.
Locals joke that the only things taking off and landing at the airport now are mosquitoes, however at the end of March this year, the Executive Yuan agreed to a plan by Pingtung County government to use Hengchun Airport for international flights as part of a two-year trial.
However, to date no international commercial charter flights have landed at the airport. Instead, a civil aviation training center has unexpectedly taken a liking to the airport and quietly carried out a test run.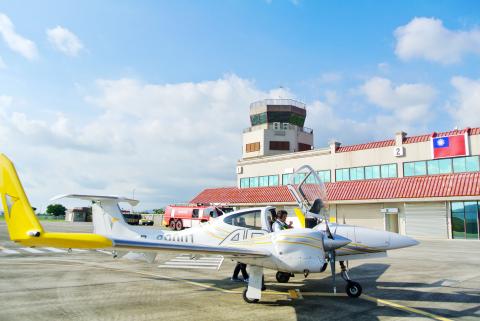 A light aircraft operated by Apex Flight Academy sits on the apron at Hengchun Airport on Wednesday last week. 一架安捷飛航訓練中心的小型飛機上週三停在恆春機場停機坪。
Photo:Tsai Tsung-hsien, Liberty Times
照片:自由時報記者蔡宗憲
Apex Flight Academy, who carried out the test, says the airport's runway is sufficiently long, while it is also within easy reach of both Taitung and Kaohsiung. Furthermore, says the academy, with no regular flights scheduled at the airport, and so long as one takes care to avoid military exercises in the surrounding area, Hengchun Airport is well suited to trainee pilots.
(Liberty Times, translated by Edward Jones)
屏東恆春機場從二○一四年八月至今都無飛機起降,上週三卻突然有小型飛機起降,居民議論「有航班了?」恆春航空站解釋,是民間飛行訓練中心測試。
被當地人戲稱為「蚊子機場」的恆春航空站,今年三月底行政院同意屏縣府試辦兩年入出國機場案,但國際商務包機仍無下落,反倒是有民間飛行訓練中心看上恆春機場,悄悄進行測試。
進行測試的安捷飛航訓練中心表示,恆春機場跑道長度充足、距離台東及高雄的距離適中,加上沒有固定班機,只要避開周邊軍方演訓,相當適合學員訓練。
(自由時報記者蔡宗憲)
Publication Notes
TODAY'S WORDS
今日單字
1. light aircraft n. phr.
小型飛機 (xiao3 xing2 fei1 ji1)
2. scheduled flight phr.
航班 (hang2 ban1)
3. charter flight phr.
包機 (bao1 ji1)
4. take a liking to phr.
看上 (kan4 shang4)
Comments will be moderated. Keep comments relevant to the article. Remarks containing abusive and obscene language, personal attacks of any kind or promotion will be removed and the user banned. Final decision will be at the discretion of the Taipei Times.