Beyond Time 優人神鼓在天地間演出「時間之外」
U-Theatre gave the first outside performance of their classic theater piece, Beyond Time, in the middle of rice fields in Taitung County's Chishang Township Rice Field Cultural Scenic Area. The waving golden rice was a stage, the layers of mountains and hills and the famous Tiantang Road were the backdrop. While they performed, the wind provided the accompanying voice by brushing the waves of rice. Of the 2,000 seats, none were left empty. U-Theatre's Artistic Director Liu Ruo-yu said this was the real stage that she was looking for. This is now the seventh year of the Chishang Autumn Rice Harvest Arts Festival.
After U-Theatre started their performance the whole audience was silent, adults and children alike all focused their appreciation on the performance onstage. The sound of U-Theatre's drums rose among the light fragrance of the rice fields, at times like the surge of ten thousand galloping horses, at times trickling like water. The performance of more than one hour really made people feel as though they were "beyond time."
Liu said, originally this theater piece combined mirrors and floor projections to create a feeling of four dimensions in the theater. However, because this was an outdoor performance, originally actions that were off-stage all became a part of the performance. They built enclosed areas with rice straws on both sides of the stage for the performers to change costumes. During the performance, the floor and projections which had been used in performances indoors were removed, because they wanted the audience to directly experience the beauty of the moment between the earth and the sky.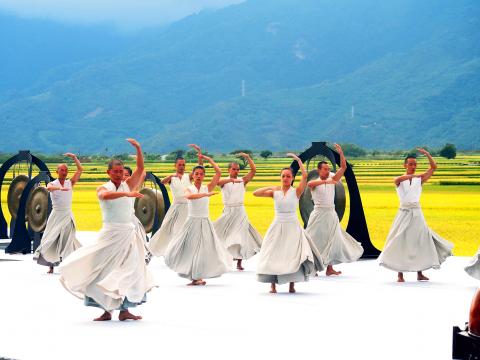 Performers dance on a simple stage with a backdrop of mountains in Taitung County's Chishang Township on Sunday. 演出者在樸素的舞台上以山色為背景跳舞。攝於上週日,台東縣池上鎮。
Photo: Wang Hsiu-ting Liberty Times
照片:自由時報記者王秀亭
(Liberty times, translated by Clare Lear)
優人神鼓在台東縣池上稻田文化景觀區的田中央演出,首度將經典劇碼「時間之外」移到戶外,以黃金稻浪為舞台,層層疊疊的山巒及知名的天堂路為背景,演出時還有風吹拂著稻浪的聲音為伴奏,現場兩千個座位座無虛席。優人神鼓藝術總監劉若瑀說:「這就是我們要找的真正舞台。」池上秋收稻穗藝術節至今已邁入第七年。
優人神鼓開演後,現場民眾一片靜默,大人、小孩專注地欣賞著台上的演出。優人神鼓在微微稻香的空氣中擊出鼓聲,時而如萬馬奔騰般急急前行,時而涓涓如流水,一個多小時的演出,讓人彷彿置身「時間之外」。
劉若瑀表示,該劇碼原本是結合鏡面地板及投影,在劇場裡營造四度的空間感,但這次演出的舞台是在戶外,原本應該是後台串場的動作,都成為表演的一部分,只在兩旁設有以稻稈搭建的遮屏,做為演出者更換衣物的場地。演出時,特地將室內演出時使用的地板與投影拿掉,就是希望觀眾可以直接在天地間體驗當下的美好。
(自由時報記者王秀亭)
Publication Notes
TODAY'S WORDS
今日單字
1. projection n.
投影 (tou2 ying3)
例: There was a projection of photos on the cafe wall.
(照片的投影打在咖啡廳的牆上。)
2. outdoor adj.
戶外 (hu4 wai4)
例: The success of outdoor activities depends on the weather.
(戶外活動的成功取決於天氣。)
3. remove v.
拿掉 (na2 diao4)
例: Since he removed sugar from his drinks every day, he went from 110 kilograms to 60 kilograms.
(自從他將每天飲料中的糖分拿掉,他的體重就從一百一十公斤降到六十公斤。)
Comments will be moderated. Keep comments relevant to the article. Remarks containing abusive and obscene language, personal attacks of any kind or promotion will be removed and the user banned. Final decision will be at the discretion of the Taipei Times.