Cat helps boy with selective mutism say 'I love you' 貓咪幫助選擇性失語症男孩開口說「我愛你」
A family puss has been named National Cat of the Year, thanks to his role in enabling a little boy with an anxiety disorder to utter the words "I love you."
The two-year-old feline, known as Jessi-Cat, was honored at the Cats Protection's National Cat Awards ceremony on July 19.
Jessi-Cat is a constant companion to seven-year-old Lorcan Dillon, who has selective mutism, a condition which affects his ability to speak and express himself and often leaves him feeling isolated and lonely.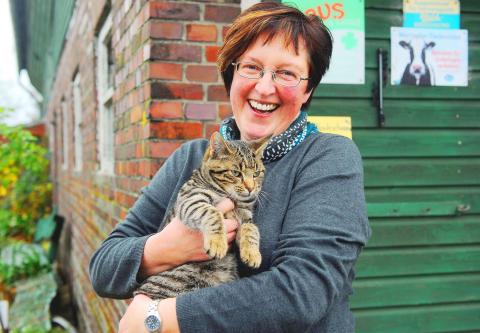 Anke Becker poses with her cat on her farm in Lower Saxony, Germany on Nov. 18. 安可‧貝克十一月十八日在其位於德國下薩克森州的農場上,與愛貓合影。
Photo: EPA
照片:歐新社
Thanks to Jessi-Cat, Lorcan is finally able to say ''I love you'' and has learnt ways to share his emotions when he finds it difficult to speak to people.
The Cats Protection's National Cat Awards are the UK's largest celebration of real-life stories of companionship, bravery and survival in the feline world.
At a ceremony at London's Savoy Hotel, winners were chosen in five categories — Best Friends, Hero Cat, Most Incredible Story, Outstanding Rescue Cat and Celebrity Cat.
Jessi-Cat was crowned overall winner after first winning the Best Friends category, chosen by celebrity judge, ex-YES keyboardist Rick Wakeman.
Rick said, "The bond between Jessi-Cat and Lorcan is incredible. Jessi-Cat helps Lorcan to communicate and express emotions that ordinarily Lorcan would not be able to do."
(Liberty Times)
一隻家貓榮膺(英國)年度國家貓咪獎,以感謝牠在讓一名焦慮症小男童能夠開口說「我愛你」上所扮演的角色。
兩歲的「傑西-貓」七月十九日在貓咪保護組織的國家貓咪獎頒獎典禮上接受表揚。
傑西-貓是七歲的洛肯.迪倫忠實的朋友,洛肯患有選擇性失語症,這種狀況影響他說話與表達自我的能力,常讓他感覺疏離與孤獨。
由於傑西-貓,洛肯終於能夠說「我愛你」,並在發現難與人交談時,學會分享情緒的方法。
貓咪保護組織的國家貓咪獎是英國表彰貓咪世界裡有關陪伴、勇氣與生存真實故事的最大盛會。
在倫敦薩沃酒店舉行的典禮上,五個獎項得主出爐—最佳朋友、英雄貓、最不可思議的故事、傑出救援貓以及明星貓。
傑西-貓在首先摘下最佳朋友獎後,又坐上總冠軍寶座,該榮銜是由明星評審—前YES鍵盤手瑞克威克曼選出。
瑞克說︰「傑西-貓與洛肯間的連結是不可思議的。傑西-貓幫助洛肯溝通與表達情緒,這是洛肯通常辦不到的事。」
(自由時報/翻譯:魏國金)
Publication Notes
TODAY'S WORDS 今日單字
1. leave v.
處於某種狀態 (chu3 yu2 mou2 zhong3 zhuang4 tai4)
例: Fear left his lips stiff.
(恐懼使他張口結舌。)
2. real-life adj.
真實的;現實的 (zhen1 shi2 de5; xian4 shi2 de5)
例: Some of the scenes in the film Life of Pi are not real-life scenes.
(電影《少年派的奇幻漂流》中的一些場景,並非真實的景。)
3. bond n.
連結;聯繫 (lian2 jie2; lian2 xi4)
例: The very act strengthened his bond with me.
(正是這一行動,增強了他與我的聯繫。)
Comments will be moderated. Keep comments relevant to the article. Remarks containing abusive and obscene language, personal attacks of any kind or promotion will be removed and the user banned. Final decision will be at the discretion of the Taipei Times.