Octogenarian makes flutes out of walking canes 八十六歲翁 柺杖魔笛取悅眾人
It's hard to believe that a walking cane can make such sweet melodies, but for a decade now, the 86-year-old Chiu Kuo-chih has been using scissors to make hand-made flutes out of walking canes. He has already made over 40 of these unique instruments, and become known locally as an elderly offbeat flute maker.
Hua Pei, a flute teacher of twenty years, was quite surprised at the accurate intonation of his flutes. Hua, who studied music in France, was so moved when she heard the story of how much Chiu loves music that she decided to present him with a gold-plated silver flute which she had had and cherished for many years. Beside himself with joy, Chiu said the flute was by far the most valuable gift he has ever received and that he would like for her to become his teacher.
Growing up as a child there were many mouths to feed in the Chiu household. He was the sixth oldest out of 12 children. He received a Japanese education growing up during the Japanese era. After graduating from primary school, he started working as a child laborer. It was around this time that Chiu saw someone playing a flute and decided to make his own since his family was too poor to afford such luxuries.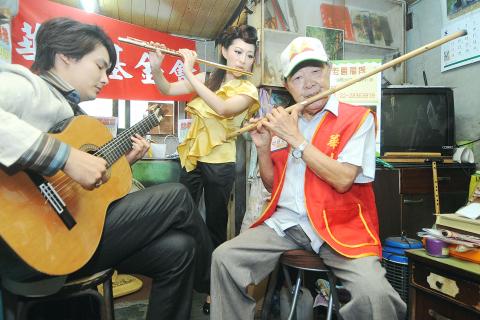 Chiu Kuo-chih, right, plays his flute which, doubles as a walking cane, with flute teacher Hua Pei, center, and guitarist Su Meng-feng in Taipei on Aug. 8. 邱過枝(右)八月八日吹奏以柺杖製成的笛子,與長笛老師華珮(中)以及吉他手蘇孟風合奏。
Photo: Liao Chen-huei, Taipei Times
照片:自由時報記者廖振輝
Chiu worked as a blacksmith and a knife whetter most of his life and never had any children of his own. After retiring he fell in love with hiking in the mountains. During his hikes he would pick up pieces of bamboo and add wooden handles to them to make walking canes for himself. The thought of having a flute to serenade people with whenever he rested during his hikes eventually inspired him to start making flutes out of his walking canes. Chiu is extremely fond of playing Taiwanese songs and Japanese nursery rhymes on his flutes. His fellow hikers seem to appreciate the novelty of his invention too. Chiu has already given away around a dozen of his walking cane flutes.
(LIBERTY TIMES, TRANSLATED BY TAIJING WU)
伴人行走的枴杖,竟能發出美妙樂聲。八十六歲的邱過枝,十年來,依照笛子構造,以剪刀手製逾四十支別出心裁的「笛子枴杖」,成為特異的笛子老師傅。擁有二十年長笛演奏經驗的長笛老師華珮驚訝地說,邱過枝的笛子音調很準。
曾經留學法國的長笛老師華珮被邱過枝熱愛音樂的故事感動,於是將珍藏多年、市價約新台幣六萬元的銀鍍金材質長笛,贈予邱結緣,邱高興地說:「這是這輩子收到最名貴的禮物。」還要拜華珮為師。
邱過枝兒時家中食指浩繁,媽媽生了十二個小孩,排行老六的他,受日本教育,國小畢業就當童工;見人吹笛,家窮沒錢買這種奢侈品,他就克難自製。
他原來是打鐵磨刀師傅,膝下無子。退休後愛登山,隨手撿了竹子,以木頭為柄,改良出「邱氏枴杖」。更靈感一來:「如果枴杖變成笛子,歇腳納涼時吹首歌,自娛娛人。」他最愛吹台語歌和日本童謠,登山客都覺得很新奇,已送出十幾支。
(自由時報記者謝文華)
Publication Notes
TODAY'S WORDS 今日單字
1. offbeat adj.
特異的 (te2 yi2 de5)
例: The teacher's offbeat teaching style always kept her students from falling asleep during class.
(老師特異的教學方式總讓學生不會在課堂上睡著。)
2. inspire v.
給予靈感 (gei2 yu3 ling2 gan3)
例: After I heard him play, I was inspired to go home immediately after the concert to practice my cello.
(聽到他演奏後給了我靈感,使我演奏會後馬上回家練習大提琴。)
3. novelty n.
新奇事物 (xin1 qi2 shi4 wu4)
例: It's hard to imagine the novelty of the television when it was first invented nearly a century ago because of its ubiquity now.
(由於現在電視機的普遍,我們很難想像它約一世紀前發明時那種新奇事物的感覺。)
Comments will be moderated. Keep comments relevant to the article. Remarks containing abusive and obscene language, personal attacks of any kind or promotion will be removed and the user banned. Final decision will be at the discretion of the Taipei Times.