Michael Jackson 'chemically castrated' as child: doctor 麥可‧傑克森美聲秘密 醫師:「化學去勢」
Michael Jackson may have been more prince than king of pop, a French doctor says in a new book alleging his wide-ranging voice resulted from a childhood chemical castration to fight acne. "When he died, I realized that he was an unusual phenomenon," Alain Branchereau, an opera buff and professor of vascular surgery at Timone University Hospital in France's Mediterranean port of Marseille, told AFP.
"I said, 'That's the voice of a castrato!'"
After discussing the voice with his colleagues, including endocrinologists, Branchereau ended up with the theory of chemical castration through the synthetic anti-male hormone drug Cyproterone.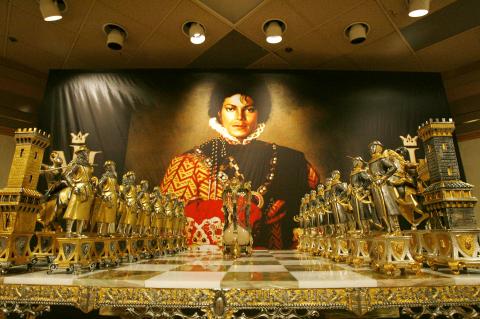 Michael Jackson's chess set is displayed in Beverly Hills, California on April 13, 2009. 麥可‧傑克森的棋盤組,二零零九年四月十三日於加州比佛利山莊展出。
Photo: Reuters 照片:路透
"When he was 12, Michael Jackson had acne. We know this, he spoke about it himself as a tragedy. What I think could have happened is that his people suggested this miracle treatment," the doctor said.
Cyproterone "blocks puberty, the voice can't mature," he said, adding that he had read around 20 books on the subject, studied photographs and spoken to specialists in dermatology, voice physiology, plastic surgery, urology as well as to a former singer with the Petits Chanteurs de Sainte-Croix boys choir.
The drug stops bodily hair and the larynx from growing and affects the bones, leaving the body with a slight frame but a large chest.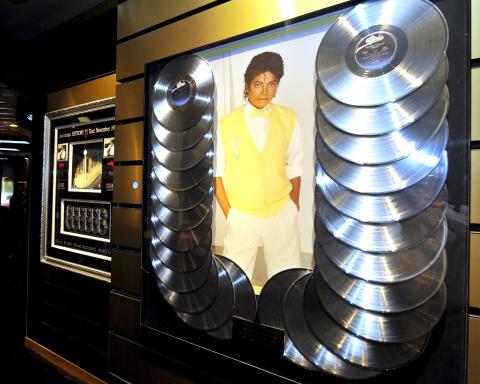 Items belonging to US pop star Michael Jackson are on display in Los Angeles, California on April 13, 2009. 二零零九年四月十三日麥可‧傑克森的個人物件於加州比佛利山莊展出。
Photo: EPA 照片:歐新社
Once the treatment is finished, the patient "keeps a child's larynx all his life in a man's body," said Branchereau.
The doctor also noted that a male voice breaks during adolescence, becoming difficult to control. "But Michael Jackson never stopped singing," he said.
"An important part of my theory is this voice's exceptional character, which covers three octaves. But I haven't found any grown men's voices that cover three octaves."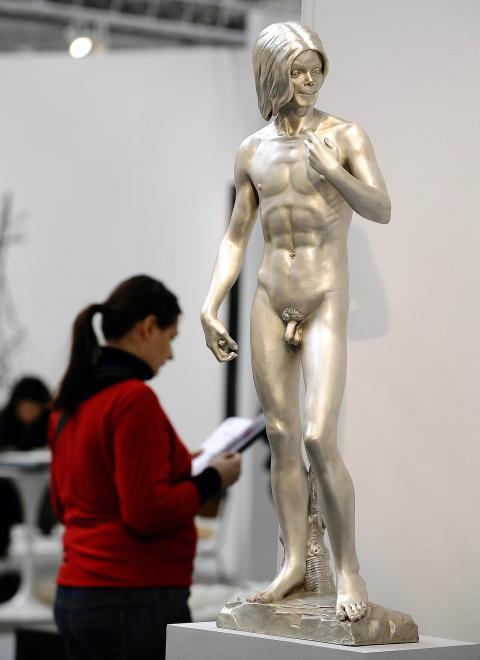 An attendee walks past the sculpture "Michael Jackson" by Marc Quinn during the Armory Show 2011 at Piers 92 and 94 in New York on Thursday. 一位參觀民眾週四於紐約第九十二號與九十四號碼頭舉辦的軍械庫展,走過馬克‧奎安名為「麥可‧傑克森」的雕塑作品。
Photo: AFP 照片:法新社
Branchereau admitted that he had not contacted Jackson's family or friends for his book, Michael Jackson, the secret of a voice, due out tomorrow.
"We will never have proof," the doctor said. "Unless his entourage says something."
(AFP)
一位法國醫師在他的新書指稱,流行天王麥可‧傑克森的寬廣音域,乃是源自其幼年使用一種化學去勢療法診治青春痘。這位天王或許稱之為流行王子,更為貼切。
法國地中海港口馬賽的提蒙大學醫院血管外科手術教授阿藍‧布藍雪羅是一位歌劇愛好者,他表示,「(麥可‧傑克森)過世時,我才意識到他(的音域)是個異常現象。」
他說,「我說過,那就是去勢後的聲音。」
布藍雪羅與包含內分泌專科等各領域同事討論後,他歸納(傑克森)曾服用一種抑制雄性荷爾蒙的合成藥物「醋酸環丙孕酮」,達到化學去勢。
這位醫師說,「當麥可‧傑克森自述十二歲時曾長青春痘,我們都知道他認為那次經驗是個悲劇。我猜事發的緣由,可能是他身邊的人推薦他這項特效療法。」
他在讀過約二十本相關書籍、研究許多照片,並且與包含皮膚科、聲音生理學、整形外科、泌尿科等專家,還有與法國一個男孩合唱團Petits Chanteurs de Sainte-Croix的一位離職歌手討論後,他說,醋酸環丙孕酮會「阻斷青春期,抑制變聲。」
這種藥物不僅抑制體毛與喉結生長,還會影響骨骼,使身體骨架變得纖細,但有較大的胸膛。
布藍雪羅說,一旦療程結束,病患將「呈現男人的身體,但終身維持童音。」
這位醫師還指出,男生的聲音在青春期開始變得難以控制,「但麥可‧傑克森從小到大,歌唱事業未曾間斷。」
他說,「我的理論中很重要的一環是這種涵蓋三個八度的特殊聲音。不過,我至今尚未發現任何一位成年男子有涵蓋三個八度的音域。」
布藍雪羅坦承在他撰寫新書《麥可‧傑克森,聲音之秘辛》(暫譯)時,並未接觸過傑克森的家人或其朋友。這本書將於明天上市。
這位醫師說,「我們將無法得到證實。」他說,「除非他身旁的人透露些什麼。」
(法新社/翻譯:林亞蒂)
Publication Notes
TODAY'S WORDS 今日單字
1. castration n.
去勢 (qu4 shi4)
例: It's best not to mention the subject of castration in male company.
(最好不要在男性朋友面前提到去勢的話題。)
2. buff n.
愛好者 (ai4 hao4 zhe3)
例: Harris is a real music buff. He spends all his money on top of the range audio equipment.
(哈瑞斯是真正的音樂愛好者。他將所有積蓄花在一些高檔音響設備上。)
3. tragedy n.
悲劇 (bei1 ju4)
例: There has been a serious airplane crash just out of town. Our best reporter is at the scene right now, covering the tragedy.
(城外發生嚴重空難。我們最好的記者現在正在現場報導這樁悲劇。)
Comments will be moderated. Keep comments relevant to the article. Remarks containing abusive and obscene language, personal attacks of any kind or promotion will be removed and the user banned. Final decision will be at the discretion of the Taipei Times.