Asteroid named for 'Star Trek' actor George Takei 小行星以《星際迷航》演員之名命名
Star Trek actor George Takei has been chosen as the namesake of the asteroid formerly known as the 1994 GT9.
The asteroid, located between Mars and Jupiter, has been renamed 7307 Takei in honor of the actor, who is best known for his role as Hikaru Sulu in the original Star Trek series.
"I am now a heavenly body," Takei said while laughing. "I found out about it yesterday.... I was blown away. It came out of the clear, blue sky - just like an asteroid."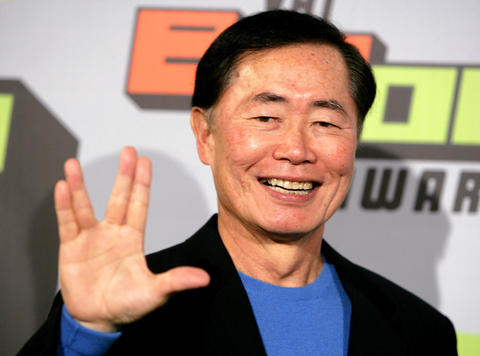 George Takei arrives at the VH1 Big in '06 Awards in Culver City, US, Dec. 2, 2006. 二○○六年十二月二,喬治.武井抵達美國卡佛市舉行的「VH1 Big」年度頒獎典禮會場。(照片:美聯社)
PHOTO: AP
The celestial rock, discovered by two Japanese astronomers in 1994, joins the 4659 Roddenberry (named for the show's creator, Gene Roddenberry) and the 68410 Nichols (for costar Nichelle Nichols, who played Lt. Uhura). Other main-belt asteroids are already named for science fiction luminaries Robert Heinlein and Isaac Asimov.
"It's in general considered quite an honor," Lars Lindberg Christensen, spokesman for the International Astronomical Union, said of the latest renaming.
About 14,000 asteroid names have been approved by the panel, while about 165,000 asteroids have been identified and numbered, he said.
Under the committee's policies, whoever discovers an asteroid has 10 years in which to propose a name. After that, the panel considers other suggestions, although it warns would-be namers to avoid anything "in questionable taste" and any names honoring political or military figures sooner than 100 years after their deaths.
Most recently, the 70-year-old Takei has appeared on NBC's Heroes, playing Hiro Nakamura's father. He also appears regularly on Howard Stern's satellite radio show. (AP)
《星際迷航》演員喬治.武井的名字已經取代原來「1994 GT9」的代號,成為這顆小行星的新名字。
這顆小行星位於火星與木星之間,已經被重新命名為「7307武井」,以表達對這位在《星際迷航》影集裡飾演光.蘇魯的武井的敬意。
武井笑說:「我現在是個天體了。」他說:「我昨天才得知…我很震驚。這[消息]是從晴朗的藍天而來-如一顆小行星般。」
這顆天體巨石是一九九四年由兩名日本天文學家發現的,其他還有以劇集創始人吉.羅登伯里的名字命名的「4659羅登伯里」,及以在劇中飾演尤烏拉的女星尼切爾.尼科爾斯的名字命名的「68410尼科爾斯」。其他在主要小行星帶的小行星也已經以科幻小說傑出作家羅伯特.漢萊與以撒.艾西莫夫之名命名。
據國際天文學聯合會發言人拉爾斯.林德伯格.克里斯騰森在最近的行星命名場合上說:「一般而言,這被認為是份殊榮。」
他說聯合會審查小組已核可大約一萬四千顆小行星的命名,另外還有大約十六萬五千顆小行星已被天文學家們確認並予以編號。
在此委員會的政策下,發現一顆行星的人可以在十年內為之命名。而後,審查小組會考慮其他的意見。不過該小組也提醒準指定命名者應避免任何「會引起質疑」的事物,以及任何頌揚近百年內才過世的政治或軍事人物的名字。
最近,七十歲的武井在美國國家廣播公司的《英雄》電視影集中飾演中村弘的父親。他也定期上霍華德.史德恩的衛星廣播節目。(美聯社/翻譯:艾利斯)
Publication Notes
SAY WHAT? 說說看
blow away 震驚 People who are blown away by something are really surprised by that thing, which could be good, bad or neutral. For example, "I was blown away by her kindness and don't know how to repay her." Astound and astonish both have similar meanings to blow away. For example, "He astounded me with his rudeness, but I was even more astonished when his young daughter swore at me." 說某人被某事「blow away」表示他或她對那件事感到震驚,可以是正面的、負面的或是不帶評斷的。例如:「她的親切令我受寵若驚,我不知道要如何回報她」。 「astound」與「astonish」的意思和「blow away」類似。例如:「他的無禮令我驚訝,不過當他的小女兒對我罵髒話時,我更是大吃一驚」。
Publication Notes
OUT LOUD 對話練習
Lisa: Cheryl, do you like to read science fiction novels? Cheryl: Yes, I find them really interesting. I especially like Philip K. Dick's work. Lisa: Why's that? Cheryl: Because I think he's writing about the present, even though most of the stories are set in the future. Lisa: That's troubling. He doesn't usually paint a nice picture of the future. 麗莎:綺麗兒,妳喜歡看科幻小說嗎? 綺麗兒:喜歡啊,我發現它們真的很有趣。我特別喜歡菲利浦.狄克的著作。 麗莎:為什麼是他的作品呢? 綺麗兒:因為我覺得即使他大部分的故事情節是設定在未來,但他寫的其實是現在。 麗莎:那糟糕了。他描繪的未來通常不怎麼美好。 paint a picture 詳盡描繪 Painting a picture doesn't always require putting a brush to canvas. People who describe something in detail are also painting a picture. For example, "Gone With the Wind paints an unforgettable picture of the American South." 「paint a picture」不一定需要用畫筆在帆布上作畫。人們對某件事作詳盡地描述也可以說是「paint a picture」。例如:「《飄》一書仔細描繪美國南方難以忘懷地景象」。
Publication Notes
TODAY'S WORDS 今日單字
1. asteroid n. 小行星 (xiao3 xing2 xing1) 例: It's another movie about an asteroid hitting the earth. (這是另一部有關小行星撞上地球的電影。) 2. heavenly adj. 天空的 (tian1 kong1 de5),美好的 (mei2 hao3 de5) 例: Tony thinks she has a heavenly smile. (東尼認為她的笑容很美。) 3. celestial adj. 天空的 (tian1 kong1 de5) 例: The celestial images are very beautiful. (天文景象十分美麗。) 4. luminary n. 傑出人物 (jie2 chu1 ren2 wu4) 例: That doctor is considered a luminary in his field. (那位醫師在他的專業領域裡是公認的傑出人物。)
Comments will be moderated. Keep comments relevant to the article. Remarks containing abusive and obscene language, personal attacks of any kind or promotion will be removed and the user banned. Final decision will be at the discretion of the Taipei Times.