Woman gives birth to her second set of triplets 美國婦女二度產三胞胎
With her first set of triplets just recently potty trained, an Ohio woman and her husband are about to be swimming in diapers again after she gave birth to her second set of triplets.
They've got the routine down pat and figure they'll be changing about 300 diapers and preparing about 168 bottles a week.
All while chasing after three others who are a few months shy of their fourth birthdays.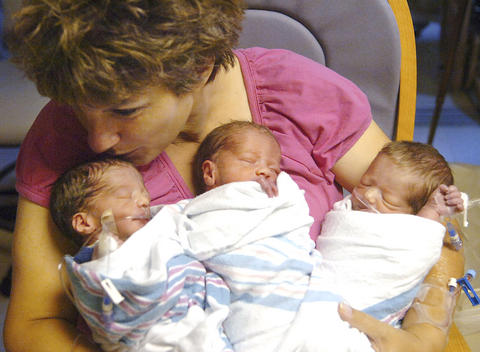 Victoria Lasita kisses one of her children at Good Samaritan Hospital in Cincinnati, US, Aug. 30, 2007. Photo: AP 今年八月三十日,美國辛辛那堤市慈善撒馬利亞醫院,維多利亞.拉西達親吻其中一名她剛產下的三胞胎。 照片:美聯社
"You take what God gives you ... and this is what he's decided we can handle," said Victoria Lasita, 39, who defied mind-boggling odds and delivered her second set of triplets on Aug. 29.
The news that the couple conceived both sets without the aid of fertility treatment, which significantly increases the chances of a multiple pregnancy, shocked local fertility doctors.
"Holy smokes. Do you know what the odds of that are?" Glen Hofmann, medical director of the Bethesda Center for Reproductive Health and Fertility, told the Cincinnati Enquirer.
Since the odds of a woman having triplets naturally are about one in 8,000, the chances of having them twice are about one in 64 million, he said.
"Everybody seems to be doing well," 48-year-old father Tim, who witnessed the caesarean-section birth in a delivery room brimming with 18 medical personnel, told the paper.
The Lasitas have been married six years and have three grown children from previous marriages. But they decided they'd like "one more" after the birth of the triplets.
"I guess we should have been more specific and said one more child, not one more set," Victoria said. (AFP)
美國俄亥俄州的一對夫婦最近才剛訓練好他們第一組三胞胎子女學會用馬桶上廁所,這位婦人又第二度生下三胞胎,使得他們再度與一大堆尿布為伍。
他們對照顧三胞胎的工作已經很熟練了,他們估算一星期要換大約三百片的尿布和泡一百六十八瓶的牛奶。
不過在此同時,他們還要緊盯著再過幾個月就要滿四歲的第一批三胞胎子女。
現年三十九歲的維多利亞.拉西達今年八月二十九日再度產下三胞胎,這機率低到令人難以置信。她說:「我們接受上帝所賜給予我們的,祂認為我們可以應付得來。」
這對夫婦兩胎都是自然懷孕,沒有接受生育治療,因為生育治療會增加懷多胞胎的機率。這個消息讓當地婦產科醫生相當震驚。
美國貝塞斯達生殖衛生與生育研究中心主任葛蘭.哈夫曼告訴《辛辛那提詢問報》:「天啊,你知道那個機率有多小嗎?」
他表示,一般婦女自然懷三胞胎的機率大約是八千分之一,兩次懷三胞胎的機率為六千四百萬分之一。
「每個嬰兒都很平安健康,」四十八歲的父親提姆說,他全程參與了妻子的剖腹生產過程,整間產房擠滿了十八位醫護人員。
拉西達夫婦已結婚六年,而且在之前的婚姻育有三名成年子女,但是他們在第一批三胞胎出生後,決定還要再生「一胎」。
維多利亞表示:「也許我們應該說得更清楚點,是多生『一個』孩子,而不是『一些』孩子。」(法新社/翻譯:楊鴻泰)
Publication Notes
Today's Words 今日單字
1. potty train v. phr. 上廁所訓練 (shang4 ce4 suo3 xun4 lian4) 例: Her baby was potty trained at age two. (她小孩在兩歲時,學習如何使用馬桶上廁所。) 2. diaper n. 尿布 (niao4 bu4) 例: My younger brother wears diapers. (我弟弟穿尿布。) 3. fertility treatment n. phr. 生育治療 (sheng1 yu4 zhi4 liao2) 例: They had to resort to fertility treatment after failing to conceive a child. (他們無法懷孕,最後必須求助生育治療。) 4. caesarean section n. phr. 剖腹生產 (po3 fu4 sheng1 chan3) 例: There was a problem so Anne had a caesarean section. (因為出了些問題,安妮得剖腹生產。)
Publication Notes
SAY WHAT? 說說看
holy smokes 天啊! Holy smokes, or holy smoke, is a way of expressing surprise. Similar "holy" ways of expressing surprise are holy mackerel and holy moley. For example, one could say, "Holy mackerel! The fish at this restaurant is fantastic," or "Holy moley! That's a lot of steamed buns he's carrying in his hands." If one were to see something that incites feelings of boredom rather than surprise, he or she could say ho hum. 「holy smokes」或是「holy smoke」都是用來表示驚訝的意思。同樣用「holy」表示吃驚的類似用法有「holy mackerel」和「holy moley」。例如:「天啊!這家餐廳的魚真是太棒了」,或是「天啊!他手上拿好多饅頭喔」。 不過,如果某件事情讓你覺得無聊而非驚訝,你可以說「ho hum」。
Publication Notes
OUT LOUD 對話練習
Andrew: My older sister just had twins last week. Harper: Congratulations! You must be proud to be an uncle. Andrew: Yeah, but I know she's going to ask me to babysit. Harper: You shouldn't worry too much about that. You used to take care of Harry's son. Andrew: But this is going to be double trouble. 安德魯:我姐姐上星期剛生了一對雙胞胎。 哈柏:恭喜呀!你一定很驕傲要當叔叔了。 安德魯:對啊,但是我知道我姐一定會叫我幫忙帶小孩。 哈柏:別太擔心!你以前照顧過哈利的兒子啊。 安德魯:可是這次將會是「雙倍的麻煩」。 double trouble 麻煩成雙 Something that's double trouble is especially troublesome. The phrase is usually used to describe something that comes in a set of two. For example, "the typhoon and the earthquake proved to be double trouble for the villagers." 如果形容某件事情為「double trouble」,表示該件事特別地麻煩。這個片語通常用來形容成雙成對發生的事情。例如:「結果證明這個颱風和地震給村民們帶來雙倍的麻煩」。
Comments will be moderated. Keep comments relevant to the article. Remarks containing abusive and obscene language, personal attacks of any kind or promotion will be removed and the user banned. Final decision will be at the discretion of the Taipei Times.