Par for the course 標準桿
In golf, one of the terms used most often is the word "par." Par is the number of strokes that a golfer is expected to take to get the ball into the hole. They decide what this number will be before the game based on how far the starting point is from the hole and if there are any hills or ponds that might make it hard to reach.
Par is used outside of the golfing world to talk about any standard. If something is better than you expected it to be, you can say that it is "above par." If something is worse than you expected, you can call it "below par."
Here are some examples of how par is used: "I'm really glad that we hired Polly. Her work at the office has been totally above par." Or: "Your schoolwork has really been below par this year. You usually get As and Bs, but now you're mostly getting Cs." (Emily Shih, Staff Writer)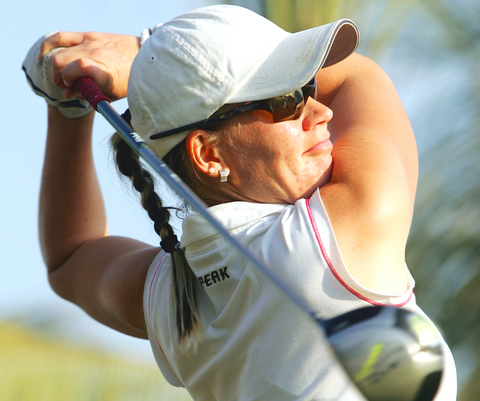 Linda Wessberg tees off at the Dubai Ladies Masters in Dubai. 琳達•韋斯伯格在杜拜女子名人賽中揮桿。 (照片:美聯社)
PHOTO: AP
打高爾夫時,其中一個最常用的術語就是「par」(標準桿)。標準桿是高爾夫球員預計擊球進洞的桿數。他們要在比賽前依據擊球點離洞有多遠的距離,決定標準桿數。假如有山坡或水池,會更難達成目標。
par不用於高爾夫時,是講有關標準的事。假如某事比你預料中更好,你就可以說它「高於水準」,假如比你預料中差,你就可以它說是「低於水準」。
這裡有一些使用「par」的例句。「我真高興我們雇用波莉。她在辦公室的工作完全是超水準」或是︰「你今年的學業表現真的是低於標準。你以往都拿A或B等,但現在幾乎都拿到C等」。 (翻譯:賴美君)
Publication Notes
Today's Words 今天單字
1. expect v.i. /v.t.
期望 (gi2 wang4),預料 (yu4 liao4)
例: Nobody expected Dean to go to college because he always complained about how much he hated school.
(沒人料得到狄恩會上大學,因為他總是抱怨自己有多討厭學校。)
2. decide v.i. /v.t.
決定 (jue2 ding4)
例: I can't decide which dress to wear to my brother's wedding.
(我無法決定要穿什麼服裝參加我哥哥的婚禮。)
3. standard n.
標準 (biao1 zhun3)
例: Evan's grades have not been up to his usual standard lately.
(艾文最近的成績未達他一貫的水準。)
Comments will be moderated. Keep comments relevant to the article. Remarks containing abusive and obscene language, personal attacks of any kind or promotion will be removed and the user banned. Final decision will be at the discretion of the Taipei Times.