Throwing a curve ball 投擲曲球
In the sport of baseball, a pitch is very important. A good pitcher can keep runners from ever getting on base. If runners never get on base, no one can score any runs.
Often times pitchers use speed to try to get the ball over home plate and into the catcher's glove without the batter hitting it. A hard, fast pitch is called a "fastball."
Pitchers don't just rely on speed to get a pitch past a batter. They also practice a few different kinds of pitches to surprise the batter and make him swing and miss.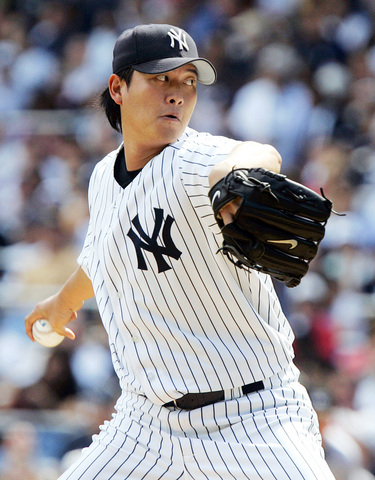 Wang Chien-Ming throws a pitch from the mound of Yankee Stadium in New York, New York. 在紐約洋基球場,王建民從投手丘投球.
PHOTO: AP
One of these kinds of pitches is called a "curveball." If thrown right, a curveball drops right before it gets to home plate. Also, a curveball is usually a little bit slower than a normal pitch, so it throws the batter's timing off.
In English, if you throw someone a curveball, it means you tell them something or do something to that person that surprises him or her so much it makes that person not able to do his or her job — just like a batter who swung at a pitch and missed.
Usually, throwing someone a curve ball is not a nice thing to do. Most people like to be prepared to deal with problems they will have to face.(Kayleen Hartman, Staff Writer)
打棒球時,投球是很重要的。一位好投手可以讓跑者不要上壘。假如完全沒有跑者上壘,沒有人可以得分。
通常,投手利用速度,試著讓球往本壘方向飛進捕手手套裡,不讓打擊者擊球。投出又快又狠的一球稱為「快速球」。
投手不只仰賴速度讓打擊者打不到球。他們也會投出幾種不同的球,讓打擊者措手不及、揮棒落空。
有一種球路稱為「曲球」。假如投得正確,曲球會正巧在抵達本壘前墜下。此外,曲球的球速也往往比一般球慢一點,讓打擊者錯過擊球時機。
在英文中,假如你投給某人一個曲球,意指你對那個人說了某件事、或做了某件事,讓那人過於訝異而無法繼續做事——就像打擊手揮棒卻落空一樣。
一般來說,突然丟了個問題給某人(throw someone a curve ball)並不是好心的事。多數人喜歡預先準備來應付必須面對的問題。
(翻譯︰賴美君)
Publication Notes
TODAY'S WORDS 今日單字
1. rely on v. phr.
仰賴 (yang3 lai4)
例: I rely on my parents to feed and clothe me.
(我仰賴父母讓我吃飽穿暖。)
2. throw off v. phr.
使混淆 (shi3 hun3 yao2)
例: When I moved my pen from my right hand to my left, it threw me off so much I couldn、t even write my name.
(當我把筆從右手移到左手,我搞不清楚,連自己的名字都寫不出來。)
3. prepared adj.
準備好的 (zhun3 bei4 hao3 de5)
例: Are you totally prepared for your vocabulary test tomorrow? If not, I can help you study.
(明天的單字測驗你準備好了嗎?假如還沒,我可以幫助你學習。)
Comments will be moderated. Keep comments relevant to the article. Remarks containing abusive and obscene language, personal attacks of any kind or promotion will be removed and the user banned. Final decision will be at the discretion of the Taipei Times.