Spotlight on Dominican 寰宇聚焦 - 多明尼加
There's a whole, wide world out there! All around the world, people just like you are living interesting lives in places you have never heard of. Take a minute to get to know Dominican, and find out what makes the Dominican people tick. 世界之大,無奇不奇不有!同為地球村民,有些人住在你從未聽過的地方過著有趣的生活。花一點時間來了解多明尼加這個國家,看看多明尼家人的生活重心為何。
A closer look 說古論今
The Dominican Republic, called the Dominican for short, shares the island of Hispaniola in the Carribean ocean with Hati. Hati occupies the western third of the island. The Dominican occupies the eastern two-thirds. The Dominican has been occupied by several different countries over the course of its history, including the French, Spanish and Americans, but today it is an independent democracy.
Dominican culture is a mixture of European, African and native influences. This island of Hispaniola is the place where Christopher Colombus landed in 1492 on his famous journey, and where the Spanish started their first colony in 1493. With the arrival of the Spanish, much of the native population were killed by European diseases and enslavement. The Spanish used the Dominican Republic as a base for their slave trading, and as a result African culture also became a part of its culture. Many Dominicans today come from mixed backgrounds and refer to themselves in Spanish simply as "La familia Dominicana," which means the "Dominican Family."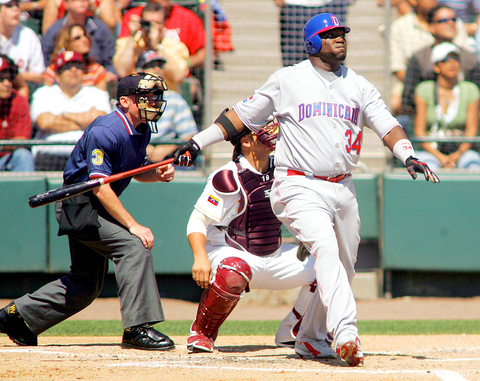 Dominican baseball star David Oritiz hits a home run during the World Baseball Classic. 多明尼加棒球好手大衛˙歐堤茲在世界棒球經典賽中擊出一支全壘打。
Today the Dominican Republic is known for its friendly and hospitable people, as well as diverse and vibrant musical traditions. It is the birthplace of merengue, an energetic, fast-tempo kind of music and dance that has become popular all over the world. Baseball is the most popular sport, and many of the best baseball players in the world have come from the Dominican Republic. (Taipei Times)
多明尼加共和國簡稱多明尼加,位於加勒比海的伊斯巴紐拉島,島上還有另一個國家海地。海地位於西邊,佔據此島的三分之一,多明尼加則位居東邊,佔地三分之二。歷史上多明尼加曾遭不同的國家佔領,包括法國、西班牙與美國,但現今已是獨立的民主政體。
多明尼加的文化融合歐洲、非洲與當地文化的影響。伊斯巴紐拉島是哥倫布一四九二年著名航海之旅的登陸地點,也是西班牙一四九三年開啟殖民史的首站。隨著西班牙人抵達,當地有許多原住民都因歐洲疾病與奴役而喪命。西班牙人以多明尼加做為奴隸買賣的基地,這使非洲文化也成為當地文化的一部分。今日有不少多明尼加人來自多元的背景,他們以西文的「La familia Dominicana」自稱,也就是「多明尼加家族」之意。
多明尼加共和國今日以友善熱心的人民與多元活躍的音樂傳統聞名。這裡是充滿活力、節奏輕快的「merengue」音樂與舞蹈的誕生地,在全球各地都相當風行。棒球是當地最受歡迎的運動,世界各地有許多棒球好手都來自多明尼加。 (台北時報/翻譯:賴美君)
Publication Notes
Whoe Knew? 你知道嗎?
When the Europeans arrived on what is now the island of Hispaniola in 1492, both Columbus and the native inhabitants, called Taino, misunderstood who they were meeting. Columbus had been looking for a way to sail to India from Europe, so he thought that Hispaniola was India. As a result, he mistakenly called the people he found there Indians, and that is why native inhabitants of North America are commonly called Indians today. As for the Taino people, they had never seen Europeans before, so they thought that Columbus and his men were gods and treated them very well. They thought it was strange that the Europeans wore so many clothes, so they called them "Guamikinas," which in their language meant "the covered ones." 歐洲人於一四九二年抵達現今的伊斯巴紐拉島時,哥倫布與當地的原住民「Taino」都搞不清楚對方是誰。哥倫布一直在找從歐洲到印度的航海路線,所以誤以為伊斯巴紐拉島就是印度。因此,他將當地人誤稱為「Indians」(印度人),也就是北美洲原住民今日普遍被稱為「Indians」(印地安人)的原因。由於Taino人從未見過歐洲人,以為哥倫布一夥人是神仙下凡,因此對他們相當好。他們認為歐洲人穿著厚衣蔽體很奇怪,所以稱這些人為「Guamikinas」,意指「包得密不通風的人」。
Publication Notes
About Kyrgyzstan 國家概況
Size: 48,730km2, about 13,000km2 bigger than Taiwan Location: Carribean ocean Border country: Haiti Capital: Santo Domingo Population: 8,950,000 Languages: Spanish Government: Representative democracy Currency: Dominican peso. One Dominican peso is about NT$0.97 面積:四萬八千七百三十平方公里,約比台灣大一萬三千平方公里。 地理位置:加勒比海 鄰國:海地 首都:聖多明哥 人口:八百九十五萬人 官方語言:西班牙語 政體:代議式民主 貨幣:多明尼加披索。一多國披索約為新台幣零點九七元。
Comments will be moderated. Keep comments relevant to the article. Remarks containing abusive and obscene language, personal attacks of any kind or promotion will be removed and the user banned. Final decision will be at the discretion of the Taipei Times.