Manila woos neighbors to craft South China Sea code
The Philippines has approached neighbors such as Malaysia and Vietnam to discuss a separate code of conduct regarding the South China Sea, its president said yesterday, citing limited progress toward striking a broader regional pact with China.
Relations between the two have grown more tense under Philippine President Ferdinand Marcos Jr, who has increasingly complained about China's "aggressive" behavior while rekindling strong ties with the Philippines' sole treaty ally, the US.
Speaking in Hawaii at a livestreamed event, Marcos said that escalating tension in the South China Sea required the Philippines to partner with allies and neighbors to maintain peace in the busy waterway, where the situation had become "more dire than it was before."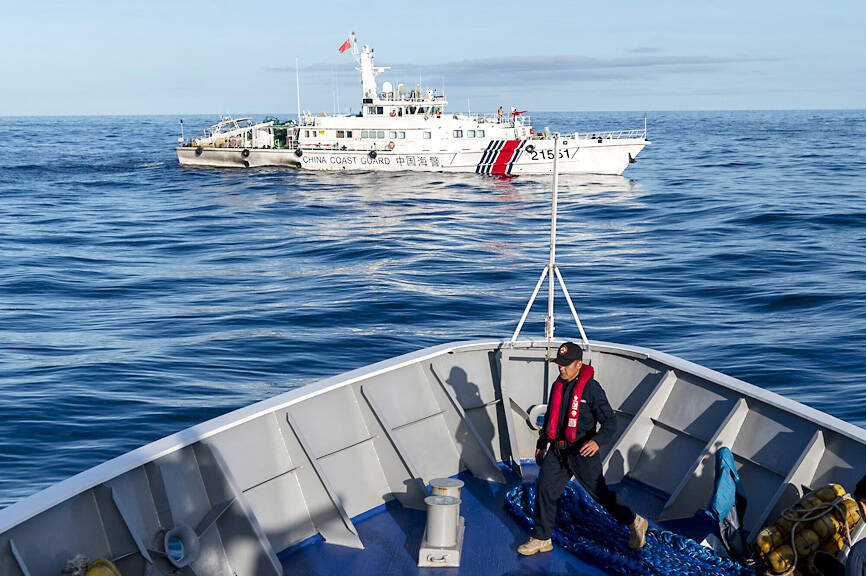 A China Coast Guard ship crosses in front of the Philippine Coast Guard vessel BRP Sindangan near the disputed Second Thomas Shoal (Renai Shoal), also claimed by Taiwan, in the South China Sea on Nov. 10.
Photo: Bloomberg
He said that China's military had "started to show interest" in building bases on reefs that were "closer and closer to the Philippine coastline."
"As I have said before and I will say again, the Philippines will not give up a single square inch of our territory to any foreign power," Marcos said.
He said that ASEAN members were still waiting on a code of conduct with China, "and the progress has been rather slow unfortunately."
"We have taken the initiative to approach those other countries around ASEAN with whom we have existing territorial conflicts, Vietnam being one of them, Malaysia being another and to make our own code of conduct," he said. "Hopefully this will grow further and extend to other ASEAN countries."
The embassies of China, Malaysia and Vietnam in Manila did not immediately respond to a request for comment on a possible code.
China said that formulating a code of conduct in the South China Sea was an important task for it and ASEAN countries.
However, a spokesperson for the Chinese Ministry of Foreign Affairs told a regular news briefing that "any move that deviates from the framework and runs counter to the spirit of the declaration on the conduct of parties in the South China Sea is null and void."
Additional reporting by AFP
Comments will be moderated. Keep comments relevant to the article. Remarks containing abusive and obscene language, personal attacks of any kind or promotion will be removed and the user banned. Final decision will be at the discretion of the Taipei Times.