Japan troops drill on island seen as vulnerable to China
Japanese marines in amphibious assault vehicles yesterday stormed an island beach at the edge of the East China Sea in a simulated attack to dislodge invaders from territory that Tokyo worries is vulnerable to attack from China.
As tensions run high with neighbors China, Russia and North Korea, the drill on the southwest island of Tokunoshima capped an 11-day series of exercises nationwide dubbed 05JX, meant to show the readiness of ground, sea and air forces to defend Japan's territory and infrastructure, including nuclear power plants.
"The goal of JX is to show that if there is an emergency situation resulting from an attack, that we are able respond in a joint way," Japan Self-Defense Forces Chief of Staff, Joint Staff General Yoshihide Yoshida said after observing the drill on Tokunoshima.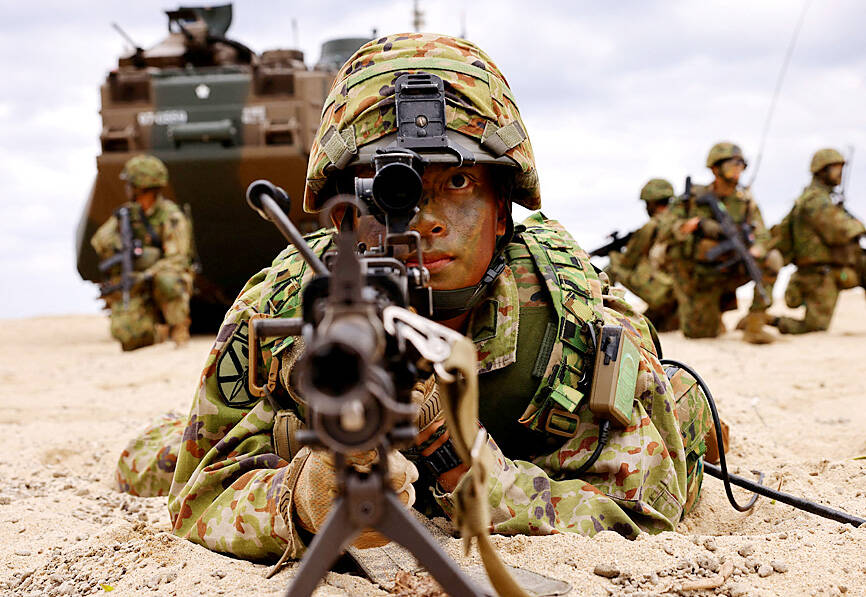 A Japanese Ground Self-Defense Force soldier participates in a marine landing drill in Tokunoshima, Japan, yesterday.
Photo: Reuters
The Chinese Ministry of National Defense could not be reached for comment on the drills.
Japan Ground Self-Defense Force amphibious assault vehicles launched from two Japan Maritime Self-Defense Force landing ships anchored offshore. Other troops arrived in semi-inflatable rubber boats, with heavy equipment carried to shore on military hovercraft.
Unlike many of the beaches along Japan's southwest island chain stretching toward Taiwan, the one on Tokunoshima does not have a coral reef that would make military operations more difficult.
The scope and pace of military exercises in Japan are likely to increase over the next few years, including with US forces, after Japanese Prime Minister Fumio Kishida in December last year unveiled the country's biggest military buildup since World War II, with a pledge to double defense spending over five years.
Kishida has warned that East Asia could be the next Ukraine, if China, emboldened by Russia's assault on its neighbor, attacks Taiwan.
The ¥43.5 trillion (US$290.9 billion) in planned spending would go to new weapons such as longer-range missiles as well as to increase stocks of spare parts and munitions to fight a sustained conflict.
However, the yen's sharp decline this year has forced Japan to cut back on some planned purchases, including new models of the US-made Chinook helicopters that Japan's military used in the Tokunoshima drill.
Comments will be moderated. Keep comments relevant to the article. Remarks containing abusive and obscene language, personal attacks of any kind or promotion will be removed and the user banned. Final decision will be at the discretion of the Taipei Times.