Seven killed in Pingtung factory blaze
IN MOURNING: Tsai visited the site and spoke with family members of those killed, while all the major presidential candidates said they would temporarily halt campaigning
By Luo Hsin-chen, Yeh Yung-chien and Jonathan Chin / Staff reporters, with staff writer and agencies
A fire and subsequent explosions at a golf ball factory at Pingtung Technology Industrial Park (屏東科技產業園區) killed at least seven people, including four firefighters, and injured 98, while three were still missing, authorities said yesterday.
The blaze at Launch Technologies Co's (明揚國際) plant on Jingjian Road raged for more than 12 hours after it started at about 5pm on Friday, officials said.
The Pingtung County Fire Bureau early yesterday used large excavators to search for missing people, while family members waited at the scene.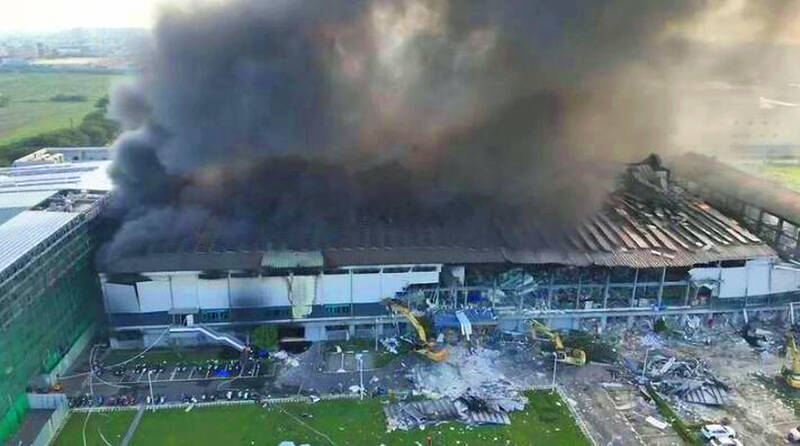 Smoke billows out of Launch Technologies Co's plant at Pingtung Technology Industrial Park yesterday after part of the structure collapsed, following a 12-hour fire that started at 5pm on Friday.
Photo courtesy of Pingtung County Government
Pingtung County Fire Bureau Director Hsu Mei-hsueh (許美雪) said the bureau received a call about the fire at 5:31pm on Friday, and firefighters arrived at the location 13 minutes later, adding that the factory owner provided information about hazardous materials stored on site.
Chen Wen-chuan (陳文川), head of the fire bureau's second squad, reported a chemical leak at 5:57pm, and two minutes later a team of 11 firefighters entered the premises, Hsu said.
They encountered increasingly dense smoke and made less than 10m of progress when the group leader ordered them to retreat, but an explosion occurred before they could get out, she said.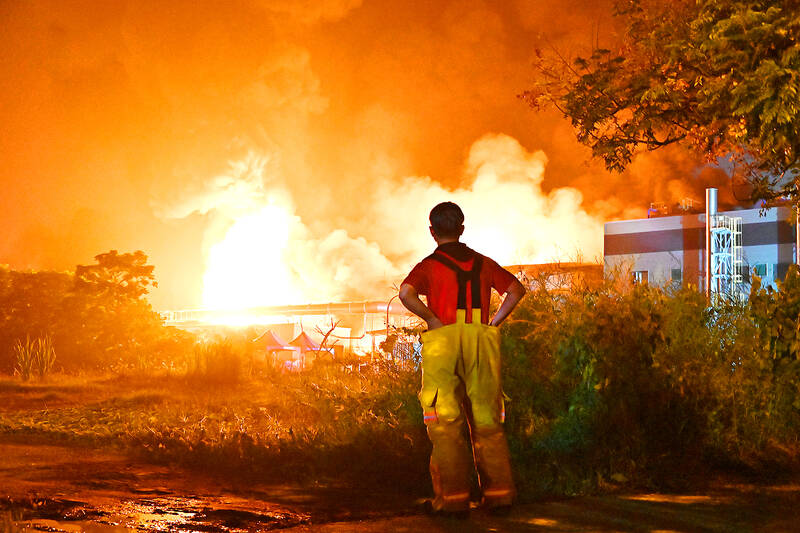 A firefighter looks at a fire at Launch Technologies Co's plant at Pingtung Technology Industrial Park on Friday evening, after an explosion prevented firefighters from entering the factory.
Photo: Lee Hui-chou, Taipei Times
The detonation engulfed the entry team, trapping firefighters Lai Chun-ju (賴俊儒), Chen Po-han (陳柏翰), Chung Chi-yuan (鍾吉垣) and  Shih Pao-hsiung (施寶翔) in the debris, she said, adding that contact with them was lost immediately.
Firefighters did not have time to deploy portable extinguishers and water was not used out of fear that it could react with combustible gases at the site, Hsu said in reference to earlier reports that explosions were triggered by water from firefighters.
The bureau added that the explosions caused a section of the factory to collapse, trapping several people beneath the rubble.
Firefighters yesterday remove a body that was found after a fire at Launch Technologies Co's plant at Pingtung Technology Industrial Park.
Photo: CNA
Lai was extricated and sent to a hospital on Friday evening, but could not be revived, Hsu said, adding that he was the first of the fire's confirmed deaths.
Rescuers early yesterday found the bodies of the remaining firefighters and three factory employees, surnamed Lin (林), Chiu (邱) and Chu (朱), she said.
An official with the county fire department said that peroxide stored inside the factory could have been the cause of a large and several smaller explosions.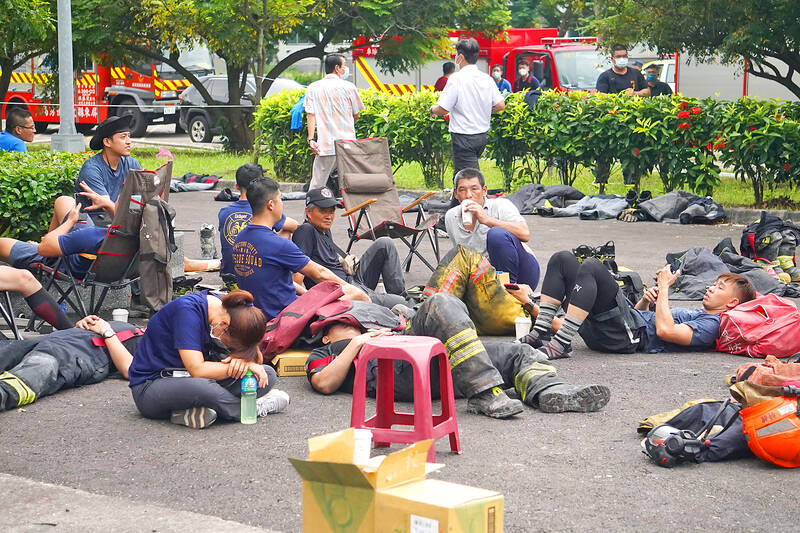 Firefighters rest yesterday after battling a fire at a golf ball factory at Pingtung Technology Industrial Park that had raged for more than 12 hours since starting at 5pm on Friday.
Photo: Hsu Chuo-hsun, Taipei Times
The cause of the fire and explosions remain under investigation, but authorities said they suspect natural gas might have played a part.
President Tsai Ing-wen (蔡英文) yesterday visited the scene and expressed her condolences to the victims' families.
"I want to thank everyone for their hard work and please stay safe," Tsai told emergency response personnel.
She also visited a morgue to pay respects to the victims and visited those injured in the fire at a hospital.
Pingtung County Commissioner Chou Chun-mi (周春米) visited a funeral home and met with family members of the victims.
"Facing the grief of the family members, I could not say anything except to bow deeply, apologize and express my deepest condolences," Chou wrote on Facebook.
The presidential candidates from the Democratic Progressive Party, the Chinese Nationalist Party (KMT) and the Taiwan People's Party all announced that they had suspended campaigning, while independent presidential contender Terry Gou's (郭台銘) team also said they had halted campaigning yesterday.
Friday's fire was Taiwan's most lethal blaze since 2018, when a fire at a Chin-Poon Industrial Co (敬鵬工業) factory killed six firefighters and two Thai workers.
Additional reporting by Tsai Tsung-hsien
Comments will be moderated. Keep comments relevant to the article. Remarks containing abusive and obscene language, personal attacks of any kind or promotion will be removed and the user banned. Final decision will be at the discretion of the Taipei Times.