Over 100 PLA planes detected: MND
'HARASSMENT': A record 103 Chinese warplanes were detected in 24 hours, posing severe challenges to security in the Taiwan Strait and the region, the ministry said
Taiwan yesterday told China to stop its "destructive unilateral actions" after more than 100 Chinese warplanes and nine navy ships were detected in areas around the nation.
The Ministry of National Defense (MND) described the number of warplanes detected in 24 hours as a "recent high," while Beijing has so far refrained from issuing any official comment on the sorties.
"Between the morning of September 17th to 18th, the Ministry of National Defense had detected a total of 103 Chinese aircraft, which was a recent high and has posed severe challenges to the security across the Taiwan Strait and in the region," it said in a statement.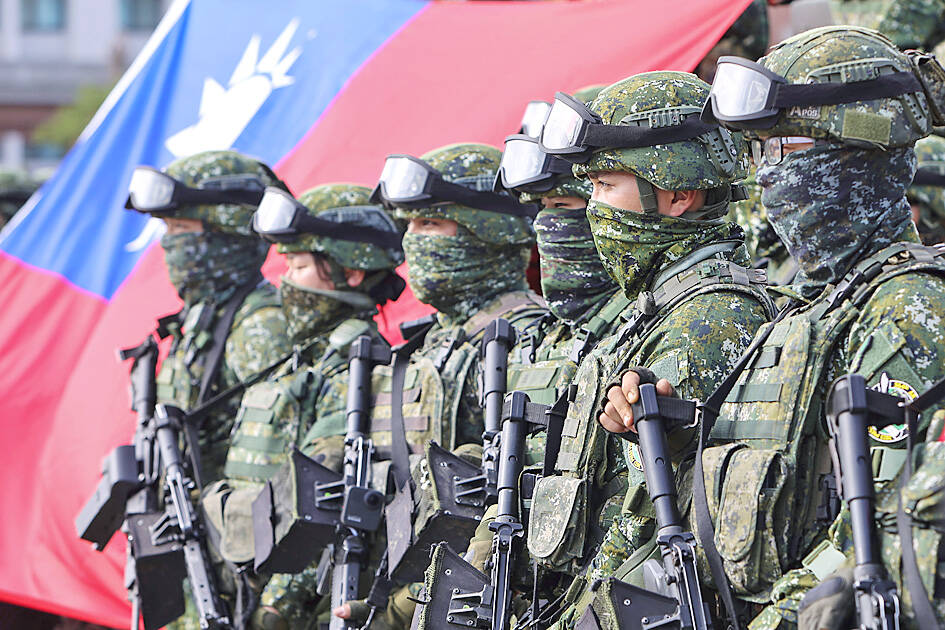 Soldiers pose for group photos with a Republic of China flag after a preparedness enhancement drill simulating defense against Beijing's military intrusions, ahead of the Lunar New Year, in Kaohsiung on Jan. 11. The Ministry of National Defense yesterday said that it had detected 103 Chinese warplanes within 24 hours in areas around Taiwan.
Photo: Daniel Ceng, AP
Beijing's "continued military harassment can easily lead to a sharp escalation in tension and worsen regional security," the ministry said, as it called on China to "immediately stop such destructive unilateral actions."
Forty of the planes crossed the so-called median line of the Taiwan Strait, and entered Taiwan's southwest and southeast air defense identification zone (ADIZ), the statement said.
An ADIZ is a self-declared area in which a country claims the right to identify, locate and control approaching foreign aircraft, but is not part of its territorial airspace as defined by international law.
Last week, Taipei also reported an increased number of incursions by Chinese warplanes and ships.
The uptick came as Beijing said its troops were on "high alert" after two ships belonging to the US and Canada sailed through the Taiwan Strait.
The defense ministry said 68 Chinese aircraft and 10 naval vessels were detected around the nation between Wednesday morning and Thursday morning last week.
Analysts said China could be flexing its muscles to counter US influence in the Asia-Pacific region, as it leads multiple rounds of military drills with allies across the region.
"Politically, China aims to counter the military containment of democratic allies led by the United States," said Su Tzu-yun (蘇紫雲), a research fellow at the government-funded Institute for National Defense and Security Research.
Chieh Chung (揭仲), an associate research fellow at the National Policy Foundation in Taipei, said that July to September is usually the most active time of year for Chinese People's Liberation Army (PLA) drills, and he suspected that the record 103 warplanes were part of a PLA exercise on the open seas.
Chieh said he did not think the incursions were meant to coincide with the meeting between Chinese Minister of Foreign Affairs Wang Yi (王毅) and US National Security Adviser Jake Sullivan in Malta over the weekend.
If that were the case, it would expose a lack of coordination between China's foreign affairs and military branches, he said.
Additional reporting by CNA
Comments will be moderated. Keep comments relevant to the article. Remarks containing abusive and obscene language, personal attacks of any kind or promotion will be removed and the user banned. Final decision will be at the discretion of the Taipei Times.